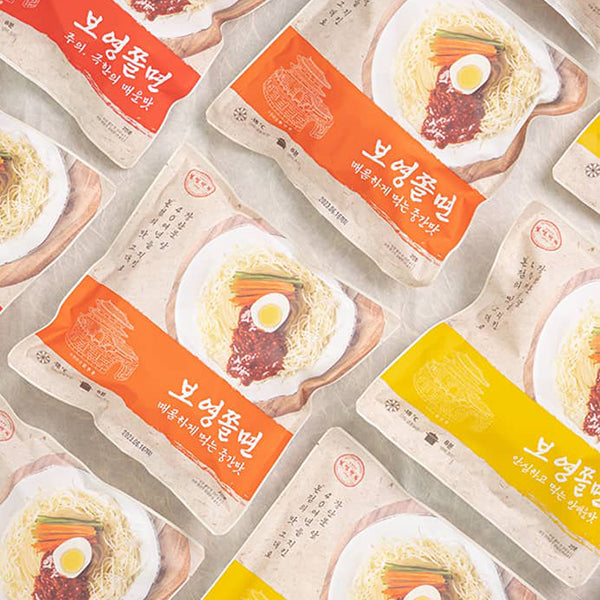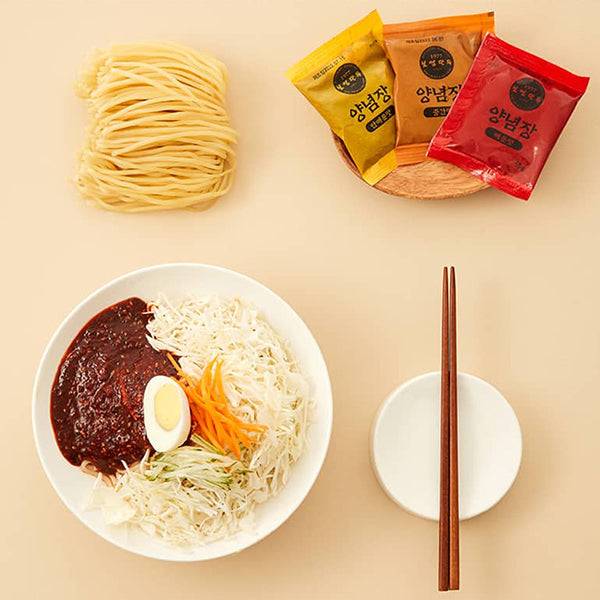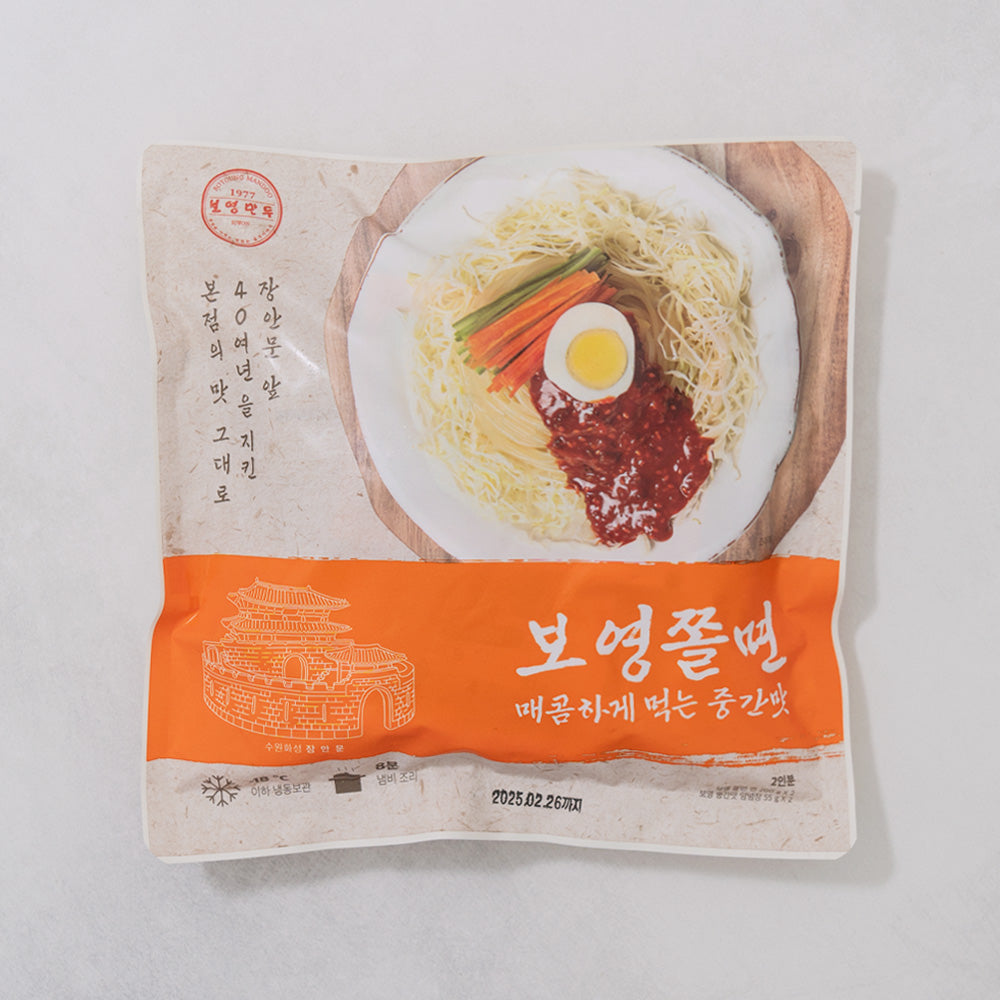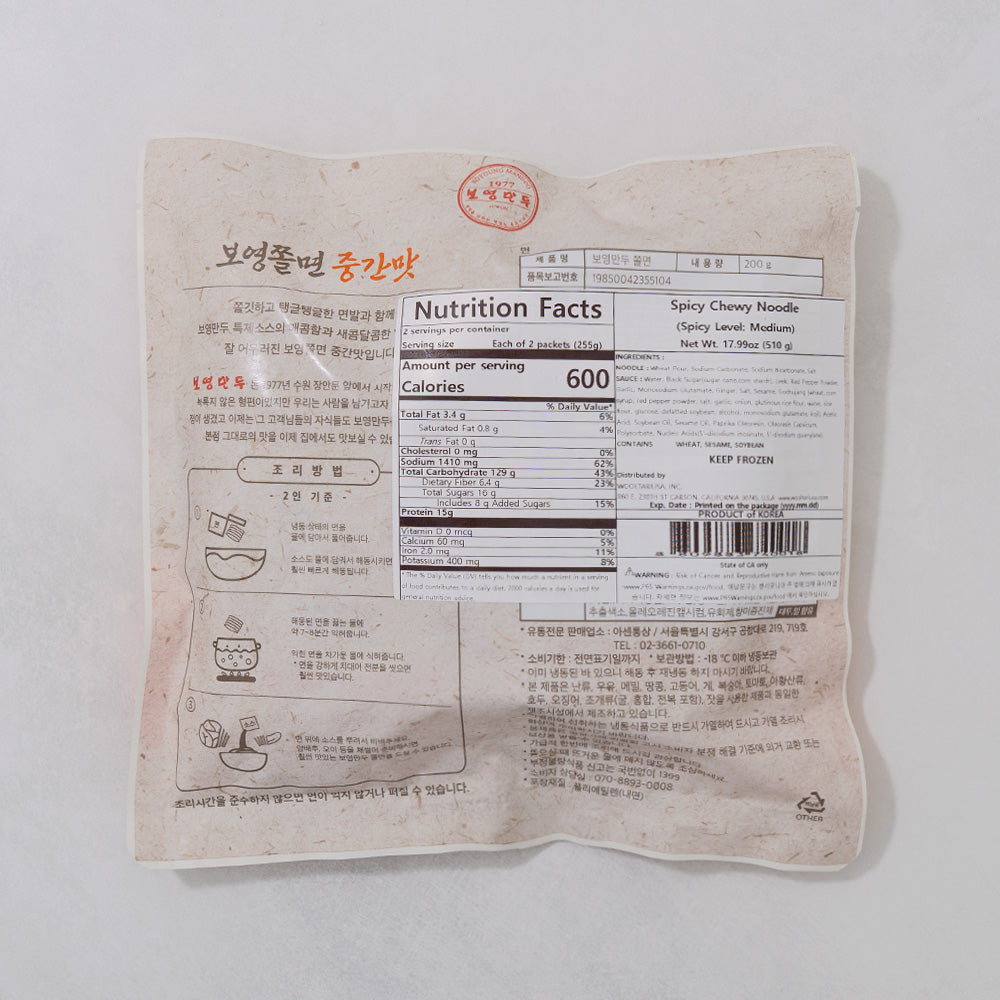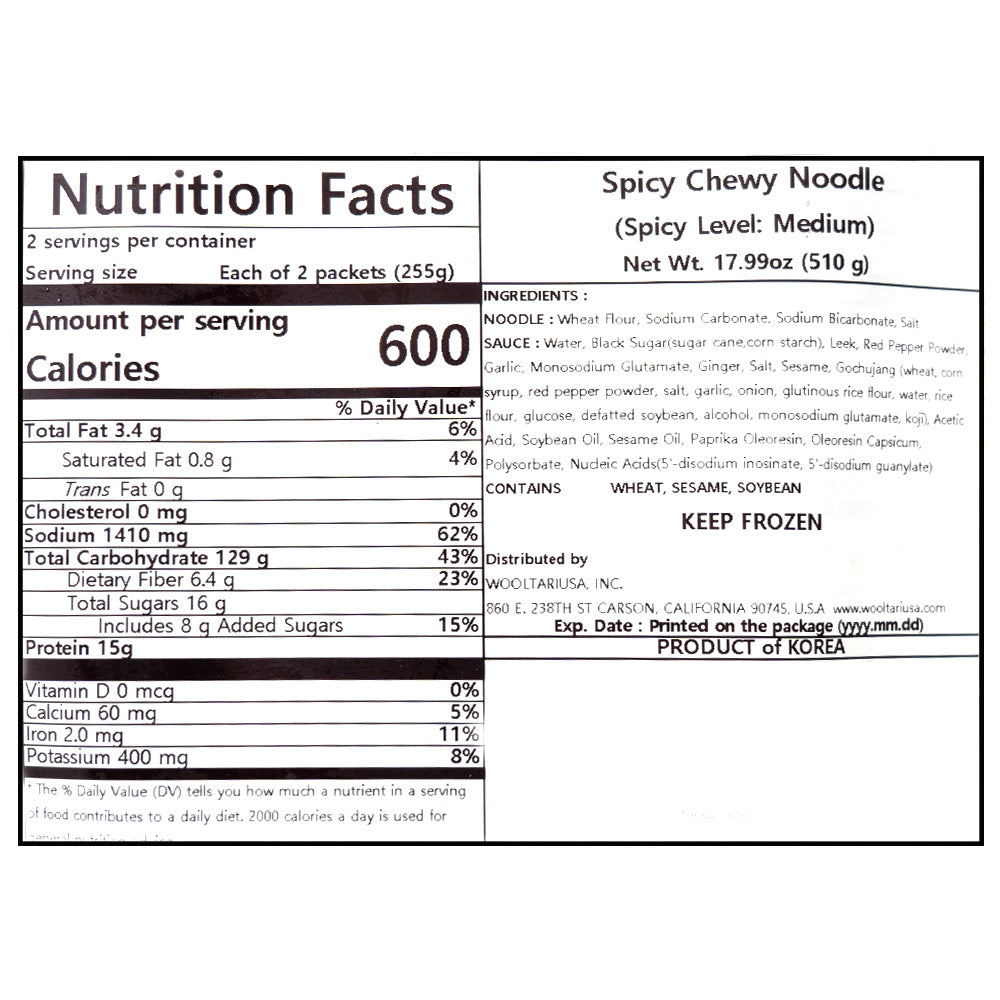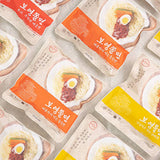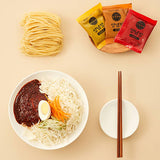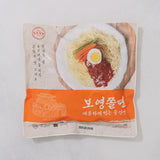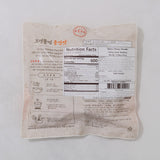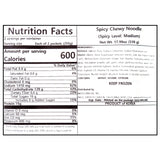 Boyoung Jjolmyeon 510g (Mild) (2 Servings)
1 Day shipping
Free shipping on 1 Day shipping items over $169
[Asen] Boyoung Jjolmyeon 510g (Mild) (2 Servings)

Experience the nostalgia of your favorite school days' snack bar with our Boyoung Jjolmyeon. These chewy, tangy, and slightly sweet noodles capture the essence of the past. Produced by Suwon's renowned Boyoung Mandu, a 46-year-old restaurant with an extensive 25,000+ positive reviews on Naver Shopping.
Enjoy a convenient meal with our authentic, non-spicy sauce made from fresh ingredients, without added capsaicin. Mix it with the "Medium Spicy" sauce for a unique flavor twist.

Instructions:
Boil the noodles for 7-8 minutes.
Rinse under running water, rub to remove starch, and refresh in ice water.
Customize with sesame leaves, carrots, boiled eggs, or bean sprouts.

Delight in a satisfying assortment of flavors and textures in every bite!

Include:
California Proposition 65
WARNING: Consuming this product can expose you to chemicals including lead and cadmium which are known to the State of California to cause cancer and birth defects or other reproductive harm. For more information go to www.p65Warnings.ca.gov/food
Shipping Information
Refund Policy
Exchange or refund requests must be made within 7 days of receiving your product and should be initiated by contacting us through email (help@wooltariusa.com) or phone (310-933-8648) with a photo.
Please note that exchange or refund requests made on review boards or other platforms are not accepted.
A 30% restocking fee plus shipping charges apply for returns due to a change of mind, and refunds are not available for non-defective refrigerated/Korea-US direct delivery items.
한국의 쫄면 맛을 그대로 재현한 보영쫄면을 먹으면서 학창시절 학교앞에서 먹던 기분이 나네요 집에 미리 준비한 야채가 넉넉하지 않아 삶은 계란과 당근을 곁들였는데도 쫄깃한 면발과 양념장이 넉넉하여 아주 맛있어요
요즈음 한국음식이 달고 매워지는 추세라 중간맛으로 골랐는데 적당하게 새콤달콤 매콤한 맛입니다
미국에서도 냉면을 먹을 기회는 많지만 쫄면은 그렇지 못했는데 울타리를 통해 재대로 된 쫄면을 맛보게 되어 강추합니다
수원에 살 때는 맛집으로 유명한 보영만두의 시그니쳐 메뉴가 보영쫄면인 것을 몰랐는데 이번 기회에 알게 되어 반가웠습니다
한국 방문하게 되면 보영만두에 가서 줄서서 먹어보고 싶네요
개인 적으로 안매운 맛이 더 맛있는것 같아요. 계란 하나 올려 먹으면 더 맛있어요
서진이 없어요~~
생각맛이 살짝 놀면서 순한맛이 아니라 매콤한 맛이에요!
초등학생 때 선생님이 시장에서 사주셨던 쫄면 맛이랑 너무 비슷해요! 마늘 맛 많이 나는 새콤달콤 초고추장! 면발도 딱 적당했어요. (잘 씻는 거 중요!) 양배추밖에 없어서 아쉬웠네요. 콩나물, 당근, 삶은 달걀 올리면 훨씬 더 맛있을 듯! 중간맛도 상당히 맵더라고요. 저는 다음에도 중간 맛으로 사려고 합니다.
고등학교때 학교 앞 분식집에서 먹던 쫄면..
너무 먹고 싶은데 한인마트 레토르트 식품. 면만 사서 제가 만들어보기도 하고요..
안 나더라구여 그맛이..
드디어 찾았습니다 ㅠㅠ
이 맛이예여. ㅜㅜ
중간맛인데..불닭보다 좀 더 매운 느낌이구여.
쓰읍 쓰읍 하아..하면서 다 먹었습니다.
쫄면 면도 너무 맛있었어요.
감사합니다 울타리!!!
계속 운반이랑 냉동 이 아주 잘 되어 왔는데 이번엔 다들 약간 녹아 왔어요.
고기가 들어 있어서 후딱 냉동카에 넣고 떡은 맛좀 봤죠.
봉지에 2 이분이라니까 딸하고 같이 먹어보고 다시 오더할 생각 이예요.
청양고추의 매운맛(?)이 느껴졌어요! 그리고 보통맛인데 저희한테는 너무 매웠네요(저희는 신라면은 잘먹고 불닭은 매워합니다) 다음엔 순한맛으로 한번 시켜봐야겠어요!
정말먹고싶엇는데 바로주문~맛잇어용ㅎ매운맛도추가해주세요!!!