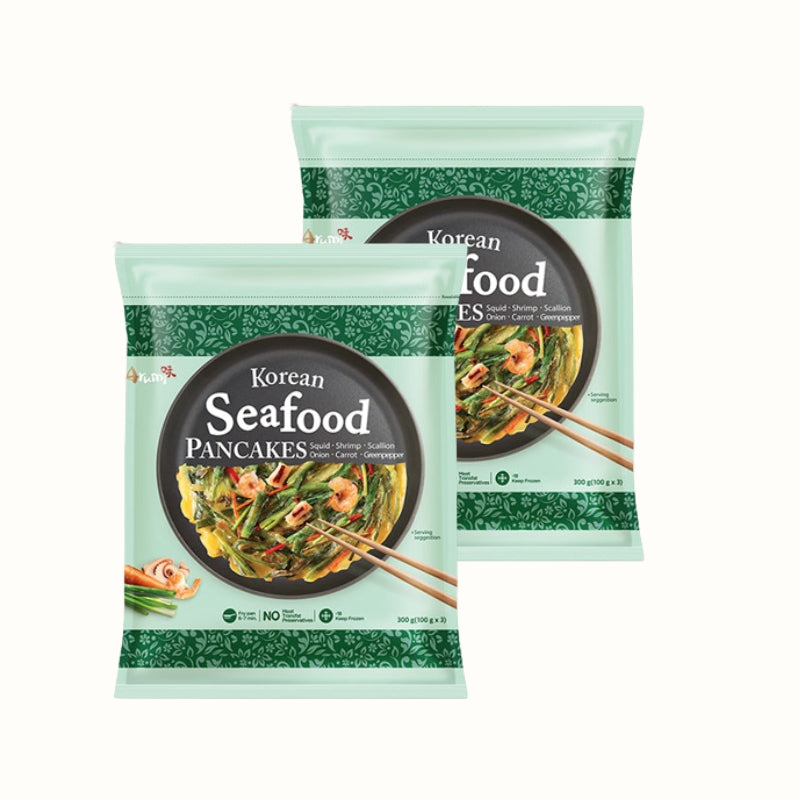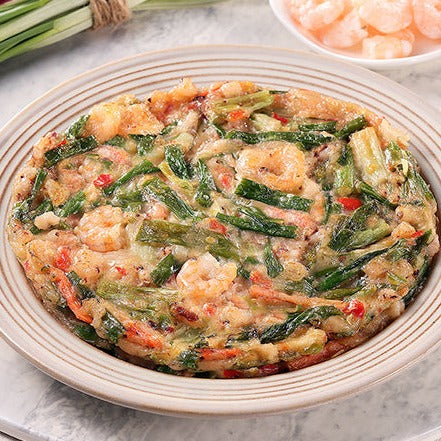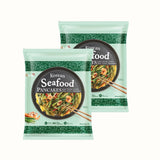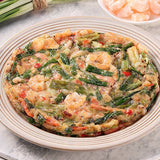 Chewy Seafood Pajeon 300g x 2
1 Day shipping
Free shipping on 1 Day shipping items over $169
[Saongwon] 300g of chewy seafood pajeon
A savory and chewy flavor that Koreans cannot be rejected!
Now enjoy it easily. It is a premium seafood pagan that contains the know -how of various cooking brands. It's crispy on the outside and a moisture chewy product.
Production and Distribution
Fresh ingredients! 

 Domestic green onion, and fresh squid that sits our tastes are the main ingredients.

 It is rich in carrots, blue peppers, and red peppers, so it has a healthy taste as if it were cooked at home.
Manufacturing Process
Clean and safe with quality ingredients!
 Saongwon adopts the same process as the process you make at home, and you can feel the taste full of sincerity as if you were handmade at home. It's just a moist and crispy taste.
 It is packaged in a zipper bag with a small package, so you can keep it neatly after you can enjoy it.

How to Use
Please warm it up without any need for dismissal!
You can enjoy it brown to grill it in a frozen pan and grill it in medium heat.

 It's just a moist and crispy taste.
Enjoy the seafood pajeon that is also good for rice side dishes or snacks!!
California Proposition 65
WARNING: Consuming this product can expose you to chemicals including lead and cadmium which are known to the State of California to cause cancer and birth defects or other reproductive harm. For more information go to www.p65Warnings.ca.gov/food
 The standard of reliable Korean food, Saongwon!Based on the traditional Korean dishes, the taste is added to the taste to make a new tradition.We do our best to make it easy to eat in home.
Shipping Information
Refund Policy
Exchange or refund requests must be made within 7 days of receiving your product and should be initiated by contacting us through email (help@wooltariusa.com) or phone (310-933-8648) with a photo.
Please note that exchange or refund requests made on review boards or other platforms are not accepted.
A 30% restocking fee plus shipping charges apply for returns due to a change of mind, and refunds are not available for non-defective refrigerated/Korea-US direct delivery items.
This is pretty good.
Don't expect a lot of seafood though.
You will find few chewy squid peaces.
I pan fry them with little bit of oil.
I ordere it time to time when it's on sale. Most of stuff they sell it here's little expensive.
사옹원 쫄깃쫄깃 해물파전 300g
한번 조리가 된 파전이니 추가 기름칠 없이 에어프라이어에 구웠어요. 무더위에 전 부치는 수고스러움을 덜어주니 고맙군요. 한 끼 잘 먹었습니다. ^-^
얼음이 기름에 바로 닿으면 키친 난리나서 살짝 해동후에 후라이팬에 구워요~ 간편하고 맛도 괜찮습니다 ㅎㅎ
얼음이 기름에 바로 닿으면 키친 난리나서 살짝 해동후에 후라이팬에 구워요~ 간편하고 맛도 괜찮습니다 ㅎㅎ
얼음이 기름에 바로 닿으면 키친 난리나서 살짝 해동후에 후라이팬에 구워요~ 간편하고 맛도 괜찮습니다 ㅎㅎ