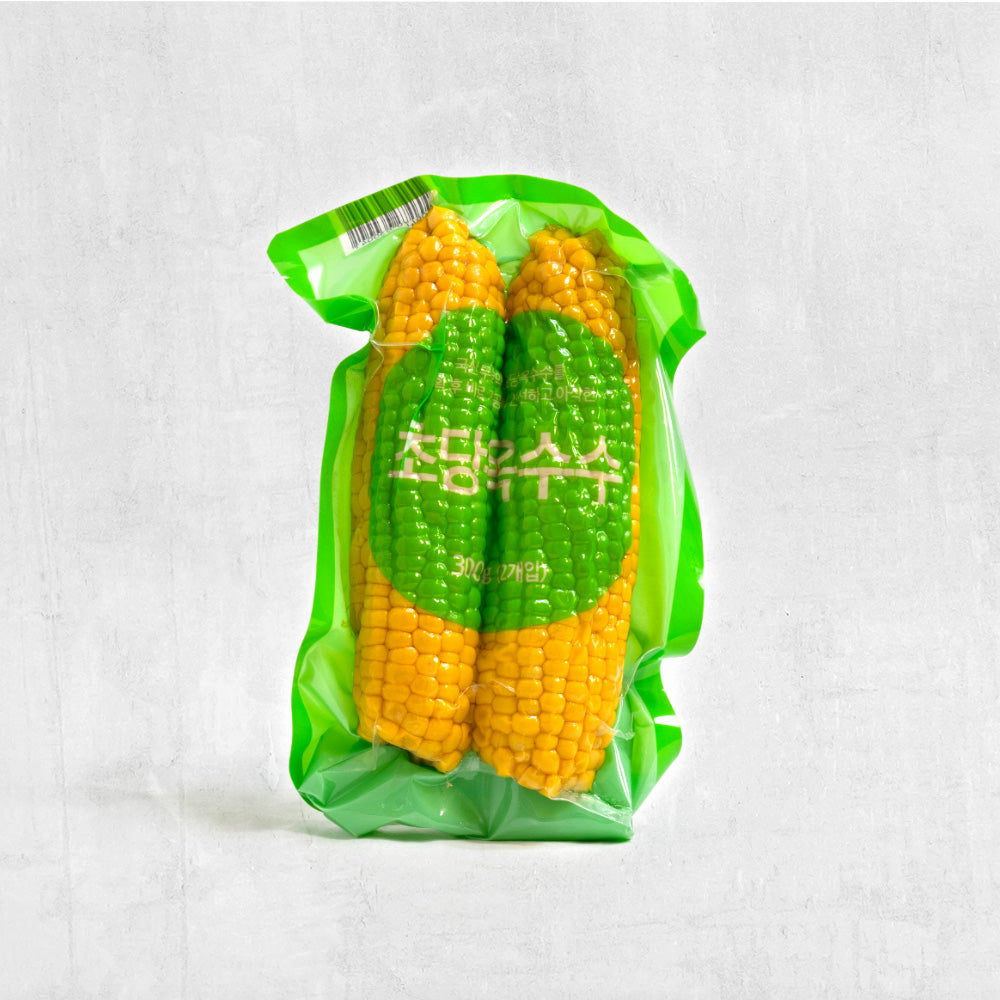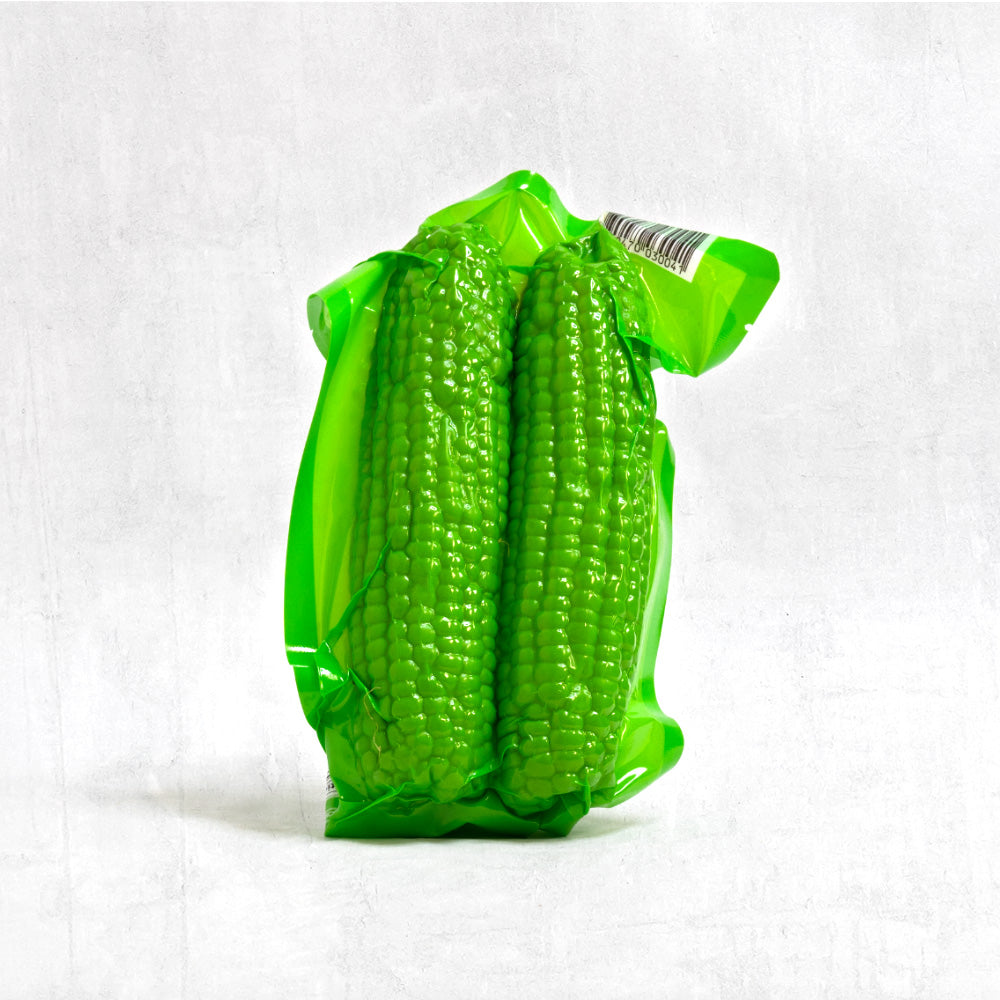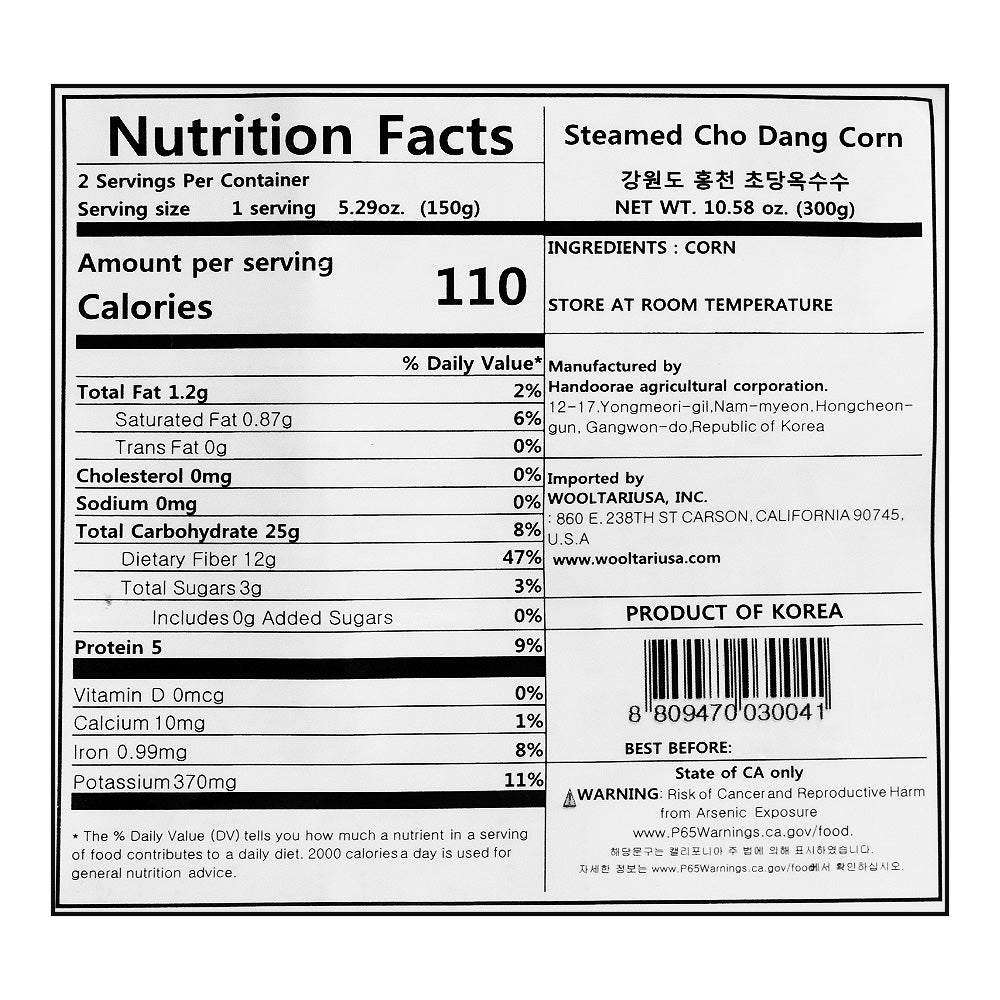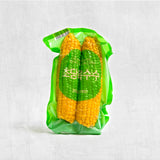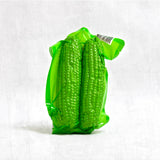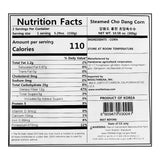 Chodang Sweet Corn 300g, 2 ct
1 Day shipping
Free shipping on 1 Day shipping items over $169
[Handure] Gangwon -do Chodang Sweet Corn 300g, 2 ct
Freshly harvested in 2023, enjoy the sweet and crisp organic Chodang corn from Hongcheon and Gwesan, boiled right after harvest and vacuum-sealed. It's pesticide-free, additive-free, and retains its natural taste. The black parts on the kernels and core are natural and not quality issue. 

Production and Distribution
'이마트'에서 판매하는 제품 그대로!
갓 수확한 옥수수의 참맛을 도시소비자들과 나누기 위해 개발하여 '이마트'에서 판매하는 제품입니다.
일체의 첨가물을 사용하지 않고 위생적으로 삶아 아이들에게도 안심하고 먹일 수 있는 건강한 제품입니다.
How to Use
간편하고 쉽게 드실 수 있습니다!
• 포장을 뜯어 끓는 물에 10분 정도 삶아 드세요.
• 옥수수에 현미유를 골고루 바른 후 180℃로 예열된 오븐에 넣고 10~15분간 구워 드세요.
• 팬에 현미유를 두른 후 노릇하게 구워 드셔도 맛있습니다.
California Proposition 65
WARNING: Consuming this product can expose you to chemicals including lead and cadmium which are known to the State of California to cause cancer and birth defects or other reproductive harm. For more information go to www.p65Warnings.ca.gov/food
한두레영농조합은 강원도 홍천의 청정한 환경에서 생산한 친환경농산물을 조합원들에게 안정적으로 공급할 수 있도록 24명의 생산자가 의기투합해 설립한 생산지입니다. 생산자들이 판로 걱정 없이 생산에만 전념할 수 있도록 공동선별 및 저장, 가공품 생산 시설을 갖추고 있습니다. 친환경 농사에 대한 자부심과 긍지를 가지고 있으며, 회원 간의 유대가 공고한 생산지입니다.
Shipping Information
Refund Policy
Exchange or refund requests must be made within 7 days of receiving your product and should be initiated by contacting us through email (help@wooltariusa.com) or phone (310-933-8648) with a photo.
Please note that exchange or refund requests made on review boards or other platforms are not accepted.
A 30% restocking fee plus shipping charges apply for returns due to a change of mind, and refunds are not available for non-defective refrigerated/Korea-US direct delivery items.
한국의 찰옥수수 맛을 보고 싶어서 반가운 마음에 주문했는데 미국에서 맛본 옥수수처럼 부드러워서 연로하신 분들에게 환영받기 좋은 옥수수네요.
기대보다는 약간 실망했어요 부드러운 캘리포니아 옥수수와 비슷한 품종이예요
알갱이 하나 하나 빼먹을수있는 한국 옥수수를 기대했는데 물컹물컹한 미국 옥수수랑 다르지 않았어요. 달지도 않고 …