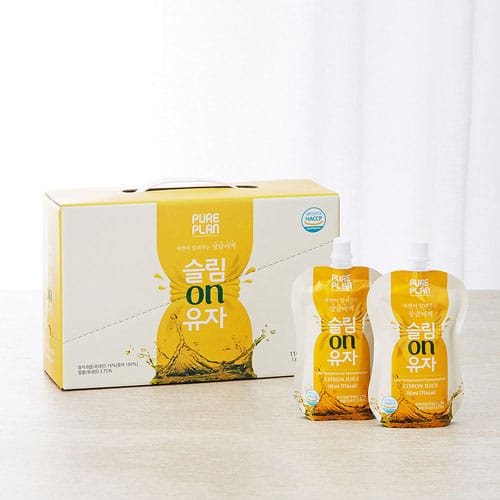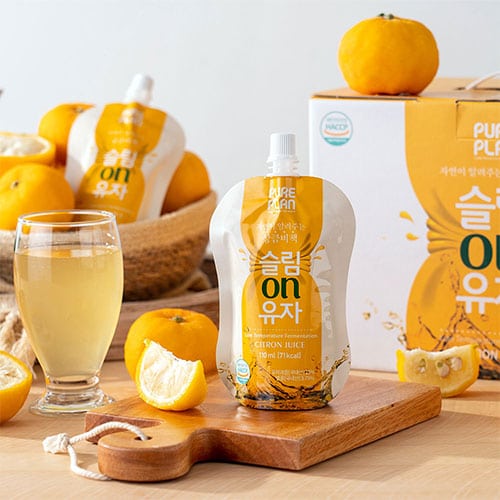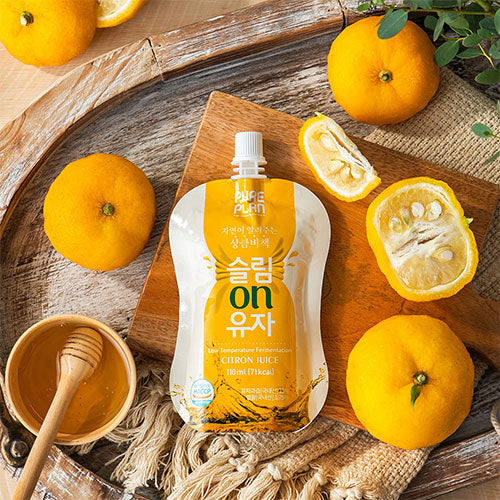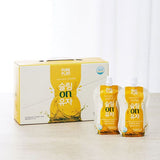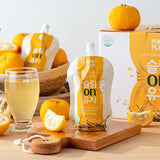 Pure Plan Slim On Urban (110ml x 15)
Lightning Fresh
99 Delivery
Free shipping on Lightning Delivery items over $169
Free shipping on 99 Delivery items over $99
[Pure, Bright and Warm Cooperative] Pure Plan Slim One Yuja
Slim One Yuja made from Goheung, Jeollanam-do, which is rich in nutrients such as calcium, vitamin C, and citric acid, and is of excellent quality, is a health drink without additives such as preservatives and colors. Consisting of 15 packs, it has the fruity taste of citron and contains honey, so you can enjoy its moderately sweet flavor.
Manufactured Environment
The main production area of domestic citron, Goheung, Jeollanam-do
Citron of Goheung is grown in germanium loess soil with abundant sunlight and the sea breeze, and has been registered as Geographical Indication Product No. 14 due to its strong fragrance and excellent quality.
Nutritions
Nutritious sweet and sour citron
CitronCi contains 3 times more vitamins than lemons and 10 times more calcium than apples. In addition, it is rich in various nutrients such as calcium, citric acid, and pectin.
How to Use
Slim One Citron Recipe to Try
You can refrigerate it and drink it cold or mix it with hot water and drink it as a hot tea. Alternatively, you can freeze it and enjoy it as a yuzu ice cream by freezing it in a citron slush like sherbet or in an ice cream mold.
California Proposition 65
WARNING: Consuming this product can expose you to chemicals including lead and cadmium which are known to the State of California to cause cancer and birth defects or other reproductive harm. For more information go to www.p65Warnings.ca.gov/food
| | |
| --- | --- |
| Allergy Info | Contains citron, honey |
| Manufacturer | Pure, bright, warm cooperative |
| Origin | Goheung-gun, Jeollanam-do |
| Ingredients | Purified water, citron juice 15% [citron (domestic product) 100%, sugar 8%, honey (domestic product) 3.75%, fructooligosaccharide, fermented citron simulant, xylitol |
71kcal per 110ml
* 1 day nutrient
ratio to reference value
0mg sodium
0%
17g carbohydrate
5%
saccharide 17g
17%
fat 0g
0%
0g transfat
0g saturated fat
0%
0mg cholesterol
0%
protein 0g
0%
* The ratio (%) to the daily nutritional standard is 2,000 kcal, so it may vary depending on the individual's required calories.
Note: 1. If you have a specific constitution or an allergic constitution, check the ingredients before consuming. 2. There may be deposits due to food ingredients, etc., but there is no problem with the quality of the product, so please enjoy it without concern.
Storage Method: Avoid direct sunlight and keep it in a cool place. After opening, keep refrigerated.


Pure, Bright and Warm Cooperative is a certified social enterprise that makes delicious and healthy beverages without additives such as citron, pomegranate, and ginger from Goheung.
Shipping Information
Refund Policy
Exchange or refund requests must be made within 7 days of receiving your product and should be initiated by contacting us through email (help@wooltariusa.com) or phone (310-933-8648) with a photo.
Please note that exchange or refund requests made on review boards or other platforms are not accepted.
A 30% restocking fee plus shipping charges apply for returns due to a change of mind, and refunds are not available for non-defective refrigerated/Korea-US direct delivery items.
별도로 비닐팩에 꼼꼼하게 포장되어 배송되어 좋았구요 파우치로 되어있으니 하나씩 먹기 편하네요
울타리몰의 배송을 칭찬하시고 상품의 편리함을 리뷰해 주심에 감사드리며 100포인트 적립해 드립니다. 감사합니다.
wooltari
보통 가게에서 파는 타서 먹는 유자차는 유자랑 설탕이 주로 들어가서 제 입맛에 달고 타서 먹어야하는 번거로움 때문에 구입을 잘안하게 되었는데 이제품은 적당히 달고 휴대하기 편해서 온가족이 하루에 하나씩 마실정도에요. 재구입하게 되는 제품일정도로 강추 합니다~
wooltari
집에 유자차 항상 있을정도로 유자차 엄청 좋아하는데 기대를 너무 했나봐요. 리뷰보고 궁금해서 산건데..... 그닥 특별한건 모루겠어요
그래도 유자차는 항상 맛있죠♡
wooltari
냉동실에 살짝 얼려서 슬러시처럼 먹으니까 맛있네요. 타브랜드 유자보다 이게 더 깔끔하고 유자 그대로 맛이 나요. 한 손에 들어오는 크기에 휴대가능해서 좋아요.
wooltari
한참 전 사은품?으로 한포 보내주신걸 이제사 마셔봤는데 상큼하니 맛있네요. 감사합니다.
wooltari
유자향은 참 좋은데 제 입에는 조금 많이 다네요. 탄산수와 섞어 마셨더니 좋았습니다.
wooltari
요즘 다이어트 중이어서 두유랑 호박즙 사과즙... 골고루 건강하게 잘 챙겨 먹고 있습니다.
울타리몰 덕분에 쉽게 잘 하고있어요.
감사합니다!
wooltari
사은품으로 챙겨주셨길래 마셔봤는데 아주 달지않은 새콤함이 너무 맛있네요!!
두유 사야해서 재주문 하야하는데 이것도 같이 주문할께요!! 감사합니다. 잘 마셨습니다 ㅎㅎ