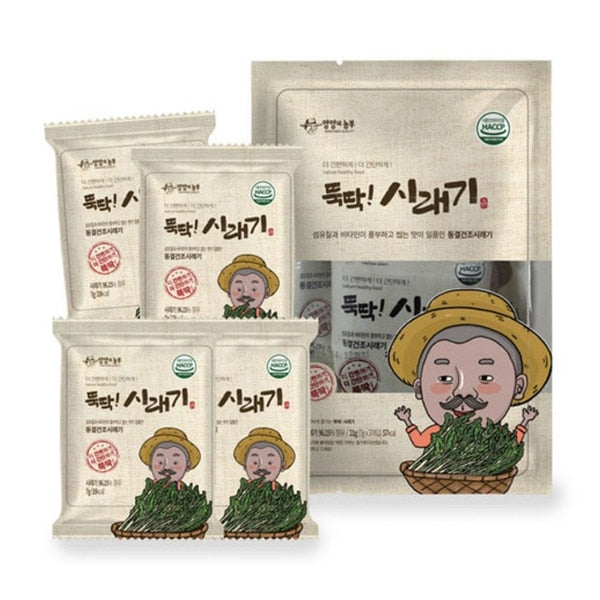 [Masua] Yangyang farmer Tok -takgi 21g (7g x 3)
Lightning Fresh
99 Delivery
Free shipping on Lightning Delivery items over $169
Free shipping on 99 Delivery items over $99
[Masua] Dried Radish Greens 
Yangyang Farmer's dried radish green are a freeze-dried product made from carefully selected local dried radish leaves with excellent taste and aroma, in the form of a block while maintaining the nutrients, texture, and aroma of the greens. In addition, it can be stored at room temperature and is packaged in single servings, making them perfect for traveling and daily consumption.
Production and Distribution
Yangyang's farmers that instantly produce dried radish greens, Seoraksan Green Food
Seoraksan Green Food is a food company specializing in pesticide-free, eco-friendly wild vegetables and medicinal herbs. It manufactures only fresh ingredients harvested in season, and distributes them in small packages in hygienic HACCP facilities. With more advanced processing and manufacturing facilities, we are striving for safe and reliable ingredients.
How to Use
Dried radish greens that can be enjoyed deliciously
Basic Cooking Method
1. Pour water in with the radish green block and wait for around 30 seconds.
2. When the radish green block is restored, you can use it immediately in radish green rice, stir-fried radish greens, or radish greens soybean paste soup, depending on your preference.
3. Add perilla oil when making radish green rice or stir fry for a more scrumptious taste.
Delicious and Fragrant! Radish Greens Recipe
Super easy radish greens sprout rice
1. Have the same amount of rice water as for soaked rice.
2. Put in the radish green block.
3. Radish green sprout rice is complete! Add perilla oil and seasoning sauce to fully enjoy the rice.
Super easy radish green sprout stir-fry
1. Soak the radish green block for 30 seconds in cold water.
2. Add soybean paste to the radish greens and soak for the seasoning to spread
3. Boil the marinated shiraegi greens with rice water, then add perilla powder and perilla oil to complete the chewy stir-fry.
Easy radish green soybean paste soup
1. Put soybean paste and minced garlic into a radish green block soaked in cold water for 30 seconds and marinate until the seasoning is right.
2. Healthy soybean paste soup is complete!
Verified Quality
Enjoy our trusty food! Certified dried radish greens
California Proposition 65
WARNING: Consuming this product can expose you to chemicals including lead and cadmium which are known to the State of California to cause cancer and birth defects or other reproductive harm. For more information go to www.p65Warnings.ca.gov/food
| | |
| --- | --- |
| Allergy Info | This product is manufactured in the same manufacturing facility as that of soybean, wheat, milk, egg, buckwheat, peanut, squid, mackerel, crab, shrimp, peach, tomato, sulfurous acid, walnut, pork, beef, chicken, shellfish (including oysters, abalone, and mussels). |
| Manufacturer | Seoraksan Green Food Co., Ltd. - Donglim Food Co., Ltd. |
| Origin | Yangyang-gun, Gangwon-do - Sacheon-myeon, Gangneung-si |
| Ingredients | 96.15% of rice flour (domestic) and 3.85% of rice flour (domestic) |
19kcal per 7g
* 1 day nutrient
ratio to reference value
0mg sodium
0%
three grams of carbohydrate
1%
saccharide 0g
0%
fat 0g
0%
0g transfat
0%
0g saturated fat
0%
0mg cholesterol
0%
1g protein
1%
* The ratio (%) to the daily nutritional standard is 2,000 kcal, so it may vary depending on the individual's required calories.
Note: 1. If the packaging is damaged during handling, there is a risk of product deterioration. 2. Be careful not to get burned by hot water, oil, or cooking utensils while cooking. 3. The wrapping paper is sharp, so be careful when opening and using it. 4. Be careful not to injure your hands when opening with scissors or a knife. 5. Microwave cooking is not possible Storage: Avoid direct sunlight and store in a cool place. Do not leave it open as it is susceptible to moisture.

Seoraksan Green Food is a company specializing in the production of wild vegetables in Gangwon-do, and it enhances taste and quality by making homemade food through customized machinery. It is a brand that values the health of customers through thorough quality control and careful selection process.
Shipping Information
Refund Policy
1. Exchanges and refunds can be requested within 7 days of receiving the product.
2. For exchange or refund request, please contact us through email(help@wooltariusa.com) & phone (310-933-8648) with a photo.
3. If you request an exchange or refund on other boards, such as a review board, exchange or refund is not possible.
4. For simple change of mind, the shipping cost and 30% of the product price will be charged as a restock fee for returns.
5. Refrigerated delivery products and Viscose Rayon products cannot be exchanged or refunded only if there is no defect in the product.
된장찌개에 넣어 먹으려고 샀어요! 맛있었음 좋겠네요ㅎㅎ
우리집팬트리에 항시있는 시레기, 동결건조라 색이 아주 고와요. 각종 구수한 탕, 국에 마구 넣고 싶은마음