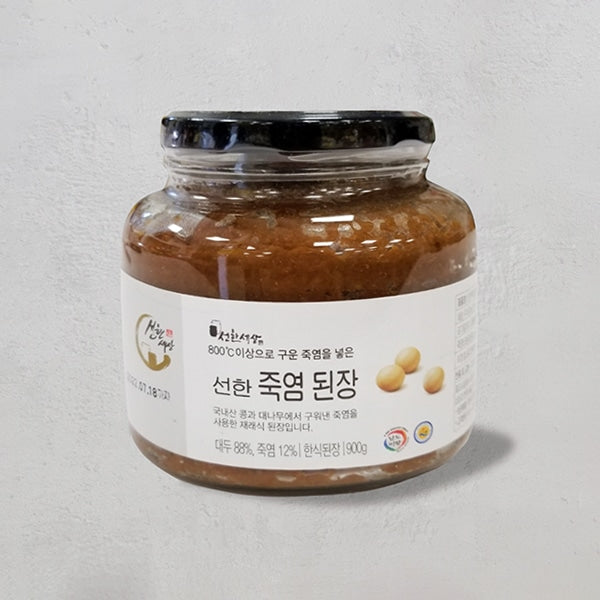 [Good World] Good Bamboo Salt Soybean Paste 900g
Lightning Fresh
Free shipping on Lightning Delivery items over $169
[Good World] Good Bamboo Salt Soybean Paste
It is made in a conventional way using organic soybeans grown by ourselves and bamboo salt baked at over 800 degrees Celsius as the main ingredients. There is no odor and it is clean and clear.
Manufacturing Process
Bamboo salt soybean paste made in a traditional way
After washing and boiling soybeans and fermenting soybeans, wash soybeans and dry them slightly in the shade. Soy sauce and meju are soaked for about a month and a half and are separated and aged in a Jangdokdae with soybean paste and soy sauce, respectively.
Nutritions
Korean traditional fermented food, the power of soybean paste
Soybean paste, famous as a traditional Korean food, is a food made by fermenting soybeans, which has an effect on the prevention of skin diseases and vascular diseases.
How to Use
How to use bamboo salt soybean paste
Blanch the herbs in hot water and mix with miso to make fresh greens. If you add soybean paste when eating meat and ssam, lactic acid bacteria are alive, so it is good for health and can also be used to make red pepper paste and ssamjang.
California Proposition 65
WARNING: Consuming this product can expose you to chemicals including lead and cadmium which are known to the State of California to cause cancer and birth defects or other reproductive harm. For more information go to www.p65Warnings.ca.gov/food
| | |
| --- | --- |
| Allergy Info | Contains soybean |
| Manufacturer | Good World Corporation |
| Origin | Naju, Jeollanam-do |
| Ingredients  | Soybeans (Soybean-Domestic Acid 100%) 85%, bamboo salt (Domestic Acid 100%) 15% |

Good World is located in Naju, Jeollanam-do, which is the center of the Jeonnam Plain. We making healthy food with fresh ingredients grown directly in the fertile land and clean natural environment.
Shipping Information
Refund Policy
1. Exchanges and refunds can be requested within 7 days of receiving the product.
2. For exchange or refund request, please contact us through email(help@wooltariusa.com) & phone (310-933-8648) with a photo.
3. If you request an exchange or refund on other boards, such as a review board, exchange or refund is not possible.
4. For simple change of mind, the shipping cost and 30% of the product price will be charged as a restock fee for returns.
5. Refrigerated delivery products and Viscose Rayon products cannot be exchanged or refunded only if there is no defect in the product.
선한 죽염 된장 선한 제품은 계속 사서 먹어 신뢰해요
요번에 된장 구매했는데 정말 말끔하고 담백한 맛있는 된장이네요
개인적으로는 제일 좋아하는 된장이 됐어요 하신 고객님 리뷰 감사합니다
선한세상에 고추장, 된장은 많은 고객님깨서 사랑하시는 장류입니다
죽염된장이 집된장 맛이 나서 만족하신 고객님의 소중한 포토 리뷰,
300포인트 적립해드리겠습니다. 감사합니다.
윽.. 별로에요. 부모님께서 다시는 사지 말라고 하심…
으… 완전 별로네요.. 선한 브랜드 죽염도 그렇고 다 이상해요.. 죽염에서 비린맛이 나고 하얀 이물질이 물에 용해도 안되고 바닥에 엄청 가라앉고…