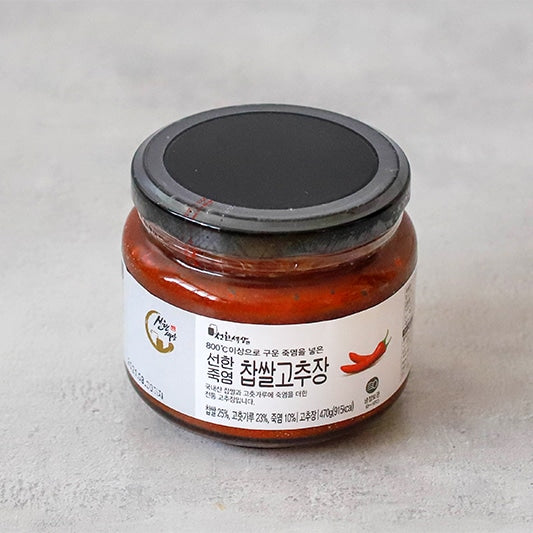 #[Good World] 470g of good bamboo salt glutinous rice
Lightning Fresh
Free shipping on Lightning Delivery items over $169
[Good World] Good Bamboo Salt Glutinous Rice and Red Pepper Paste
It is a traditional red pepper paste made from domestic glutinous rice, red pepper powder, and non-glutinous rice. By adding bamboo salt baked at over 800 degrees Celsius, you can feel the clean flavor and deep, sharp and spicy taste without being stuffy.
Manufacturing Process
Glutinous rice and red pepper paste made in a traditional way
After washing and boiling soybeans and fermenting soybeans, wash the soybeans and dry them slightly in the shade, put them in a jar, add salt water, charcoal, and organic red pepper grown by hand, and put the soybean paste in it and let it mature in the jar.
Nutritions
Gochujang is an indispensable part of spicy Korean food.
Gochujang is a traditional Korean fermented food and contains a lot of beneficial nutrients such as fat, protein, and vitamins.
How to Use
How to use glutinous rice and red pepper paste
It can be used in any dish that requires red seasoning, such as tteokbokki, various stews, pickles, stir-fries, etc.
California Proposition 65
WARNING: Consuming this product can expose you to chemicals including lead and cadmium which are known to the State of California to cause cancer and birth defects or other reproductive harm. For more information go to www.p65Warnings.ca.gov/food
| | |
| --- | --- |
| Allergy Info | Contains soybean, wheat |
| Manufacturer | Good World Corporation |
| Origin | Naju, Jeollanam-do |
| Ingredients | Glutinous rice (domestic) 25%, red pepper powder (domestic) 23%, spicy rice (domestic), soybean powder [Korean soybean (soybean-domestic)], bamboo salt (sun-dried salt-domestic) 10%, malt (domestic), Korean soy sauce (bamboo salt water ( Soybean (domestic)}, soybean (domestic) |
915kcal per 470g
* 1 day nutrient
ratio to reference value
sodium 1260mg
63%
39g carbohydrate
12%
12g of saccharide
12%
fat 2g
4%
0g transfat
0.3g saturated fat
2%
0mg cholesterol
0%
protein 5g
9%
* The ratio (%) to the daily nutritional standard is 2,000 kcal, so it may vary depending on the individual's required calories.
Note: White yeast may form on the product, but this does not indicate a problem with the product, so please refer to it when purchasing.
Storage method: Refrigerator storage

Good World is located in Naju, Jeollanam-do, which is the center of the Jeonnam Plain. We making healthy food with fresh ingredients grown directly in the fertile land and clean natural environment.
Shipping Information
Refund Policy
1. Exchanges and refunds can be requested within 7 days of receiving the product.
2. For exchange or refund request, please contact us through email(help@wooltariusa.com) & phone (310-933-8648) with a photo.
3. If you request an exchange or refund on other boards, such as a review board, exchange or refund is not possible.
4. For simple change of mind, the shipping cost and 30% of the product price will be charged as a restock fee for returns.
5. Refrigerated delivery products and Viscose Rayon products cannot be exchanged or refunded only if there is no defect in the product.
여기 있는 다른표에 비해 색깔이 좀 더 좋은 것 같아요
선한세상 죽염 찹쌀고추장은 정말 퀄리티 짱입니다
우리집 고추장이기도 합니다
깔끔하고 건강한 맛의 고추장 인 것 같습니다. 많이 달지도 짜지도 않은데 깊은 맛이 느껴지네요. 찹쌀고추장이라 질감도 좋고 좋은 재료를 사용하여 만들어진게 느껴지네요. 어느 요리에 넣어도 깔끔하고 깊은 맛이 느껴져서 매우 만족합니다.
찹쌀 고추장 구매에 감사드리며
300 포인트를 적립해 드립니다
맛이 깔끔하고 깊어서 좋아요.
너무 단맛이 나는 고추장을 안 좋아하는데 다른 고추장이 비해 단맛이 적은편이고 적당한 매콤한 맛이 혀끝에 남더라고요. 된장찌게를 끓이면서 고추장 한 작은술정도 같이 넣어 끓이니 훨씬 좋네요.
맛이 깔끔하고 깊어서 좋으시다고요
단맛과 매콤한 맛이 적당하고 여운이 남으신다고요
정성스런 리뷰글과 사진 감사드리며 300포인트 적립해 드립니다.
wooltari
집된장처럼 엄청 구수하고 깊은 맛을 원하시는 분들은 조금 슴슴하다고 느끼실 수 있을 것 같아요.
깔끔한 된장찌개 좋아하시는 분들께 추천합니다!
wooltari
마트 판매 제품을 먹다가, 고추장 순서대로 다 먹어보려고, 값이 저렴한 제품하나랑 이제품이랑 두개 주문해서,
집에서 마트 판매제품이랑 저렴한 제품 그리곤 이제품 이렇게 비교해봤는데,
이제품을 맛을 본순간 저렴한 제품은 괜히 샀다 싶네요. 자극적인 맛들이 주류인 시판제품에 비해,
달지 않고, 짜지않고, 담백한데, 나중에는 은근히 깊은맛도 우러나오네요.
예전에 친정언니가 해줬던 건강하고, 꺠끗한 맛이예요.
값이 괜히 비싼것이 아니였어요.
재료도 다 국산이고, 너무 맘에 드네요.
재구매 목록 추가!
wooltari
많이 짜지 않은 고추장을 찾고 있었는데 제 입맛에 딱 맞는 고추장을 찾았네요.
많이 짜지도 달지도 않은 깔끔한 맛의 건강한 고추장인것 같아요.
질감도 찹쌀고추장이라 쫀쫀하고 좋은 재료로 만들어 진게 느껴지네요.
비빔밥에 넣어 먹어보니 확실히 고추장의 깔끔하면서도 깊은 맛이 느껴져서 맛있었습니다.