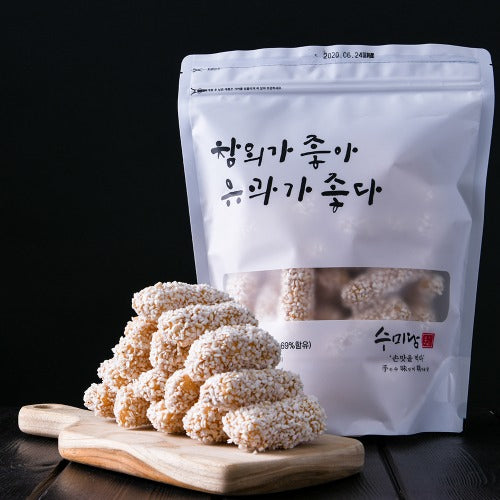 [Sumidam] Melon Grain Syrup Pastry 200g
Lightning Fresh
99 Delivery
Free shipping on Lightning Delivery items over $169
Free shipping on 99 Delivery items over $99
[Sumidam] Melon Root Pastry 200g
Sumidam Yugwa is made with homemade dough, so it is crispy on the outside and soft on the inside. Seongju melon grain syrup is added to capture the taste and health at the same time with the sweetness of melon instead of a simple sweet aftertaste.
Production and Distribution
Sumidam creates new value for agricultural products
We directly juice melons grown in Seongju, the hometown of melons, to make homemade brewing syrup, which contributes to the economic development of Seongju and to creating good products.
Manufacturing Process
Do Yong-gu and Bae Bae-cheol, inheriting their grandmother's taste
It has been passed down for three generations with a mother who makes it the same way her grandmother made it at home. Using only good ingredients, we make important ingredients by hand to create only the best products.
How to Use
People of all ages and genders like melons, so Yugwa is great!
Yugwa no longer holds the the prejudice that it is simply a festive snack and only for adults. Using only domestic melons and glutinous rice, no chemical seasonings are mixed, so it is perfect for children's snacks and since it is soft, it's also great for the elderly.
Verified Quality
Sumidam constantly strives for better products
It is not only HACCP certified in order to be more thorough in hygiene and safety, but has also been awarded and issued certificates and certificates from various organizations, making it very trustable.
California Proposition 65
WARNING: Consuming this product can expose you to chemicals including lead and cadmium which are known to the State of California to cause cancer and birth defects or other reproductive harm. For more information go to www.p65Warnings.ca.gov/food
| | |
| --- | --- |
| Allergy Info | This product is manufactured in the same manufacturing facilities as wheat, milk, and eggs; contains soybeans |
| Manufacturer | Sumidam |
| Origin | Seongju-gun, Gyeongsang-bukdo |
| Ingredients | 68% glutinous rice (domestic), 10% rice (domestic), 8% malt syrup, 8% melon grain syrup (domestic), 4% seed oil (domestic soybean raw material), rice tuna (domestic) |
Storage Method: Store in a dry and cool place away from moisture or direct sunlight.

Sumidam has been passed down for 3 generations with a mother who makes it just like her grandmother made at home. The melons grown in Seongju, the hometown of melons, are directly extracted to make homemade syrup, striving to make clean and healthy food.
Shipping Information
Refund Policy
1. Exchanges and refunds can be requested within 7 days of receiving the product.
2. For exchange or refund request, please contact us through email(help@wooltariusa.com) & phone (310-933-8648) with a photo.
3. If you request an exchange or refund on other boards, such as a review board, exchange or refund is not possible.
4. For simple change of mind, the shipping cost and 30% of the product price will be charged as a restock fee for returns.
5. Refrigerated delivery products and Viscose Rayon products cannot be exchanged or refunded only if there is no defect in the product.
생각보다 조금 별로 였지만 미국에서 먹기에는 상위 옵션입니다.
생각보다 조금 별로 였지만 미국에서 먹기에는 상위 옵션입니다.
상품평 해주심에 감사드리고 100포인트 드립니다.
wooltari
처음 구매입니다. 봉지를 뜯었을때 맛있는 냄새를 기대했는데 기름 냄새가 먼저 들어오네요. 식감은 바삭하고 너무 달지않아 좋았는데 역시나 과한 기름 맛이 입속에 계속 남아서 저는 별로입니다.
wooltari
수미담 유과와 찹쌀산자를 먹어보니 찹쌀산자가 기름냄새도 안나고 맛있네요 수미담유과는 먹을때는 맛있지만 기름냄새가 나서 실망스럽고 돈도 아깝네요 . 기름을 자주 바꿔주면 이런냄새 .. 안나면 가격도 아깝지 않을텐데....