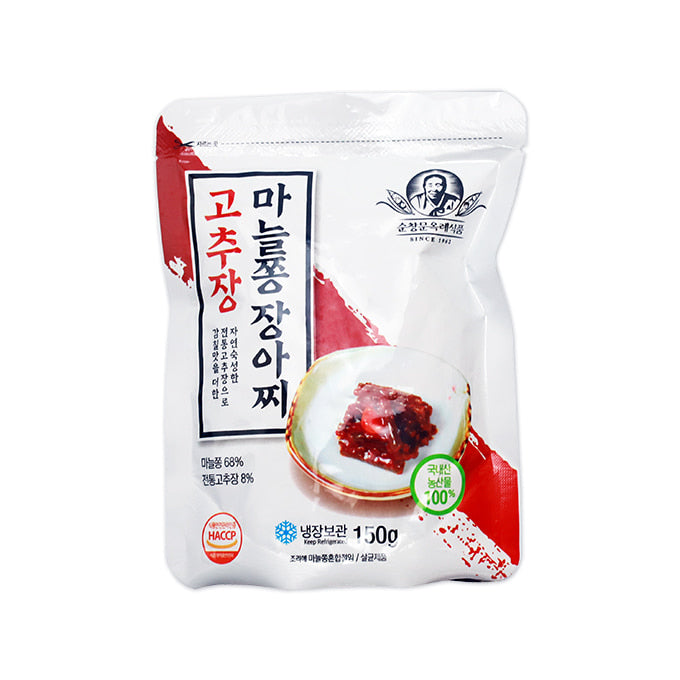 [Sunchangmun Okrye] Restaurant Garlic Garlic
Lightning Fresh
Free shipping on Lightning Delivery items over $169
[Sunchangmun Okrye] Restaurant Garlic Garlic
It is an authentic Jeollado -style pickles that inherit the secret of Moon Ok -rye, who is shining in 'Korea Food Name 36'. It is the same as our old taste, which is not squeezed or sweet, making it a traditional way through the 7th generation craftsmen.
Manufactured Environment
Sunchang, where Jangdamgeum culture developed due to fog
Sunchang has a clear and clean natural environment and geographical characteristics of frequent fogging, making it suitable for fermentation and maturation of the intestines. Due to such a blessed climatic condition, we have kept the unique Jangdamgeum method and the taste of soy sauce differentiated from other regions.
Manufacturing Process
Safe food manufactured in a hygienic environment
All products are produced under strict principles and systems in a sanitary and safe manufacturing facility based on carefully selected domestic raw materials through contract cultivation.
Verified Quality
Food connoisseur, HACCP certification
In an environment certified by HACCP, the food safety management standard, Mun Ok-rye, who has been designated as 'Korea Food Master No. 36', receives raw materials, processes them into products, and directly manages all processes before shipment.
California Proposition 65
WARNING: Consuming this product can expose you to chemicals including lead and cadmium which are known to the State of California to cause cancer and birth defects or other reproductive harm. For more information go to www.p65Warnings.ca.gov/food
| | |
| --- | --- |
| Allergy Info | Contains soybean |
| Manufacturer | Sunchang Moon Okrye Food |
| Origin | Sunchang-gun, jeonrabuk-do |
| Ingredients | Garlic stem 68.0% (domestic production), garlic 8.0% (domestic production), traditional red pepper paste 8% [red pepper powder 23% (domestic production), glutinous rice 21% (domestic production), soybean powder [soybean (domestic production), spicy rice (domestic production)], malt (barley) : Domestic), conventional soy sauce [soybean (domestic), sea salt (domestic)], starch syrup, red pepper powder (domestic), traditional Korean soy sauce [Korean soybean 26% [soybean (domestic) 100%], sea salt [domestic], purified water], white party |
Storage method: Keep refrigerated (0~10℃)

Sunchang Moon Okrye Foods contains the secret recipe of Grandmother Moon Ok-rye, who shines in 'Korea Food Name No. 36'. We strive to create the right food culture with the hands of artisans that have been passed down for 7 generations.
Shipping Information
Refund Policy
1. Exchanges and refunds can be requested within 7 days of receiving the product.
2. For exchange or refund request, please contact us through email(help@wooltariusa.com) & phone (310-933-8648) with a photo.
3. If you request an exchange or refund on other boards, such as a review board, exchange or refund is not possible.
4. For simple change of mind, the shipping cost and 30% of the product price will be charged as a restock fee for returns.
5. Refrigerated delivery products and Viscose Rayon products cannot be exchanged or refunded only if there is no defect in the product.
양이 적어 안타깝지만 맛은 아주 좋습니다. 재구매 의사 있습니다
아삭거리고 간도 반찬으로 딱 맞아요.
간이 좀 적어서 아쉽지만 다시 재구매 아이템 순서 넘버 원 입니다.