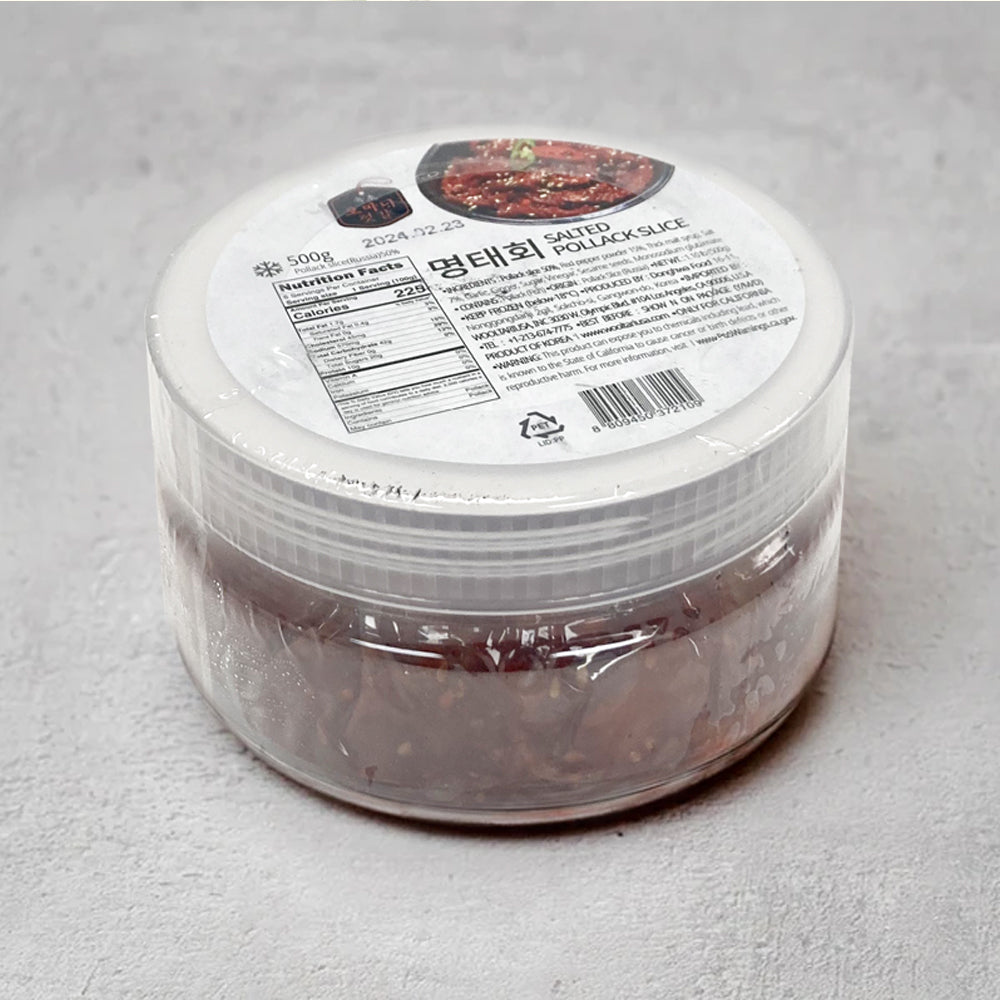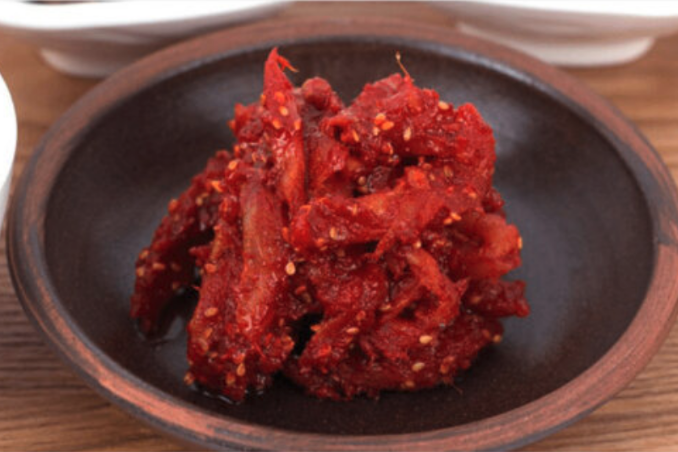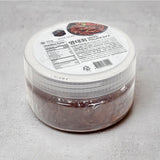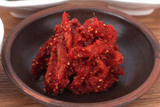 [Donghwa Food] Omani Salted Pollack Sliced 500g
Lightning Fresh
Free shipping on Lightning Delivery items over $169
[Donghwa Food] Omani Salted Pollack Sliced 500g
Sweet and sour tasting fresh pollack made using a unique seasoning method that is sure to boost your appetite
Manufactured Environment
Sokcho, Gangwon-do, famous for its gourmet cuisine
This premium product is reputed to be the best in Sokcho, Gangwon-do, the home of gourmet food.
Manufacturing Process
A conventionally hygienic manufacturing process
All products are 100% handmade instead of relying on mass machine work, so you can truly taste the love and care put into making each product. Hygienically made and free of additives, it has a deep flavor that's not too salty or sweet.
How to Use
Simple method for enjoying pollack sashimi
Thanks to its refined taste without any fishy smell, it can be used in multiple ways such as in side dishes, as a garnish for hot or cold noodles, and side dish for bossam (napa wraps with pork).
Exclusive Contract
American exclusive brand
Dongwha Food products produced in Sokcho-si, Gangwon-do are the U.S. exclusive brand of Wooltari Mall.
California Proposition 65
WARNING: Consuming this product can expose you to chemicals including lead and cadmium which are known to the State of California to cause cancer and birth defects or other reproductive harm. For more information go to www.p65Warnings.ca.gov/food
| | |
| --- | --- |
| Allergy Info | Manufactured by the same manufacturer as products using oysters, shrimp, squid, and shellfish. |
| Manufacturer | Dongwa Food |
| Origin | Sokcho city of gangwon-do |
| Ingredients  | Pollack meat (Russia) 50%, red pepper powder (China) 15%, starch syrup, refined salt (domestic production) 7%, garlic, ginger, sugar, vinegar, sesame, sodium L-glutamate (flavor enhancer) |
225kcal per 100g
* 1 day nutrient
ratio to reference value
sodium 570mg
29%
42g carbohydrate
13%
20g saccharides
fat 1.7g
3%
0g transfat
saturated fat 0.4g
3%
45mg of cholesterol
15%
10g protein
* The ratio (%) to the daily nutritional standard is 2,000 kcal, so it may vary depending on the individual's required calories.
Note: Best consumed as soon as possible even if refrigerated. Store in the freezer for long-term consumption.

Dongwha Food contributes to the health of customers with a clean and healthy food culture. We make various efforts to deliver the healthy dining table of Korea to the world with the rich nutrition of seafood harvested from the clean seas of Sokcho.
Shipping Information
Refund Policy
1. Exchanges and refunds can be requested within 7 days of receiving the product.
2. For exchange or refund request, please contact us through email(help@wooltariusa.com) & phone (310-933-8648) with a photo.
3. If you request an exchange or refund on other boards, such as a review board, exchange or refund is not possible.
4. For simple change of mind, the shipping cost and 30% of the product price will be charged as a restock fee for returns.
5. Refrigerated delivery products and Viscose Rayon products cannot be exchanged or refunded only if there is no defect in the product.
아주 맛있게 잘 먹고있습니다.
미리 주문해서 냉동실에 쟁여두고 먹는 편이에요 주로 냉면에 올려 회냉면으로 먹고요! 오징어순대에 곁들여 먹습니다.
미국에서도 한국의 맛을 느낄 수 있는 아주 감사한 아이템이에요!
얼렸다 해동해도 쫄깃한 명태회의 식감을 느낄 수 있고 양념또한 감칠맛이 있습니다. 속초 느낌 그대로에요!
포장도 깔끔해서 믿을 수 있는 제품입니다.
강력추천합니다.
최애 상품입니다.
다른 브랜드도 먹어봤지만, 이 제품이 개인적으로 가장 맛있어요.
새콤달콤 맛이 조금 강한듯 하지만, 냉면에 비벼 먹으면 그만입니다.
몇번째 구매인지 모릅니다. 강추.
밀면 진짜 맛있어요!!! 신랑도 맛있다며 엄청 잘먹더라구영 :)
이번 구매의 핵심은 이제품이예요.
명태회, 다른 브랜드도 먹어봤는데, 저 개인적으로는 이제품이 훨씬 좋아요.
맛도 좋고, 부드럽고, 촉촉하고. 2통 주문수량 걸려서, 2통밖에 못 샀네요.
저는 강추.
반찬으로 먹어도 좋은데 저흰 매콤한 함흥냉면에 고명으로 얹어먹으니 딱이예요. 나름 회냉면 느낌 낼수 있어요.
냉장고에 항상 쟁여두고 먹고있어요.
비린내 안나고 깔끔하게 맛깔스랍디^^
와우! 이거 정말 너무너무 맛있어요...완전 살도 실하고 양념도 맛있구요...일단 퀼리티가 너무 좋다는 느낌^^ 그냥 마트에 파는 인스턴트 냉면 사다가 이거 올려먹으면 식당에서 파는 $20가까이 하는 회냉면하고 똑같습니다...너무 맛있어요.. 재구매의사 200%입니다. 세일할때 쟁여두면 더 좋을듯요^^