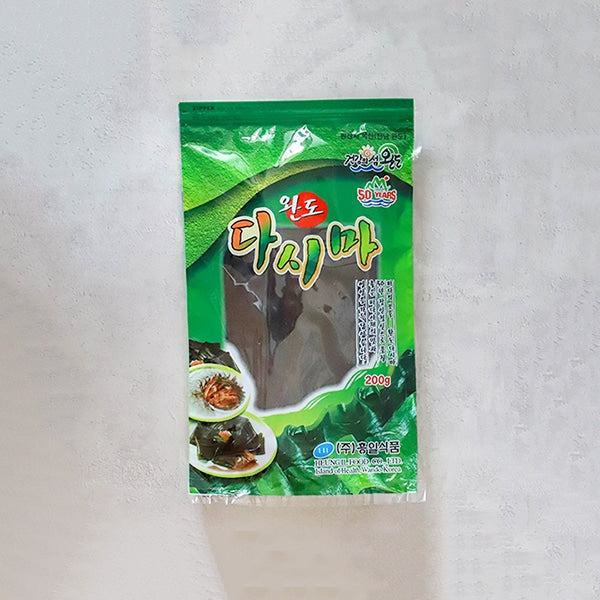 [Heungil Food] Wando Dried Kelp 200g
Lightning Fresh
99 Delivery
Free shipping on Lightning Delivery items over $169
Free shipping on 99 Delivery items over $99
[Heungil Food] Wando Dried Kelp 200g
Heungil Foods Wando Kelp, a well-being food that accounts for more than 80% of Korea's total kelp production!
Production and Distribution
Natural, non-processed kelp
Meet the best fresh kelp from Wando as natural, not processed. It is also good as a substitute for seasoning. It is the highest quality Heungil Food dried kelp that protects the health of the family.
Manufacturing Process
Everyone is satisfied with Heungil Foods.
It is clean and soft by processing carefully selected raw materials, there is no burden on people of all ages and genders to enjoy.
Verified Quality
ISO9001 & High quality traditional food certificate.
In accordance with the certification standards and certification scope of the quality management system, Heungil foods won ISO9001 certificate & High quality Korean traditional food certificate from National Fisheries Quality Management Service.
California Proposition 65
WARNING: Consuming this product can expose you to chemicals including lead and cadmium which are known to the State of California to cause cancer and birth defects or other reproductive harm. For more information go to www.p65Warnings.ca.gov/food
| | |
| --- | --- |
| Allergy Info | Kelp |
| Manufacturer | Heungil food |
| Origin | Wando-gun, Jeollanam-do |
| Ingredients | Fresh kelp from Wando |

Heungil Foods is a brand specialized in natural seafood from Wando.
Shipping Information
Refund Policy
1. Exchanges and refunds can be requested within 7 days of receiving the product.
2. For exchange or refund request, please contact us through email(help@wooltariusa.com) & phone (310-933-8648) with a photo.
3. If you request an exchange or refund on other boards, such as a review board, exchange or refund is not possible.
4. For simple change of mind, the shipping cost and 30% of the product price will be charged as a restock fee for returns.
5. Refrigerated delivery products and Viscose Rayon products cannot be exchanged or refunded only if there is no defect in the product.
다시마 저렴하게 잘 구매했어요. 연어 숙성할때 사용할라고 샀는데 사이즈가 딱이에요
건다시마가 품질이 좋아 만족하신 고객님의 소중한 포토 리뷰,
300포인트 적립해드리겠습니다. 감사합니다.
wooltari
두루두루 쓰기에 좋은 제품입니다. 보기에는 기장 다시마보다 얇지만 이 정도면 웬만한 마트 상품보다 훨씬 낫습니다.
울타리몰에서 파는 제품들은 믿을 수 있어서 좋습니다.
wooltari
평소에 다시마를 요리에 두루두루 사용하고 있었는데 한국에서 가져온 다시마가 마침 거의 떨어질 때 쯤 울타리몰을 알게 되어 시켜봤어요
다시마를 워낙 많이 사용해서 항상 최고 품질만 써왔는데 봉투를 여니 바닷가에서 불어오는 비릿하고 짭조름한 바람 냄새가 나서 코 박고 한참 있었네요 ㅎㅎ
불리지 않아도 좋은 걸 알겠더라고요
다시마가 특히 장에 좋다고 해서 저는 요리에 자주 쓰려고 노력하는데 평소에 다시마를 유리병에 넣어서 냉장고에 늘 보관을 해둬요
국물 필요한 요리에도 넣고 밥 할 때도 항상 밥물로 넣어요
일단 보기에도 ?이 반질반질 윤이 나요
건강한 물로 지었으니 먹는 내내 기분도 좋아집니다
건강하게 잘 차려낸 식사가 일부러 챙겨먹는 보약보다 몸에 좋다는 저만의 믿음으로 다시마를 또 우립니다
좋은 상품 취급해 주셔서 정말 감사합니다 ?