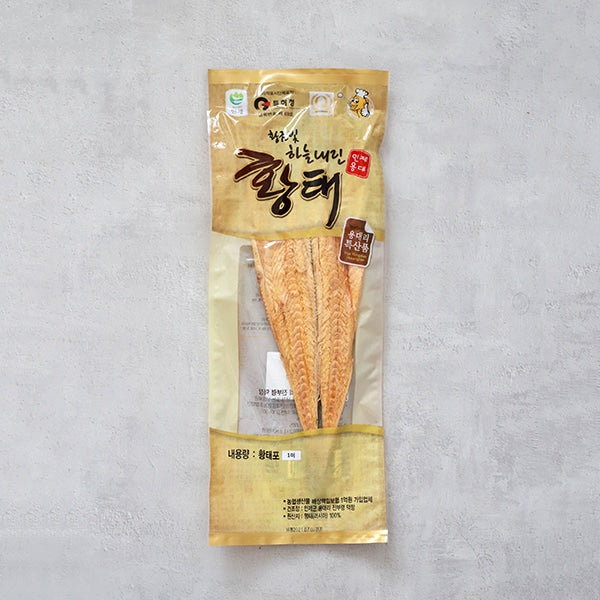 Hwangtaepo (46 ~ 48cm 1mi) x 2 pack
1 Day shipping
Ground shipping
Free shipping on 1 Day shipping items over $169
Free shipping on Ground shipping items over $99
[Daelon] Hwangtaepo 46-48cm 1 Mi *2 pack
Yongdae -ri Golden Sky The Hwangtaepo has been completely dried for 6 months in a clean natural environment without chemical additives. It has a low moisture content, but it is not hard at all, and you can feel the texture of the soft and soft sulfur.
Manufactured Environment
Hwangtae-po from Yongdae-ri, Inje-gun, Gangwon-do
Taking in all the clear energy of Naeseorak during mid-winter, Golden Sky Hwangtae-po is a product of being frozen and thawed dozens of times. The premium hwangtae-po is produced in Yongdae-ri, Inje-gun, the northernmost dried hwangtae production site of Baekdudaegan, Korea.
Manufacturing Process
Safe food manufacturing process
Our products are manufactured at modernized facilities and undergo thorough hygiene and quality control at all stages, from material processing to shipment.
How to Use
Ultra easy recipe for hwangtae dishes
Dried hwangtae can be enjoyed grilled, stewed, stir-fried, or in Korean salads. Be creative! You can even air-fry them for a miraculous flavor and crispy texture.
California Proposition 65
WARNING: Consuming this product can expose you to chemicals including lead and cadmium which are known to the State of California to cause cancer and birth defects or other reproductive harm. For more information go to www.p65Warnings.ca.gov/food
| | |
| --- | --- |
| Allergy Info | Dried pollack |
| Manufacturer | Yongdaehwangtae Federation Dandaeryung Agricultural Cooperative Corporation  |
| Origin | Inje-gun, Gangwon-do |
| Ingredients  | Dried Pollack (Russia) |
Storage Method: Keep in a cool place or refrigerate, avoiding direct sunlight.


Yongdaehwangtae Federation Dandaeryung Agricultural Cooperative Corporation is making 'Heavenly Dried Pollack' with the environment of Yongdae-ri, which has the clean energy of pure seorak, and the pride of the first-generation pollack craftsmen. It is a brand that produces high-quality pollack that contains the efforts and devotion of Yongdae-ri residents who say that nine months of the year are devoted to making yellow pollack.
Shipping Information
Refund Policy
Exchange or refund requests must be made within 7 days of receiving your product and should be initiated by contacting us through email (help@wooltariusa.com) or phone (310-933-8648) with a photo.
Please note that exchange or refund requests made on review boards or other platforms are not accepted.
A 30% restocking fee plus shipping charges apply for returns due to a change of mind, and refunds are not available for non-defective refrigerated/Korea-US direct delivery items.
두봉 주문했는데 한봉은 배송상태가 안좋아서 말씀드렸더니 바로 처리해주셨어요. 제대로 배송된것을 보니 양도 많고 크기도 적지않고 살이 아주 도톰한편은 아니지만 나쁘지 않아요. 황태국해장국해서 먹었는데 아주 맛있고 좋네요. 울타리가 전반적으로 가격대가 있기는 하지만 한인마트에서 구하기 힘든 퀄리티때문에 애용하게 됩니다 ㅎㅎ
크기는 작으나, 진하게 우러나오는 국물이 좋아요.
황태조림으로 하면 폼나요. 맛있고 향과 색이 찐~해요