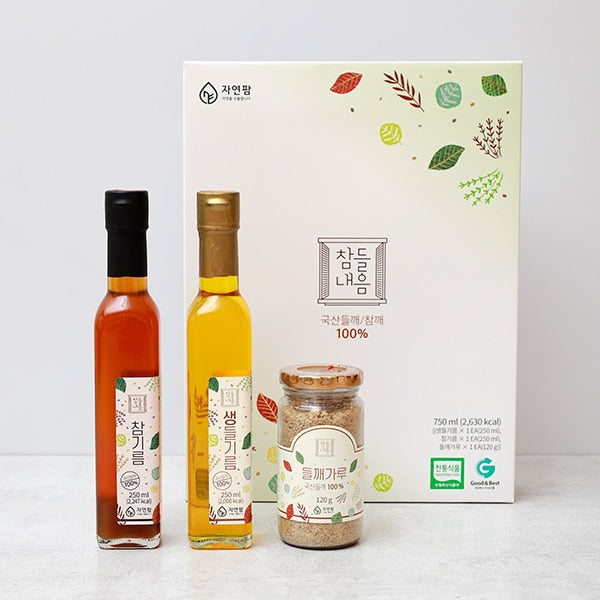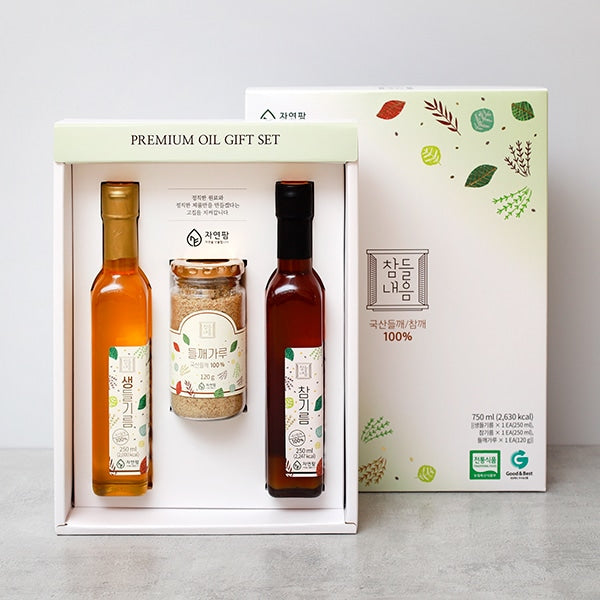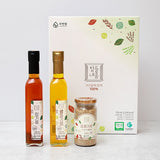 [Natural Farm] Gift set (250ml raw oil + 250ml sesame oil + perilla powder 120g)
Lightning Fresh
99 Delivery
Free shipping on Lightning Delivery items over $169
Free shipping on 99 Delivery items over $99
[Natural Farm] Gift set (250ml raw oil + 250ml sesame oil + perilla powder 120g)
It is a set of fresh oil and sesame oil contained in 100% domestic perilla powder and sesame seeds harvested from the foot of Sobaeksan Mountain. It is a healthy food that can feel more savory taste and deep and subtle aroma for a long time.
Manufactured Environment
Natural Selling located in the foot of Mount Sobaek
The product comes from Gyeongsangbuk-do Yeongju where mount Sobaek is located. Famous for apples, red ginseng, cows, and viscose, Yeongju gets a lot of sunlight year-round and has frequent climate variations, perfect for farm produce and livestock production.
Nutritions
Effect of nutty sesame
The harvested sesame of Natural Farm contains a large amount of unsaturated fatty acids such as liloleic acid and amino acids, which lower blood cholesterol levels to prevent arteriosclerosis.

Verified Quality
ISO 14001, ISO 22000 certification
It is safely made in a facility certified as ISO 22000, the Food Safety Management System and ISO 14001, the Environmental Management System.
California Proposition 65
WARNING: Consuming this product can expose you to chemicals including lead and cadmium which are known to the State of California to cause cancer and birth defects or other reproductive harm. For more information go to www.p65Warnings.ca.gov/food
| | |
| --- | --- |
| Manufacturer | Natural farm farming association corporation |
| Origin | Yeongju, Gyeongsangbuk-do |
| Ingredients | *Raw oil: 100% domestic perilla *Sesame oil: 100% domestic sesame *Perilla powder: 100% domestic perilla |
Storage method: Avoid direct sunlight and store in a cool place. Long-term exposure to heat or air may cause rancidity, so consume immediately after opening, or close the lid tightly when storing, and store in a cool place.

Natural Farm carefully selects and produces only 100% Sobaeksan perilla grown directly from seedling planting to harvest on a dedicated farm at the foot of Sobaeksan Mountain. Natural Farm always researches and strives to create healthy food that is alive with nature.
Shipping Information
Refund Policy
1. Exchanges and refunds can be requested within 7 days of receiving the product.
2. For exchange or refund request, please contact us through email(help@wooltariusa.com) & phone (310-933-8648) with a photo.
3. If you request an exchange or refund on other boards, such as a review board, exchange or refund is not possible.
4. For simple change of mind, the shipping cost and 30% of the product price will be charged as a restock fee for returns.
5. Refrigerated delivery products and Viscose Rayon products cannot be exchanged or refunded only if there is no defect in the product.
아직 먹어보기 전인데, 리뷰가 좋아서 구매했어요. 한국내 생산품이라 믿을 수 있을 것 같구요.
이 참기름은 세일 하던 안하던 무조건 사재기 하고 있어요. 인기가 많아서인지, 자주 품절되서.. 참기름 이 깨끗하고 맛도 고소하고 맑아서 늘 믿고 먹고있어요.
들기름이 많이 찐하지 않아서 공복에도 먹을수 있어요.