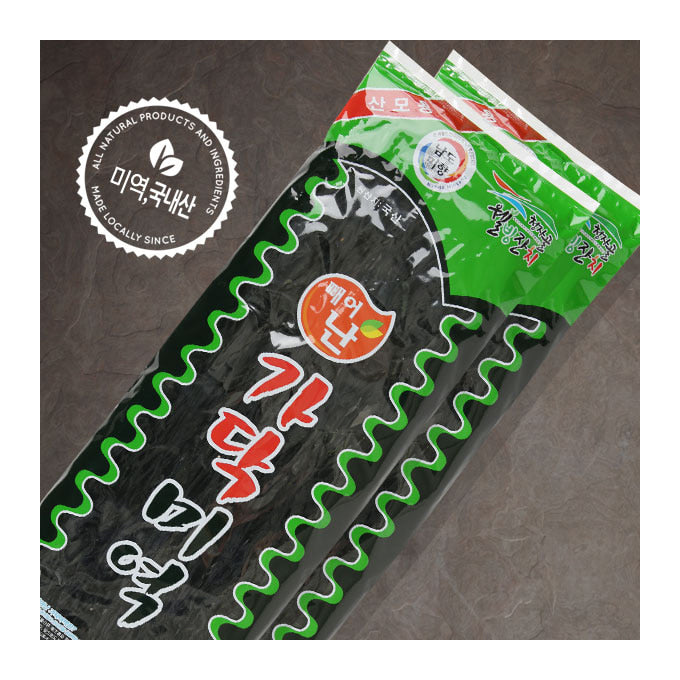 [Golden-Mulsan] DRY SEA WEED 320g
Lightning Fresh
99 Delivery
Free shipping on Lightning Delivery items over $169
Free shipping on 99 Delivery items over $99
[Hwangeum Mulsan] Stranded Seaweed (for mothers) 320g
Gangjin, Jeollanam-do, with in the blue sea of clean waters. Introducing strand seaweed for mothers with a thick broth and high iron nutrient.
Production and Distribution
The difference in origin is the difference in quality!
With over 40 years of know-how, we select only the highest quality raw plants in clean waters. Through continuous research and efforts, we found the optimum washing time and proper drying temperature to produce excellent quality products. Strict quality control ensures that consumer trust does not deal with products that are not fresh.
Verified Quality
Certified and reliable products
By receiving numerous certifications, including seafood production and processing facility registration certificates, as well as aquatic products quality certificate, FDA ingredient conformity determination, and South Seafood certificate, our food could be trusted by consumers.
Premium Ingreidents
Why is it excellent?
Because it has strands (seaweed stem), the broth is thick and contains a large amount of iron, making it a high-quality product that mothers need.
California Proposition 65
WARNING: Consuming this product can expose you to chemicals including lead and cadmium which are known to the State of California to cause cancer and birth defects or other reproductive harm. For more information go to www.p65Warnings.ca.gov/food
| | |
| --- | --- |
| Allergy Info | Seaweed |
| Manufacturer | Hwangeum Mulsan |
| Origin | Jeonnam-do gangjin-gun |
| Ingredients | 100% of dried seaweed (domestic) |
Storage Method : Avoid direct sunlight and store it well-ventilated.

Hwangeum Mulsan is a professional producer of seaweed products that make food in the blue sea of the clean waters. With 40 years of know-how, we select only the highest quality raw materials to make healthy food.
Shipping Information
Refund Policy
1. Exchanges and refunds can be requested within 7 days of receiving the product.
2. For exchange or refund request, please contact us through email(help@wooltariusa.com) & phone (310-933-8648) with a photo.
3. If you request an exchange or refund on other boards, such as a review board, exchange or refund is not possible.
4. For simple change of mind, the shipping cost and 30% of the product price will be charged as a restock fee for returns.
5. Refrigerated delivery products and Viscose Rayon products cannot be exchanged or refunded only if there is no defect in the product.
산후조리에 미역국 끓여먹는 용으로 구매했어요
동네 마트에서 파는거 보다 확실히 질이 좋아요
wooltari
미역을 워낙 좋아하는데 황금미역 맛 정말 진한 맛입니다.
크기가 워낙 커서 놀랐지만 국물이 진하게 잘 우려집니다~
wooltari
배송 받자마자 생각보다 큰 사이즈에 놀라고 미역국 끓여서 맛보고 놀랐어요. 여기 마트에서 사는 미역은 아무리 끓여도 이런 맛이 안 나거든요. 맛있게 잘 먹었어요.
wooltari
2개 미리 주문해서 산후에 먹다가 떨어져서 근처 한인마트에서 다른 브랜드 산모용 미역 먹어보니 확실히 퀄리티도 맛도 달라요! 줄기가 살아있어 국물도 깊은맛이 나고 미역 씹는 식감도 좋아요 국이 질려서 살짝 데쳐 미역 초무침으로도 먹어봤는데 그렇게 먹어도 맛있어요
wooltari
한인 마트에서 파는 미역과는 확실히 달라요.
너무 맛있네요. 강추합니다.