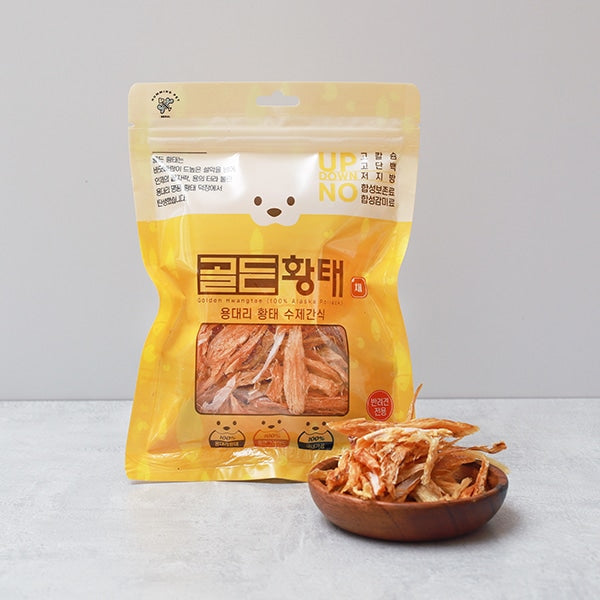 [Daerung] Yongdae-ri Golden Dried Shredded Pollack 70g (For Pets)
Lightning Fresh
99 Delivery
Free shipping on Lightning Delivery items over $169
Free shipping on 99 Delivery items over $99
[Daerung] Yongdae-ri Golden Dried Shredded Pollack 70g (For Pets)
Yongdae-ri Golden Dried Shredded Pollacks are made using carefully selected dried hwangtae, or pollack, without any synthetic preservatives or sweeteners. Formed into strips, this product is soft and delivers delicate flavors. The pollack is rich in nutrients, packed with vitamins, tarins, and proteins making it the perfect snack to give to your beloved pet.
Manufactured Environment
Yongdae-ri, Inje-gun, Gangwon-do
Taking in all the clear energy of Naeseorak during mid-winter, Golden Hwangtae Chae are a product of being frozen and thawed dozens of times. The Golden Hwangtae Chae, a luxury dog food, are produced in Yongdae-ri, Inje-gun, the northernmost dried hwangtae production site of Baekdudaegan, Korea.
Production and Distribution
Golden Hwangtae Chae, made at the 'Legendary Deokjang'
The Golden Hwangtae Chae are produced in Korea's Jinbu-ryeong Deokjang, a legendary deokjang, racks used to dry fish surrounded by nature, that takes pride in Yongdae-ri's history. The Golden Hwangtae Chae are made through the hands of Choi Ki-chul, a dried pollack craftsman of 60 years.
Manufacturing Process
Safe food manufacturing process
Our products are manufactured at modernized facilities and undergo thorough hygiene and quality control at all stages, from material processing to shipment.
California Proposition 65
WARNING: Consuming this product can expose you to chemicals including lead and cadmium which are known to the State of California to cause cancer and birth defects or other reproductive harm. For more information go to www.p65Warnings.ca.gov/food
| | |
| --- | --- |
| Allergy Info | Dried pollack |
| Manufacturer | Yongdaehwangtae Federation Dandaeryung Agricultural Cooperative Corporation |
| Origin | Inje-gun, Gangwon-do |
| Ingredients | Dried Pollack (Russia) |
Storage Method: Store in the refrigerator immediately upon receipt. For long-term storage (5-7 days), please store in the freezer.

Yongdaehwangtae Federation Dandaeryung Agricultural Cooperative Corporation is making 'Heavenly Dried Pollack' with the environment of Yongdae-ri, which has the clean energy of pure seorak, and the pride of the first-generation pollack craftsmen. It is a brand that produces high-quality pollack that contains the efforts and devotion of Yongdae-ri residents who say that nine months of the year are devoted to making yellow pollack.
Shipping Information
Refund Policy
1. Exchanges and refunds can be requested within 7 days of receiving the product.
2. For exchange or refund request, please contact us through email(help@wooltariusa.com) & phone (310-933-8648) with a photo.
3. If you request an exchange or refund on other boards, such as a review board, exchange or refund is not possible.
4. For simple change of mind, the shipping cost and 30% of the product price will be charged as a restock fee for returns.
5. Refrigerated delivery products and Viscose Rayon products cannot be exchanged or refunded only if there is no defect in the product.
저희강아지가 엄청좋아해요 애견용으로나와 짠기없고 고급간식인거같아요재주문합니다
우리 댕댕이가 눈을 번짝뜨네요. 바싹하고 댕댕이가 넘 좋아해요
저희 강아지가 너무 좋아해요. 간이 하나도 안되어있고 깨끗하게 만들어 진것같아 안심하고 주는 간식입니다!
황태가 강아지에게 너무 좋다길래 다른것은 잘안먹는데 이황태는 너무 잘먹어요. 잘말려서 너무바삭하고 짠기가 하나도 없네요 참고로 조금 맛봤거든요. 사이즈도 딷적당하고 채보다는 스틱이 좋아요
소중한 후기 감사드립니다
300 포인트를 적립해 드립니다
상품에 대한 고객님의 소중한 리뷰에 감사드리고 포인트 적립해 드립니다.