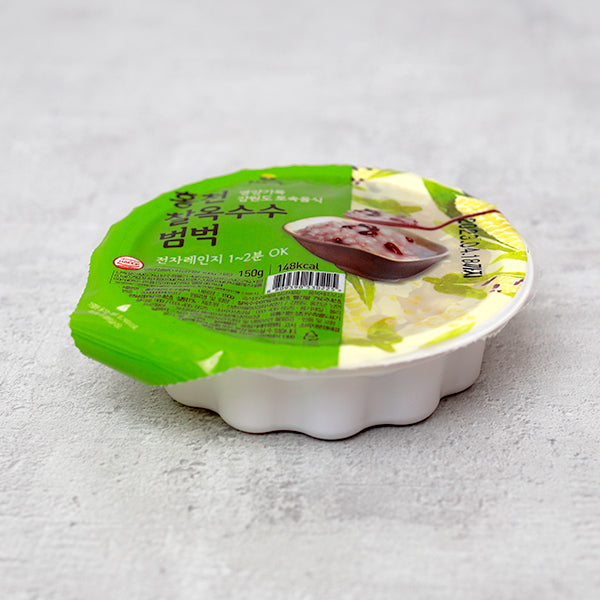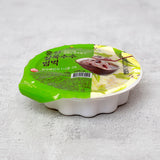 Hongcheon Corn Porridge 150g x 5pcs
1 Day shipping
Free shipping on 1 Day shipping items over $169
[Sanchon Village] Hongcheon -CORN PORRIDGE 150g x 5
Gangwon -do native food is full of nutrition!
It is a native food of Gangwon -do made by mixing the kernel of the corn and red beans. It is a product that is tangled and fragrant, and it is a product that is tangled and melted.
❉ ingredient
91% of domestic corn corn
7% of domestic red beans
1% of domestic sun salt

Production and Distribution
순 국내산 100% 재료로 건강하게 만들었습니다!
말린 찰옥수수의 까끌까끌한 과피를 벗겨내고 탱글탱글한 알맹이와 함께 팥을 섞어 만들었습니다.
쫀득하고 탱글탱글한 옥수수의 식감과 달콤하면서도 구수한 팥의 풍미를 느낄수 있는 강원도 토속먹거리입니다.
Manufacturing Process
위생적인 공정을 통해 만들어집니다!
1. 찰옥수수 알곡의 껍칠을 벗기고 세척하여 8시간 이상 불립니다.
2. 불려진 알곡과 팥을 삶습니다.
3. 살균과 이물 검출을 거친 후 위생적으로 포장합니다.
How to Use
간편하게 드실 수 있습니다!
용기필름을 제거하고 전자레인지 1~2분 정도 데워 간편하고 맛있게 즐길 수 있으며, 팥빙수 토핑, 카나페 등 다양한 조리방법으로 활용이 가능합니다.
위생적인 포장에 담아 휴대가 간편하고 1회분으로 먹기에도 충분한 양입니다.
California Proposition 65
WARNING: Consuming this product can expose you to chemicals including lead and cadmium which are known to the State of California to cause cancer and birth defects or other reproductive harm. For more information go to www.p65Warnings.ca.gov/food
산촌마을
산촌마을은 대한민국 강원도 홍천에서 자라는 깨끗하고 신선한 농산물을 원재료로 다양한 농산물가공품을 생산하는 농업회사법인입니다. 주요 제품은 찰옥수수 생산과 찰옥수수범벅 수리취떡, 삶은 무청시래기, 홍천약도라지청, 홍천고향찰현미뻥 등이 있으며 대한민국이 인정하는 식품에 대한 안전기준인 HACCP을 인증받은 시설에서 최상의 제품을 생산하고 있습니다.
Shipping Information
Refund Policy
Exchange or refund requests must be made within 7 days of receiving your product and should be initiated by contacting us through email (help@wooltariusa.com) or phone (310-933-8648) with a photo.
Please note that exchange or refund requests made on review boards or other platforms are not accepted.
A 30% restocking fee plus shipping charges apply for returns due to a change of mind, and refunds are not available for non-defective refrigerated/Korea-US direct delivery items.