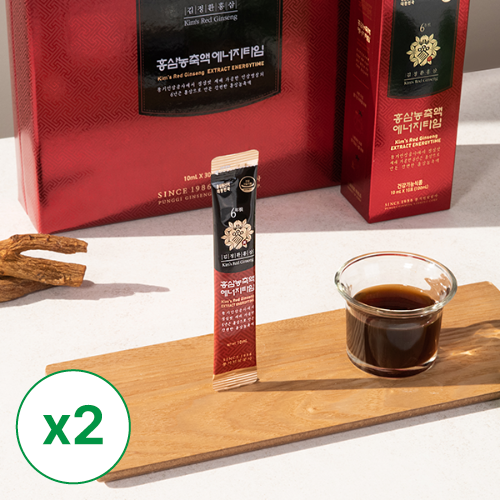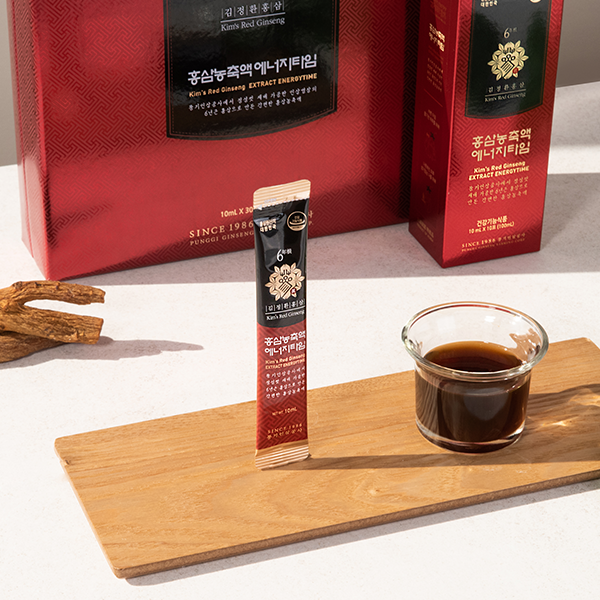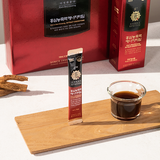 GINSENG EXTRACT ENERGY TIME (10ml x 30 sticks) x 2 box_Free shipping
Free Shipping
Enjoy free shipping regardless of purchased amount.
[Kim Jung -hwan red ginseng] Red ginseng concentrate energy time
Kim Jung -hwan's red ginseng concentrate energy time is the know -how of Korea's ginseng master who has been considering only red ginseng for about 50 years. Daily packaging for easy intake.
Manufactured Environment
Red Ginseng from Punggi-eup, North Gyeongsang Province
Kim's Red Ginseng uses only the best 6-year-old fragrant ginseng grown in the clean environment of Sobaeksan-rok surrounded by strong fertile high-quality soil cultivated by the dense internal tissue of Punggi-eup, Gyeongsangbuk-do. These Punggi ginsengs were gifted to the Joseon royal family and are the origin of the world-renowned Goryeo ginseng.
How to Use
How to Conveniently Take Care of Your Health
1. Prepare one sachet of Energy Time concentrate.
2. Press the cutting line and be careful that product does not leak out.
3. Consume before or after meals.
Premium Ingreidents
Premium 6-year-old Red Ginseng
This premium red ginseng extract is a result of repeated low-temperature extraction of the 6-year-old red ginseng grown by Korean artisans. Packed with ginsenosides, red ginseng extract boosts the immune system, relieves fatigue, and suppresses platelet aggregation, thereby improving circulation, memory function, and antioxidation.
California Proposition 65
WARNING: Consuming this product can expose you to chemicals including lead and cadmium which are known to the State of California to cause cancer and birth defects or other reproductive harm. For more information go to www.p65Warnings.ca.gov/food
| | |
| --- | --- |
| Allergy Info | Red ginseng |
| Manufacturer | Punggi ginseng corporation farming association corporation |
| Origin | Punggi-eup, gyeongsangbuk-do |
| Ingredients | Ingredients: 6-year-old red ginseng concentrate (7mg/g of ginsenosides Rg1, Rb1 and Rg3 total, 65% solids, domestic) 30%, purified water / raw material triple ratio: 6-year-old red ginseng root (domestic) 70%, 6-year-old red rice ginseng (Domestic) 30% |
5kcal per 10ml
* 1 day nutrient
ratio to reference value
three milligrams of sodium
0%
1g carbohydrate
1%
saccharide 0g
fat 0g
0%
0g transfat
0g saturated fat
0mg cholesterol
0%
protein 0g
The ratio (%) to the **1-day nutritional standard is based on 2,000 kcal, so it may vary depending on the individual's required calories.
Note: 1. Be careful when taking medicines (diabetes drugs, blood anticoagulants). 2. If you have an allergic or idiosyncratic constitution, check the ingredients before consuming. 3. If you use water or contaminated tools directly on the product, be careful as there is a risk of deterioration. 3. If the inner cap is disposable and reused, it may cause contamination and deterioration of the product. 4. Do not throw or drop as there is a risk of damage.

Kim Jeong-hwan Red Ginseng is a '50-year-old, 6-year-old red ginseng product brand' created by the CEO of Poonggi Ginseng Corporation and Kim Jeong-hwan, a master ginseng master in Korea. We honestly strive for high-quality ginseng with the cultivation secrets passed down from three generations and the cultivation know-how of ginseng masters.
Shipping Information
Refund Policy
Exchange or refund requests must be made within 7 days of receiving your product and should be initiated by contacting us through email (help@wooltariusa.com) or phone (310-933-8648) with a photo.
Please note that exchange or refund requests made on review boards or other platforms are not accepted.
A 30% restocking fee plus shipping charges apply for returns due to a change of mind, and refunds are not available for non-defective refrigerated/Korea-US direct delivery items.
한국에서도 먹던거라 의심없이 구입. 가격만 적당하면 자주 사고싶네요
남편이 피곤 하다고 해서 마시게 했는데 이젠 그 소리를 안하네요.
얼음 넣고 차게 마시는게 낳다고 합니다.
더 사야 하는 데 품절 이라고 그래서 홍삼 에너지를 마시는데 맛이 약하다고 해요.
어제 오후에 주문하고 오늘 오전에 도착!!!
훌륭합니다
훌륭한 제품에 착하디 착한 가격..모두 훌륭합니다..ㅎ
김정환 홍삼액 맛이 쌉쌀하기 한데 계속 마시다보니 익숙해져서 그 맛을 즐기게 되었습니다 아침에 한 포씩 마시는데 덕분에 잔병치레없이 지내는 것 같아요
꾸준하게 주문해서 먹는 제품입니다 하신 고객님 리뷰 감사합니다