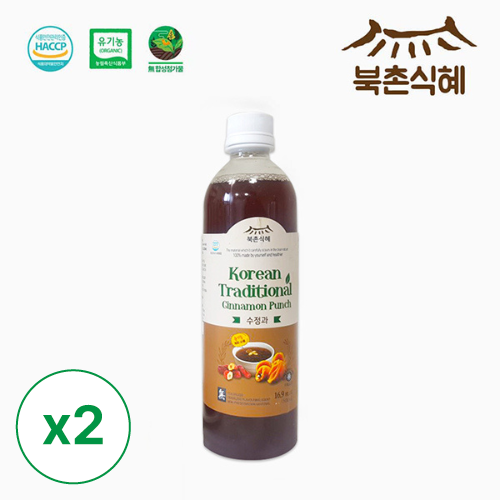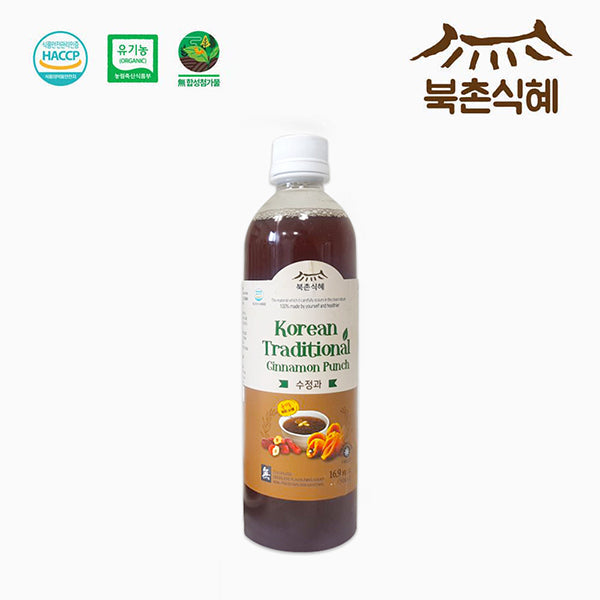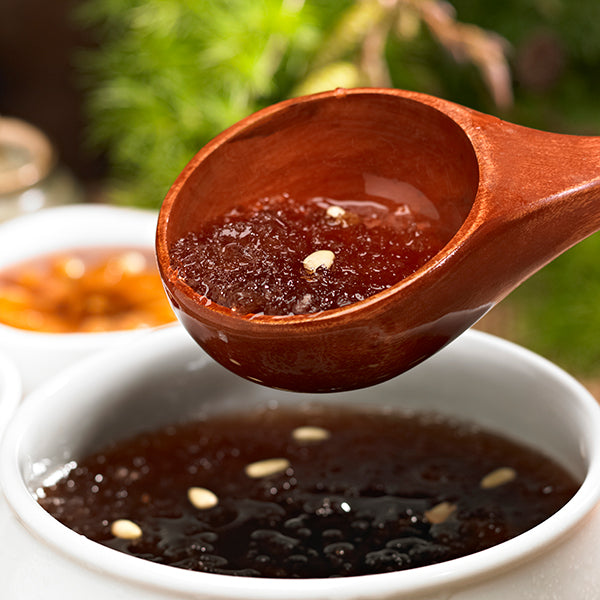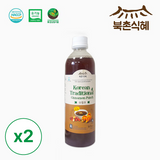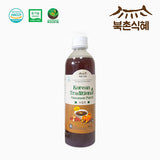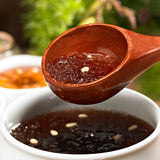 Korean Traditional Cinnamon Punch 500ml
1 Day shipping
Free shipping on 1 Day shipping items over $169
[Yeongju Farmers] Korean Traditional  Cinnamon Punch 500ml

Authentic Homemade style with the right amount of sweetness and spiciness.

The Korean style Cinnamon Punch is carefully boiled in the cauldron using the homemade method of Korea.
The cinnamon flavors stimulate the tip of the nose, and the dried persimmon provides a soft sweetness to the drink.

Production and Distribution
오랜 세월 사랑받아온 건강한 우리 음료!
조선후기에 작성된 음식조리서인 규곤여람이라는 책에는 "2~3월에는 진달래꽃화채, 4~5월에는 앵두화채, 6~7월에는 복숭아화채, 8~9월에는 식혜에 국화 띄워 놓고, 동지섣달에는 배숙, 정이월에는 수정과"를 마셨다고 합니다.
북촌 수정과는, 전통의 레시피를 적용하여 엄선된 계피와 곳감 등을 깊게 우려내어 제대로된 수정과의 풍미가 살아있습니다.
Manufacturing Process
깨끗하고 안전하게 만들어 더욱 안심!
북촌 수정과는 식품안전관리기준인 HACCP과 식약청으로부터 유기농 인증을 받았으며, 100% 국내산 재료에 인공첨가물을 넣지 않고 정직하게 제조했습니다.
천연한방재료인 계피, 구수한 곳감과 알싸한 생강을 4시간 이상 가마솥에 끓여 수정과를 만들어 냅니다. 이후 고열에도 안전한 내열병에 담아 급속냉동을 시켜 제품의 맛과 위생을 동시에 지켜내었습니다.
How to Use
차갑게, 따뜻하게 즐기는 건강한 디저트!
냉장실에서 천천히 해동해 살얼음이 낀 상태로 마셔도 좋고 뜨끈하게 데워 한층더 진한 향기를 음미하며 드셔도 좋습니다.
간단한 손님 접대나 나눔하기에 좋으며 한과나 떡 등과 함께 드시어 건강한 디저트로 즐기시기에도 손색이 없습니다.
California Proposition 65
WARNING: Consuming this product can expose you to chemicals including lead and cadmium which are known to the State of California to cause cancer and birth defects or other reproductive harm. For more information go to www.p65Warnings.ca.gov/food
Shipping Information
Refund Policy
Exchange or refund requests must be made within 7 days of receiving your product and should be initiated by contacting us through email (help@wooltariusa.com) or phone (310-933-8648) with a photo.
Please note that exchange or refund requests made on review boards or other platforms are not accepted.
A 30% restocking fee plus shipping charges apply for returns due to a change of mind, and refunds are not available for non-defective refrigerated/Korea-US direct delivery items.
호박식혜가 더 맛있긴 한데, 이것도 많이
달지않고 고소하니 맛있네요!
말해뭐해요~ 품절아닌이상 매번 시켜먹는 아이템이에요! 적당히 달고 알도 알알이 잘 씹히고 또시켜 먹을거에요!
수정과 좋아하는 편은 아닌데 오랫만에 추석 겸 먹으려고 샀어요 근데 넘 맛있어서 금방 먹엇어요 별로 안 달고 맛있어요!
호박 맛이 진하게 느껴지면서 맛있어요! 가격만 부담 없으면 쟁여놓고 싶네요 ㅠㅠ
달달하고 살짝, 아주 조금 식혜 특유의 엿기름향이 나긴하지만 뒷맛이 깔끔하여서 또 주문헀어요.