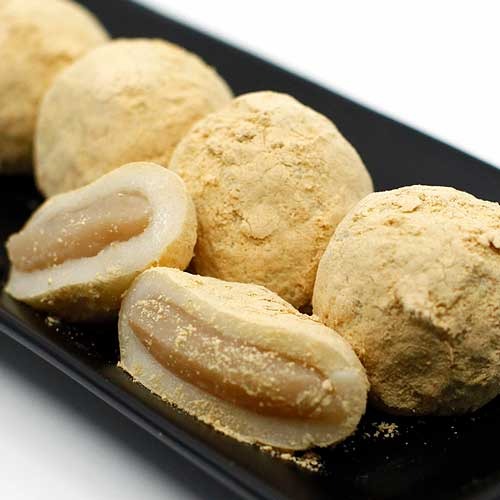 [Maumiga] Glutinous Rice Cake with White Bean Paste 720g
Lightning Fresh
Free shipping on Lightning Delivery items over $169
[Maumiga] Glutinous Rice Cake with White Bean Paste 720g
Glutinous rice cake filled with soft and sweet white bean paste.
Manufactured Environment
A famous rice cake shop located in Pangyo
Popular rice cake house in Pangyo, friendly village Maeumiga manufactures neat and chewy products by using non-glutinous and glutinous rice milled within a month.
How to Use
How to enjoy them soft & chewy!
Defrost the frozen product in room temperature for about 15 minutes to enjoy them in a soft and chewy texture. It will not harden and you can still enjoy them soft even when left in room temperature for an extended period of time. 
Premium Ingreidents
Healthy food with only natural ingredients!
Made without artificial additives and using only natural ingredients, Maeumiga's products are safe and sanitary.
Exclusive Contract
US Exclusive Brand
Produced in Pangyo, Gyeonggi-do, Maeumiga's rice cake products are Wooltari Mall's US exclusive brand.
California Proposition 65
WARNING: Consuming this product can expose you to chemicals including lead and cadmium which are known to the State of California to cause cancer and birth defects or other reproductive harm. For more information go to www.p65Warnings.ca.gov/food
| | |
| --- | --- |
| Allergy Info | This product is manufactured in the same manufacturing facility as products containing eggs, milk, peanuts, walnuts, wheat, or buckwheat. Contains soybeans and sulfurous acids |
| Manufacturer | Maeumiga, an agricultural corporation  |
| Origin | Cheoin-gu, Yongin City |
| Ingredients | Glutinous rice (domestic), white bean powder [(Gangnam beans/foreign: U.S., Myanmar, Canada, etc.), sugar, starch syrup, maltodextrin, sodium chia sulfate, salt], soybean powder [(white/foreign: U.S., Canada, China, etc.), salt, white sugar ], white sugar, starch syrup (low sugar), sea salt, mixed preparations [liquid fructose, glycerin ester, propylene glycol, sorbitan ester, polysorbate 60, alcohol, sucrose ester] |
Note: In the case of glutinous rice cake, please refrain from using the microwave or heating to defrost the rice cake as it will melt.

Storage Method: Store frozen at -18ºC. Please refrigerate immediately upon receipt to preserve the freshness and flavor of the product.

Maeumiga is a brand that introduces the "non-hardening rice cake manufacturing technology" to reinterpret traditional rice cakes to suit modern tastes. At Wooltari Mall, Maeumiga is most loved by our customers. 
Shipping Information
Refund Policy
1. Exchanges and refunds can be requested within 7 days of receiving the product.
2. For exchange or refund request, please contact us through email(help@wooltariusa.com) & phone (310-933-8648) with a photo.
3. If you request an exchange or refund on other boards, such as a review board, exchange or refund is not possible.
4. For simple change of mind, the shipping cost and 30% of the product price will be charged as a restock fee for returns.
5. Refrigerated delivery products and Viscose Rayon products cannot be exchanged or refunded only if there is no defect in the product.