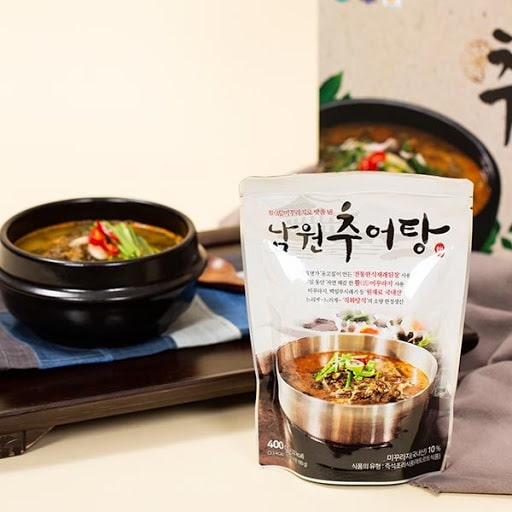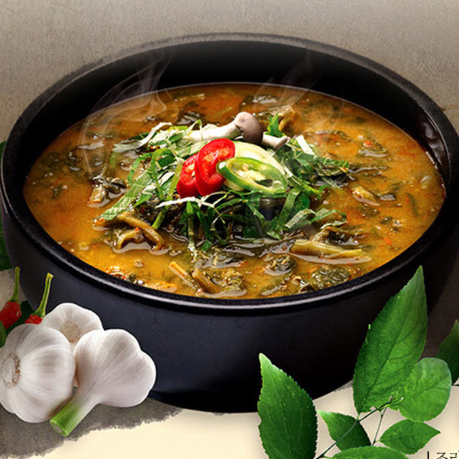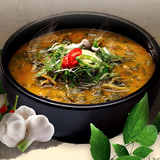 [Namwon Migguri] Namwon Chueotang made with Jirisan Ingredients 400g
Lightning Fresh
Free shipping on Lightning Delivery items over $169
[Namwon Chueotang] Namwon Chueotang made with Jirisan Ingredients
Traditional luxury chueotang with 100% Korean raw loach finely ground and traditional Korean soybean paste and radish dried radish greens, which is rich in flavor without being fishy.
Production and Distribution
Hygienic Production and Distribution Process
Manufactured in a hygienic environment certified by HACCP through regular staff training and thorough processing management from ingredient selection to product shipment.
Verified Quality
Various Authentication
Namwon Chueotang is a reliable product made in a HACCP-certified facility.
Premium Ingreidents
100% live-style loach.
Natural loach that lives in rivers and rice paddies are exposed to heavy metal pollution due to water pollution, but Namwon loach loach soup is a 100% living loach that is thoroughly managed and carefully selected.
California Proposition 65
WARNING: Consuming this product can expose you to chemicals including lead and cadmium which are known to the State of California to cause cancer and birth defects or other reproductive harm. For more information go to www.p65Warnings.ca.gov/food
| | |
| --- | --- |
| Allergy Info | Contains snow crab, crab, shrimp, shellfish (including oysters, abalone, mussels), squid |
| Manufacturer | Namwon loach Chueotang Cooperation |
| Origin | Namwon-si, Jeollabuk-do |
| Ingredients | Frozen radish 27% (domestic), loach 10% (domestic), perilla 2% (domestic), soybean (domestic), Korean miso (soybean-domestic), ginger (domestic), garlic (domestic), red pepper powder (domestic) , Green onion (domestic), sodium L-glutamate (flavor enhancer), sea salt (domestic), purified water, other seasonings / Allergens: Snow crab, crab, shrimp, shellfish (including oysters, abalone, mussels), squid |
27kcal per 100g
* 1 day nutrient
ratio to reference value
sodium 243mg
11%
Carbohydrate 2.6g
1%
saccharide 0g
0.8g fat
1%
0g transfat
1g saturated fat
15mg of cholesterol
5%
protein 3g
The ratio (%) to the **1-day nutritional standard is based on 2,000 kcal, so it may vary depending on the individual's required calories.
Note: 1. Avoid severe shock and do not leave open. 2. Do not microwave the bag. 3. Be careful when cooking or after cooking as the cookware or product is hot. 4. If there is something wrong with this product (swelled product, etc.), do not eat it and exchange it at the place of purchase or sales office. 5. Do not refrigerate. (Store at room temperature, in a cool place, or refrigerate.)

All products of Namwon Loach are manufactured using domestic Jeollabuk-do agricultural products. The finished product is a product sterilized at high temperature, and can be stored for a long time at room temperature and is easy to carry when traveling, so you can enjoy the true taste of Namwon chueotang anytime, anywhere.
Shipping Information
Refund Policy
1. Exchanges and refunds can be requested within 7 days of receiving the product.
2. For exchange or refund request, please contact us through email(help@wooltariusa.com) & phone (310-933-8648) with a photo.
3. If you request an exchange or refund on other boards, such as a review board, exchange or refund is not possible.
4. For simple change of mind, the shipping cost and 30% of the product price will be charged as a restock fee for returns.
5. Refrigerated delivery products and Viscose Rayon products cannot be exchanged or refunded only if there is no defect in the product.
한번에 세 팩이니 양도 넉넉하고 건더기도 푸짐하고 매콤칼칼한게 정말 맛있게 잘 먹었어요!
시골살아서 게 잡을때 조그만 물고기가 같이 많이 잡혀서 어탕을 간혹 만들어 먹기도 하는데, 이에 비해서 간편하고 맛있네요!
여러 브랜드 주문해서 먹어보았는데 이 추어탕 제품이 제일 깊은 맛이나서 좋아요. 강추합니다