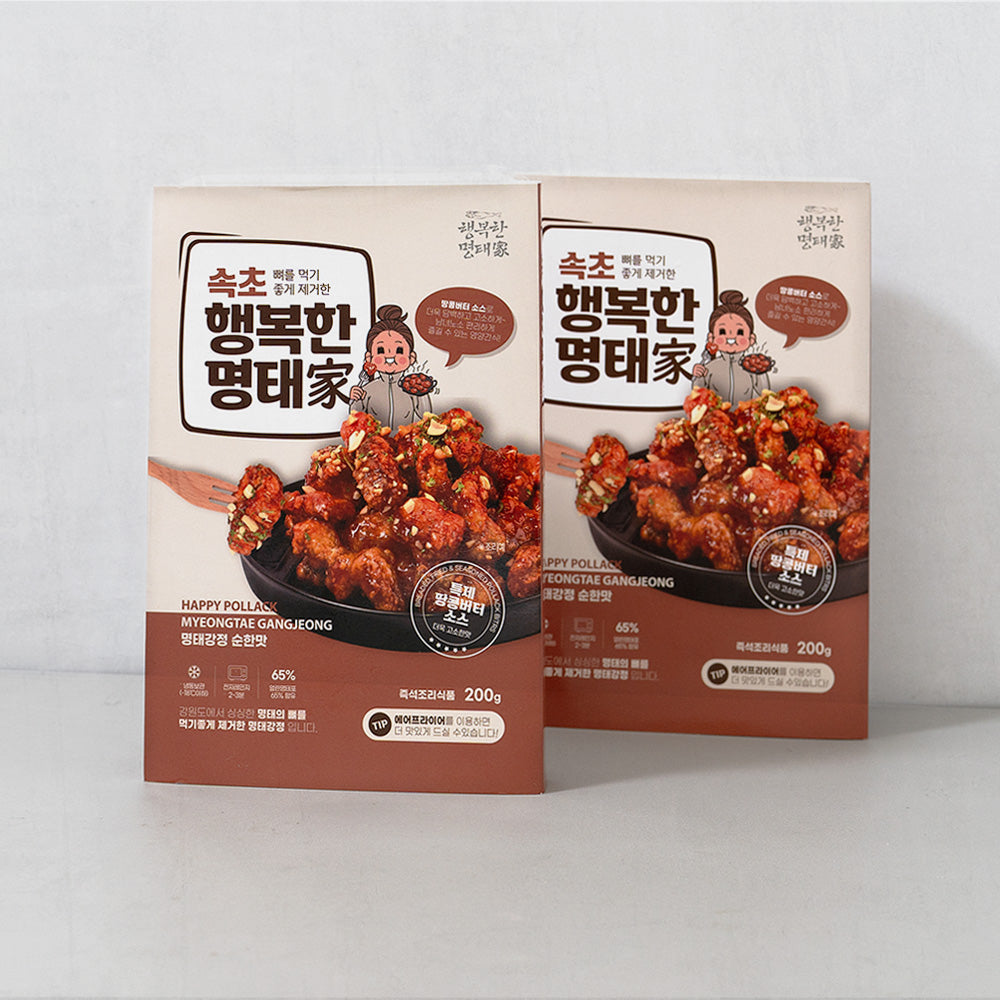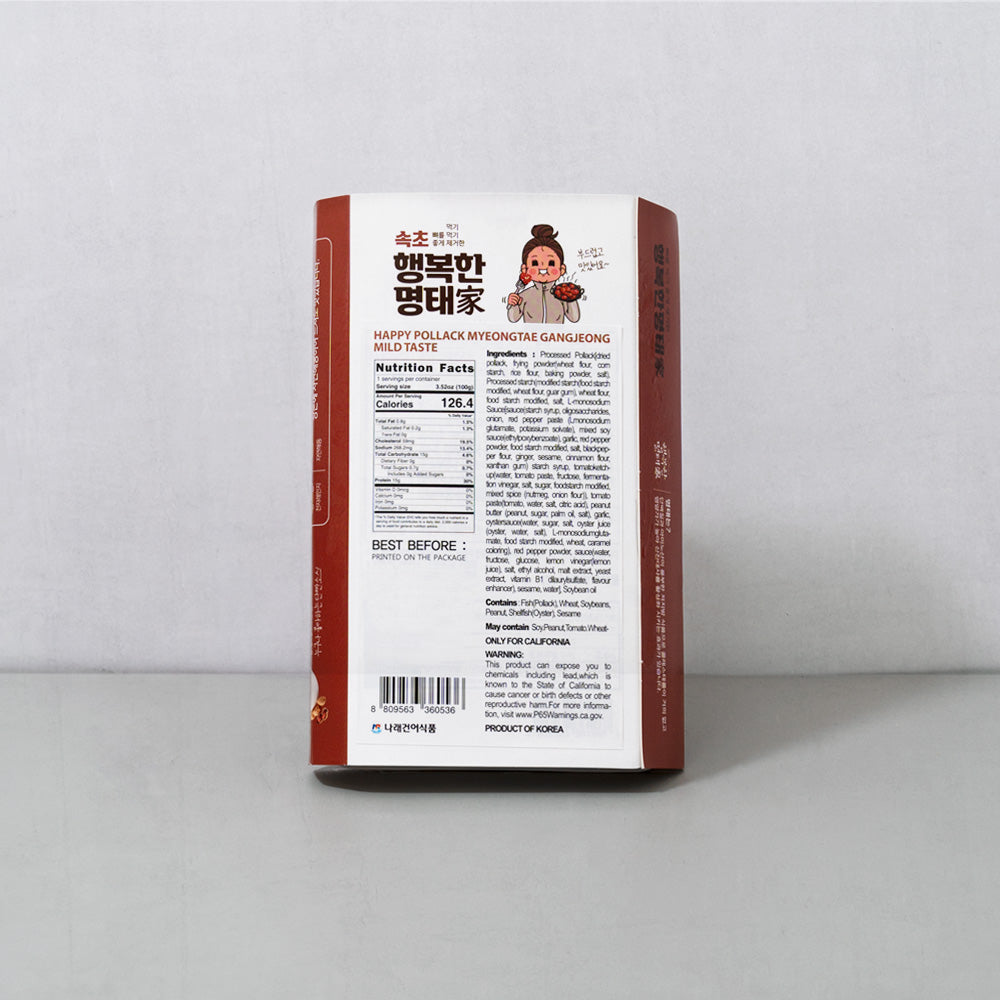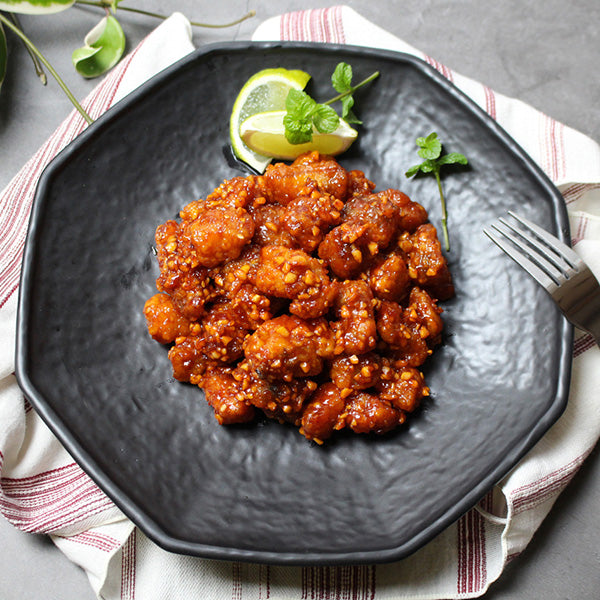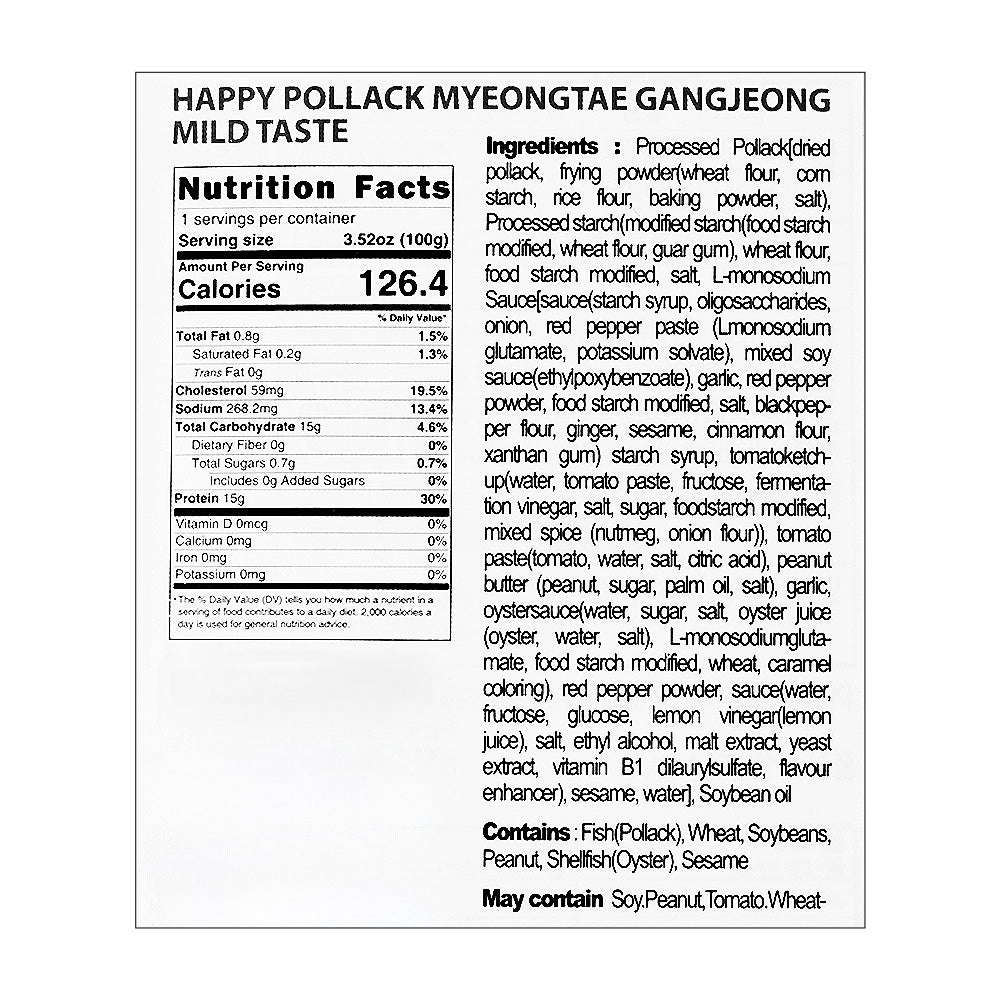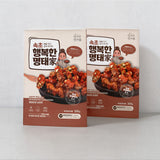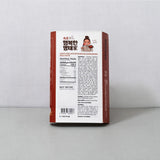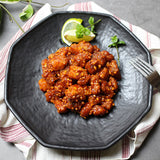 Pollack Kangjeong (Mild) 200g x 2
1 Day shipping
Free shipping on 1 Day shipping items over $169
[Narae Dried Fish Food] Pollack Kangjeong (Mild) 200g x 2
The advantage of Narae Stockfish pollack is that pollack gangjeong is made of pollack and has low calories unlike regular gangjeong. Since the bones are completely removed and made into boneless flesh, it is easy to enjoy, and you can enjoy the taste with special seasoning while preserving the nutrients of pollack in place and taking care of your health.
Manufactured Environment
Sokcho City, Gangwon Province, town with natural conditions
Sokcho, Gangwon-do, is said to be a blessed land and has a clean sea area boasting an abundance of catch enough to be called a world-class fishing ground. All of Narae Dried Fish Food's pollack gangjeong is produced in Sokcho.
Manufacturing Process
Self-developed Special Sauce
Narae Dried Fish Food's pollack gangjeong is prepared by directly handling fresh pollack and deep frying it in clean oil, then draining the oil and applying a special peanut butter sauce that pairs perfectly with pollack gangjeong, developed by Lee Mi-sook, CEO of Narae Food.
Verified Quality
HACCP Authentication
Narae Dried Fish Food's pollack gangjeong is a reliable product made in a HACCP-certified facility.
California Proposition 65
WARNING: Consuming this product can expose you to chemicals including lead and cadmium which are known to the State of California to cause cancer and birth defects or other reproductive harm. For more information go to www.p65Warnings.ca.gov/food
| | |
| --- | --- |
| Allergy Info | Pollack |
| Manufacturer | Narae Dried Fish Food |
| Origin | Sokcho, Gangwon-do |
| Ingredients | Boneless Pollack Gangjeong 67% [Frozen Pollack Pollack (Russia: Domestic Processed) 60%, Tempura Powder 10%, Starch, Sea Salt], Happy Pollack Gangjeong Sauce 27% [Sauce, Starch Syrup, Tomato Ketchup, Tomato Paste, Peanut Butter, Garlic (domestic), oyster sauce, red pepper powder (domestic), cilantro, sesame (domestic), purified water, soybean oil (soybean: American, Australian) 6%] |
340kcal per 100g
* 1 day nutrient
ratio to reference value
170mg sodium
7%
29g carbohydrate
11%
saccharide 5g
10.5g fat
21%
transfat 0.1g
2.5g saturated fat
80mg of cholesterol
27%
protein 21g
* The ratio (%) to the daily nutritional standard is 2,000 kcal, so it may vary depending on the individual's required calories.
Storage Method: Refrigerate for 10 days after purchase, freeze for 12 months for long-term storage

Narae Dried Fish Food is located in Sokcho, Gangwon-do, and makes reliable food in a HACCP certified facility. Since processing pollack brings us such joy, we have completed trademark registration under the name 'Happy Pollack', and Narae dried fish food makes products with the intention of delivering happiness and joy to customers.
Shipping Information
Refund Policy
Exchange or refund requests must be made within 7 days of receiving your product and should be initiated by contacting us through email (help@wooltariusa.com) or phone (310-933-8648) with a photo.
Please note that exchange or refund requests made on review boards or other platforms are not accepted.
A 30% restocking fee plus shipping charges apply for returns due to a change of mind, and refunds are not available for non-defective refrigerated/Korea-US direct delivery items.