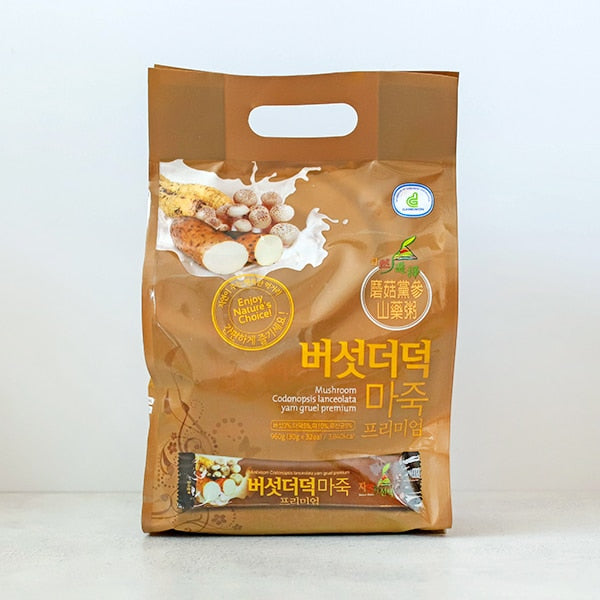 #[Enchoice] Mushroom Deutura Porridge Premium 960g
Lightning Fresh
99 Delivery
Free shipping on Lightning Delivery items over $169
Free shipping on 99 Delivery items over $99
[Nature's Choice] Mushroom Deodeok Porridge Premium
Premium Mushroom Porridge containing Andong Mountain Chinese yam, shiitake mushrooms, deodeok, and lactobacillus. It is low in calories, nutritious, and keeps you full making it perfect as a snack or meal replacement and even as diet food.

Nutritions
Intake eight nutrients
The addition of Chinese yam allows us to take in a variety of nutrients that are good for our body, such as protein, minerals, saponin, and more. These yams provide more nutrients than your common grain-based shakes.
How to Use
Ways to enjoy more deliciously
1. Add honey, sugar, salt, etc. according to your preference, to enjoy more deliciously.
2. Tastes even better if you add milk or soy milk when consuming.
Verified Quality
Ecklonia master certificated, HACCP authentication
Certified by Song Cheol-soo, the first and only Ecklonia master of Korea, and sea forest top quality Ecklonia products are produced through a manufacturing system with HACCP certification.
California Proposition 65
WARNING: Consuming this product can expose you to chemicals including lead and cadmium which are known to the State of California to cause cancer and birth defects or other reproductive harm. For more information go to www.p65Warnings.ca.gov/food
| | |
| --- | --- |
| Allergy Info | This product is manufactured in the same manufacturing facilities as black beans, soybeans, milk, and peanuts. |
| Manufacturer | Nature's Choice |
| Origin | Hoengseong-gun, Gangwon-do |
| Ingredients | Alpha flour 50% (domestic production), hemp 10% (domestic production), deodeok 5% (domestic production), lactic acid bacteria 5%, mushroom 3% (domestic production), corn starch, vegetable creamer, glucose, refined salt |
120 kcal per 30g
* 1 day nutrient
ratio to reference value
120 mg sodium
6%
24g carbohydrate
7%
saccharide 4g
4%
fat 2g
4%
0g transfat
1g saturated fat
7%
0mg cholesterol
0%
1g protein
2%
* The ratio (%) to the daily nutritional standard is 2,000 kcal, so it may vary depending on the individual's required calories.
Storage method: Store in a dry cool place, avoiding direct sunlight or humid place.

Nature's Choice is a professional product manufacturer, a brand that contains a new trend of healthy food.
Shipping Information
Refund Policy
1. Exchanges and refunds can be requested within 7 days of receiving the product.
2. For exchange or refund request, please contact us through email(help@wooltariusa.com) & phone (310-933-8648) with a photo.
3. If you request an exchange or refund on other boards, such as a review board, exchange or refund is not possible.
4. For simple change of mind, the shipping cost and 30% of the product price will be charged as a restock fee for returns.
5. Refrigerated delivery products and Viscose Rayon products cannot be exchanged or refunded only if there is no defect in the product.
첨 구매후에, 맛보니 맛있어서, 바로~~~ 또 구매했네요.
식구들이 타먹으니 금방 몇개 않남아요, 2-3개 많이 구매하고 싶은데, 수량한정 1개라서, 또 오더해야하니, 좀 번거롭네요.
수술예정이었어서 밥해먹기 힘들것같아 주문해놨었어요 별기대 안했는데 맛있더라구요~!
맛있어용 부드럽고 양이얼마 안되보였는데도 먹고보면 든든하네요~
저희 울타리몰을 이용해주셔서 감사합니다.
요즘 처럼 바쁜 현대사회속 아침에 든든한 한끼로 손색 없는 마죽!
고객님의 속을 든든히 해드릴수 있어 기쁩니다.
냄비도 필요없고 그냥 뜨거운물만 부으면 되는거라 아침으로 먹기 딱 좋아요. 버섯더덕마 향이 나는건 거의 모르겠고, 그냥 구수한 맛이에요. 누룽지랑 율무차를 섞어놓은맛? 호불호 안갈릴 무난한 맛입니다.
고객님의 구매에 감사드리며
300 포인트를 적립해 드립니다
wooltari
다먹어버려서 ㅎㅎ 사진을 올려드리고싶어도없네요~ 맛이건강하고요 단맛이없어서 좋았어요 저는개인적으로 15곡 건강참마밀을 더 선호하는편이구요^^ 이제품은 뭔가 더 먹고난후 든든함이 더 오래가긴하더라고요~
이제품도 잘먹었어요^^ 고소하고 건강한맛이 맘에 들었어요~ 앞으로도 좋은제품 많이 올려주세요! 감사해요~ ^^