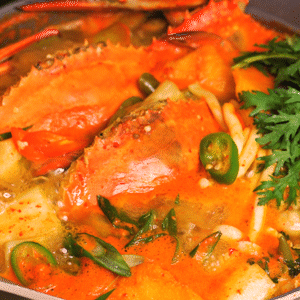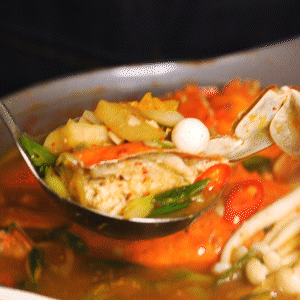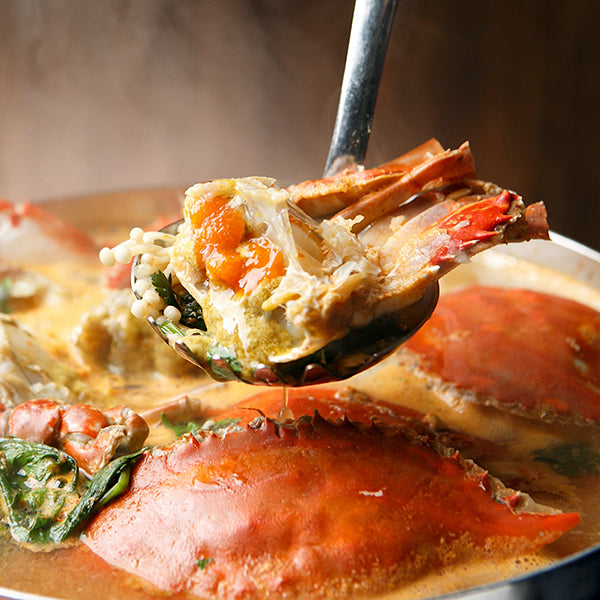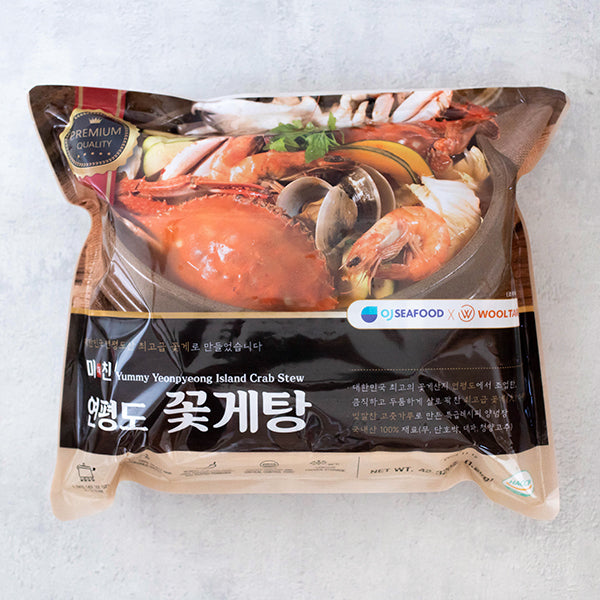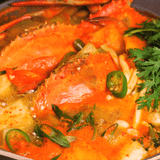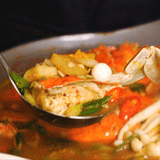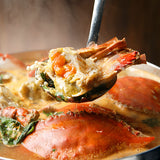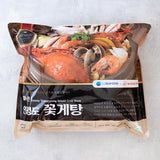 Premium Yeonpyeongdo Spicy Crab Stew 1200g
Lightning Fresh
Free shipping on Lightning Delivery items over $169
[OJ SEAFOOD] Premium Yeonpyeongdo Spicy Crab Stew 1200g
Real Yeonpyeong -do special luxury!
Not only in the US mart, of course, not in Korean marts !!
As you just went to Noryangjin Fisheries Market, we introduce the premium Yeonpyeongdo crab soup, which is composed of only the best ingredients.
Korea's best crab Made of large crab and colorful red pepper powder caught in YeonpyeongdoExpress recipe sauce, additional tongs have been prepared abundantly. There is a lot of domestic radish, sweet pumpkin, leek, and cheongyang peppers.
❉ composition
Yeonpyeong Island May fishing crab: 2 diverse and 300g
Seasoned with colorful red pepper powder
EXTRA
Domestic radish, sweet pumpkin, leek, cheongyang pepper, etc.
Production and Distribution
연평도에서 5월에 잡은 국내 최상급의 꽃게로만 만들었습니다!
1년 중 꽃게의 살이 거의 95% 이상으로 꽉차 최상급으로 치는 5월 조업 꽃게로만 만들었습니다.
꽃게는 바다 수온이 차가워질수록 활동량이 증가하는데, 추운 바다에서 활동량이 많은 꽃게일수록 내용물이 튼튼하고 살이 꽉차있으며 맛도 답니다.
❉ 꽃게의 살이 튼튼하게 형성함에 있어 가장 중요한 핵심은 조업되는 해역의 수온과 수심 그리고 파도의 물결입니다. 우리나라 꽃게가 조업되는 해역 중 연평도 해역이 꽃게가 성장하는데 있어 최상의 자연환경을 갖추고 있습니다.
Manufacturing Process
별도의 준비와 잔손질 필요없이
보글보글 물만 끓이면 완성됩니다!
직접 수산시장에 가거나, 번거롭게 레시피를 검색하지 않아도 칼칼하고 개운한 해물탕을 만날 수 있습니다.
비주얼부터 시선을 압도하는데요. 100% 국내산으로만 구성한 재료에 꽃게 집게다리를 추가로 준비하여 볼거리, 먹을거리가 더욱 풍성해졌습니다..
Nutritions
싸이즈부터 다른 원재료의 풍성함!
마리당 20cm가 넘는 대짜 크기의 큼직한 꽃게만을 선별하였습니다. 한손에 들면 꽤 묵직한 놈이 두 마리나 들어있어서 3-4명이 드셔도 넉넉하니, 식사는 물론 홈파티 메뉴로도 제격입니다.
추가로 쑥갓 등의 야채나 우동 또는 라면사리를 넣으시면 더욱 풍성하게 드실 수 있습니다. 과하게 맵지않으면서도 엣지있는 칼칼하고 구수한 맛으로 맛있게 즐기세요.
How to Use
꽃게 업계의 신뢰의 상징, 오제이씨푸드!
​오제이씨푸드는 지난 25년간 제철 냉동 암꽃게를 국내외에 도매, 공급, 수출하고 있는 꽃게 전문기업입니다.
그동안 매일 새벽 수산물을 직접 눈으로 확인하여 초대량으로 수매하는 독자적인 선별 노하우를 갖고 있으며, 검증된 최신 위생시설(HACCP)은 물론, 수 천톤의 물량 보관이 가능한 최신식 대형 냉동창고를 보유하고 있습니다.
California Proposition 65
WARNING: Consuming this product can expose you to chemicals including lead and cadmium which are known to the State of California to cause cancer and birth defects or other reproductive harm. For more information go to www.p65Warnings.ca.gov/food
​오제이씨푸드는 지난 25년간 제철 냉동 암꽃게를 국내외에 도매, 공급, 수출하고 있는 꽃게 전문기업입니다. 그동안 좋은 꽃게의 수매는 물론, 독자적인 선별 노하우를 통해 수율을 일정하게 보장하여 업계에 다수를 공급해오고 있습니다. 간장게장으로 유명한 유수의 업체들이 오제이씨푸드의 제철 꽃게를 사용하고 있으며, OEM 형태로 오제이씨푸드에서 제조되고 있습니다.
Shipping Information
Refund Policy
Exchange or refund requests must be made within 7 days of receiving your product and should be initiated by contacting us through email (help@wooltariusa.com) or phone (310-933-8648) with a photo.
Please note that exchange or refund requests made on review boards or other platforms are not accepted.
A 30% restocking fee plus shipping charges apply for returns due to a change of mind, and refunds are not available for non-defective refrigerated/Korea-US direct delivery items.
술안주 매운탕으로 추천합니다
국물맛이 술한잔하기 딱좋은맛이에요~
덕분에 친구들 초대해서 술한잔하기 딱좋았네요
살도 통통해서 먹기 좋았어요
얼큰한거 좋아하시면 고춧가루랑 후추 팍팍 넣어서 먹으면 더 맛있습니다 ㅎㅎ
얼큰하고 맛있게 매운맛! 해물탕보다 맛있어요
꽃게탕 밀키트는 처음구매하는 1인입니다.
꽃게가 생각보다 크고 살이많아 만족했고 얼큰하고 깊은 맛에 놀랐습니다.
맵질인 저도 맛있게 먹기좋은 매운맛이었어요!!!
쑥갓이랑 버섯넣고 보글보글 끓여서 다먹고 라면까지 싹슬이 했네용! 추천합니다
나쁘지 않은거 같아요
수케 두마리 들어있고 국물이 맛있어요.
맛있고 편리하지만 아마도 또 주문하기에 부담.
It was a male crab with ok meat content. For the cost of the product, I am not sure if I would order it again. I purchased 2 packages and prepared it according to the package. Love the flavor but probably needs more vegetables and other seafood to make it better.
게 두마리중 한마리는 끓이고 난 후 껍질만 남는 기적이 있었어요. 다른 한 마리도 신선도가 떨어지는 맛이였구요. 가격대비 너무 후회되는 주문이였어요.
솔직한 후기 입니다
신선하지도 크지도 않아요
재구매 하지 않겠습니다