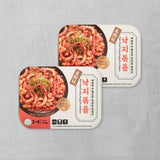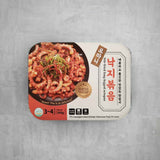 [Fairy Tale Food] Omani octopus fried 500g x 2 pack
Lightning Fresh
Free shipping on Lightning Delivery items over $169
[Donghwa Food] Omani Stir-fried Octopus
Made with carefully selected fresh octopus aged with delicious secret seasoning, complete with a plump and chewy texture.
Manufactured Environment
Sokcho, Gangwon-do, famous for its gourmet cuisine
This premium product is reputed to be the best in Sokcho, Gangwon-do, the home of gourmet food.
Manufacturing Process
A conventionally hygienic manufacturing process
All products are 100% handmade instead of relying on mass machine work, so you can truly taste the love and care put into making each product. Hygienically made and free of additives, it has a deep flavor that's not too salty or sweet.
Exclusive Contract
American exclusive brand
Dongwha Food products produced in Sokcho-si, Gangwon-do are the U.S. exclusive brand of Wooltari Mall.
California Proposition 65
WARNING: Consuming this product can expose you to chemicals including lead and cadmium which are known to the State of California to cause cancer and birth defects or other reproductive harm. For more information go to www.p65Warnings.ca.gov/food
| | |
| --- | --- |
| Allergy Info | Peanut |
| Manufacturer | Donghwa Food |
| Origin | Sokcho, Gangwon-do |
| Ingredients | Octopus (foreign: Vietnam/Thailand) 75%, seasonings [red pepper powder (Chinese) 23%, red pepper paste 18.5%, deep sea water fermented water (domestic) 14%, garlic, plum syrup (domestic) 7.4%, brown sugar, oligosaccharide, ginger , Roasted sesame seeds, peanut powder, sodium L-glutamate (flavor enhancer), other edible oils and fats, sesame oil, black pepper powder] 25% |

Dongwha Food contributes to the health of customers with a clean and healthy food culture. We make various efforts to deliver the healthy dining table of Korea to the world with the rich nutrition of seafood harvested from the clean seas of Sokcho.
Shipping Information
Refund Policy
1. Exchanges and refunds can be requested within 7 days of receiving the product.
2. For exchange or refund request, please contact us through email(help@wooltariusa.com) & phone (310-933-8648) with a photo.
3. If you request an exchange or refund on other boards, such as a review board, exchange or refund is not possible.
4. For simple change of mind, the shipping cost and 30% of the product price will be charged as a restock fee for returns.
5. Refrigerated delivery products and Viscose Rayon products cannot be exchanged or refunded only if there is no defect in the product.
신규가입으로 구매했는데 맛있어요. 매워서 좋아요.
표기된것처럼 4인분까지는 아니더라도 양은 꽤되네요. 덮밥으로 2인분 볶음밥으론 3인 먹겠어요.
채소 더하고 ㅇ사무리 참기름 뿌리니 간도 향도 딱맞네요. 맵지는 않아 청양고추 더해도 좋고 콩나물 더하면 정말 맛있겠어요.