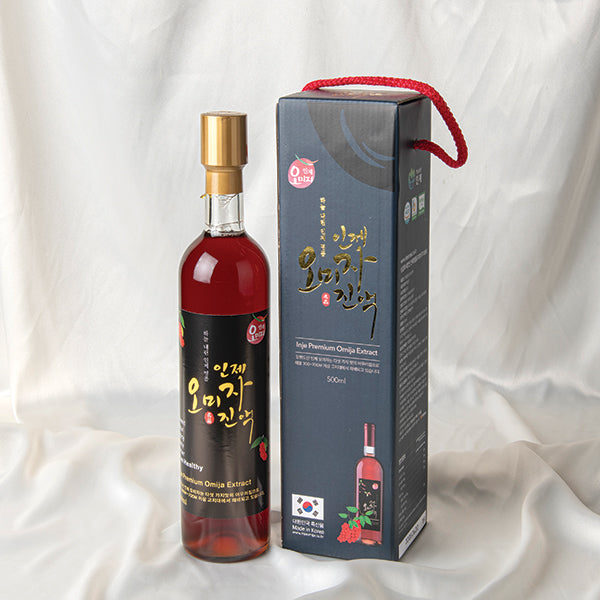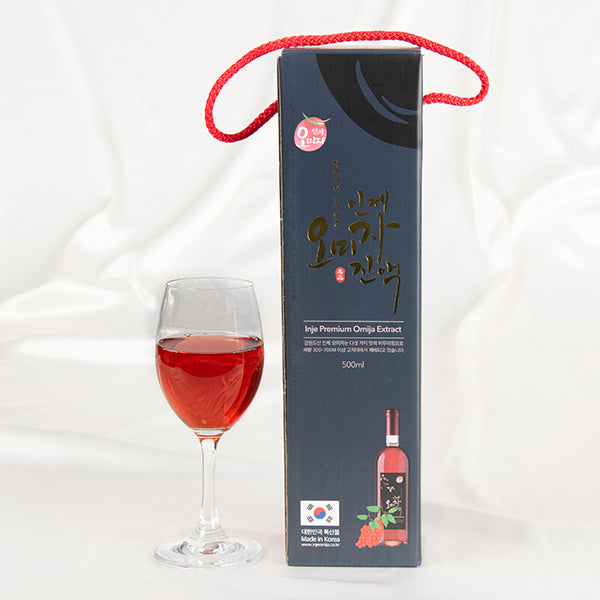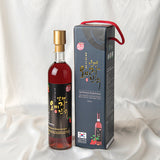 Premium Schisandra Merchany 500ml
1 Day shipping
Ground shipping
Free shipping on 1 Day shipping items over $169
Free shipping on Ground shipping items over $99
[Inje luxury Schisandra chinensis] Premium Schisandra Merchany 500ml
Manufactured Environment
Schisandra berries from Naeseorak, Inje with the best taste and quality
Inje-gun is located in the Naeseorak highlands, which is in the middle of the range of Mountain Baekdu. The environment there, allows to produce the best quality schisandra berries in Korea. Schisandra berries are endemic to this area, and were once just a wild fruit until people began to farm them. Inje Premium Omija is a agricultural company that 13 farms and 132 schisandra artisans made. It produces a product only with selected schisandra berries with high sugar and a vibrant color/taste.
Nutritions
Well know effects of Schisandra Berries
Schisandra berries re known to prevent diseases like arteriosclerosis, diabetes, stroke and dementia, and support circulation, dental and eye health. They also help with energy and stress levels and respiratory health. According to the ancient book of medicine from Korea, it is recorded that they support health when they are weak, clear the eye, warm the kidney, and help get rid of stuffed feelings in the chest.
Verified Quality
GAP certified Schisandra Berries
It is safe to eat since it has been certified as GAP (Good Agriculture Practices) in Korea. Farmed and produced on highlands 500 meters above sea level, our schisandra berries are extra firm and fleshy and preserve well.
California Proposition 65
WARNING: Consuming this product can expose you to chemicals including lead and cadmium which are known to the State of California to cause cancer and birth defects or other reproductive harm. For more information go to www.p65Warnings.ca.gov/food
| | |
| --- | --- |
| Manufacturer | Inje premium omija |
| Origin | Inje-gun, Gangwon-do |
| Ingredients | 100% undiluted omija  |

Inje Luxury Omija is located in Wontong-ri, Buk-myeon, Inje-gun, Gangwon-do. Omija is known for its high sugar content and excellent color and taste. Inje Premium Omija is an agricultural company that strives to produce high-quality Schisandra by using eco-friendly farming methods in a clean area.
Shipping Information
Refund Policy
Exchange or refund requests must be made within 7 days of receiving your product and should be initiated by contacting us through email (help@wooltariusa.com) or phone (310-933-8648) with a photo.
Please note that exchange or refund requests made on review boards or other platforms are not accepted.
A 30% restocking fee plus shipping charges apply for returns due to a change of mind, and refunds are not available for non-defective refrigerated/Korea-US direct delivery items.
입덧이 심해서 느글 거릴때마다 소다수나 뜨거운물에 타서 먹고 있어요.
근데 저희
남편이 너무 좋아하네여?
그래서 또 주문 했어요
우와, 진짜로 다섯가지맛 다 느껴졌어요. 참으로 신기한 맛이에요. ㅎ
달지 않고 정말 맛있어요. 아이가 음료를 좋아해 오미자로 먹여보려고 구입했는데 맛있다고 매일 꼭 챙겨 먹네요. 건강도 챙길 수 있어 참 좋은거 같아요.