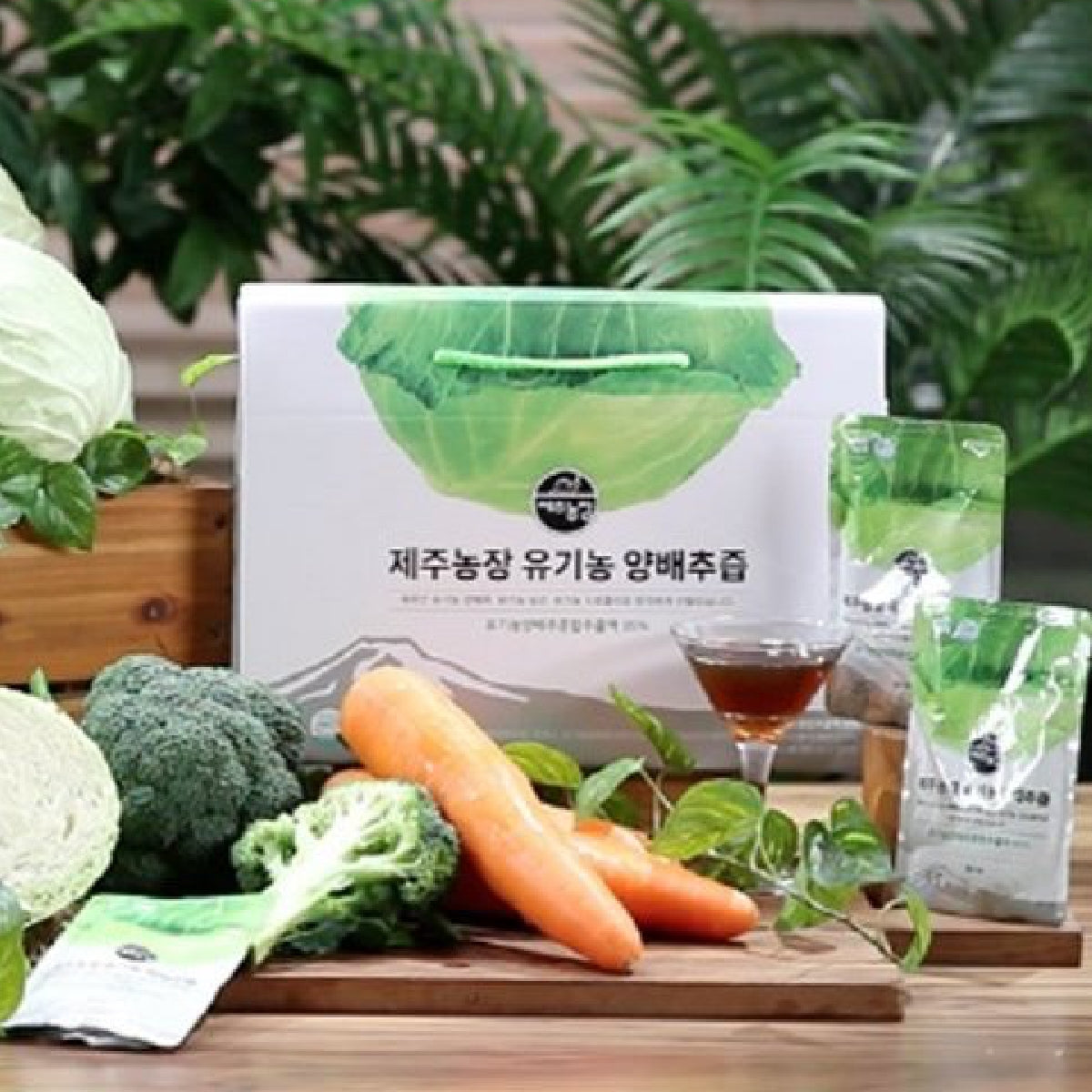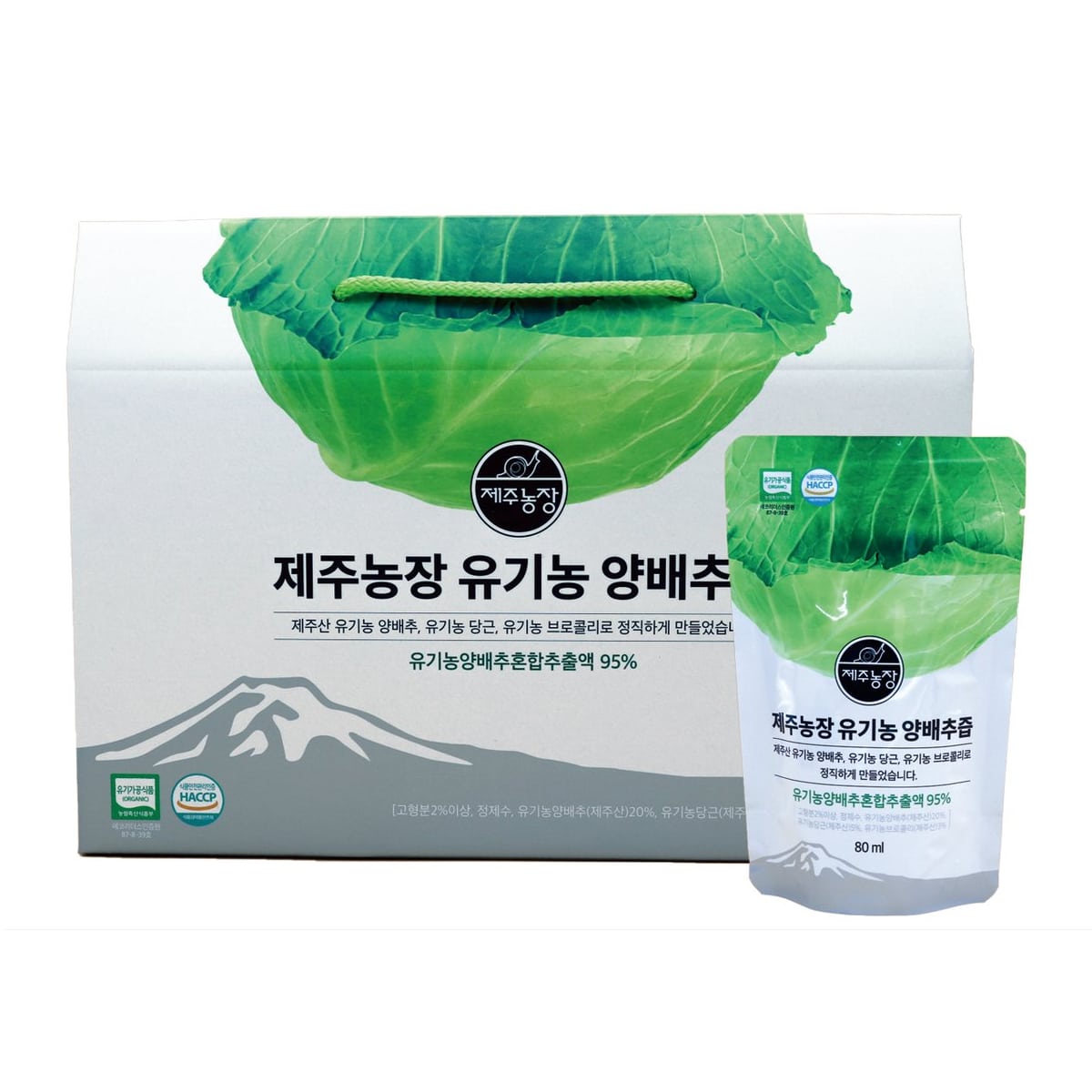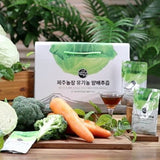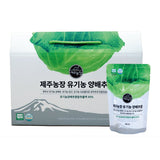 [Jeju Farm] Organic cabbage juice (80ml x 30 bags)
Lightning Fresh
99 Delivery
Free shipping on Lightning Delivery items over $169
Free shipping on 99 Delivery items over $99
[Jeju Farm] Organic Cabbage Juice
A Jeju organic cabbage juice made even more delicious by organic carrots, organic broccoli, and organic apple concentrate added.
Production and Distribution
Clean production and distribution process
From the clear nature of Jeju, cabbage, broccoli, and carrots are raised without the use of chemical fertilizers and synthetic pesticides. Healthy agricultural products that is helpful for our body are purely selected and processed to a cabbage juice in a clean, HACCP certified facility.
Nutritions
Cabbage, an effective ingredient for the health of stomach
Cabbage is typical ingredient that is known to help the improvement of a stomach health. The sulforaphane and vitamin U components of the cabbage suppress gastritis and protect the gastric wall by forming a gastric mucosa.
Verified Quality
Cabbage Juice Certified as an Organic Processed Food
With Organic Processed Food certification, there is no worry about residual pesticides and contamination.
California Proposition 65
WARNING: Consuming this product can expose you to chemicals including lead and cadmium which are known to the State of California to cause cancer and birth defects or other reproductive harm. For more information go to www.p65Warnings.ca.gov/food
| | |
| --- | --- |
| Allergy Info. | This product is manufactured in same manufacturing facilities such as peach, tomatoes, and soybean. |
| Manufacturer | Jeju farm |
| Origin | jJeju-do |
| Ingredients | Organic cabbage mixed extract 95% [solids 2% or more, purified water, organic cabbage (Jeju) 20%, organic carrot (Jeju) 5%, organic broccoli (Jeju) 3%], organic apple concentrate (apple: from Turkey) ) |
Storage Method: Avoid direct sunlight and store at room temperature in a cool and dry place.

Jeju Farm is a brand that makes healthy fruit and vegetable juices using organically grown crops on the clean Jeju land. We strive to share the fresh nature and health of Jeju.
Shipping Information
Refund Policy
1. Exchanges and refunds can be requested within 7 days of receiving the product.
2. For exchange or refund request, please contact us through email(help@wooltariusa.com) & phone (310-933-8648) with a photo.
3. If you request an exchange or refund on other boards, such as a review board, exchange or refund is not possible.
4. For simple change of mind, the shipping cost and 30% of the product price will be charged as a restock fee for returns.
5. Refrigerated delivery products and Viscose Rayon products cannot be exchanged or refunded only if there is no defect in the product.
부부가 아침마다 함께 먹고 있어요. 위도 건강해 지는거 같아요
또 판매해주세요 ㅠㅠ 너무 잘먹었어요.. 확실히 위에 효과있었어요
당근과 브로컬리가 들어서 그런지 기존 양배추즙보다 부드럽고 마시기 좋아요.
우리 부부가 함께 먹고 있는데, 맛도 괜찮고 먹을만 합니다.
더불어 건강도 챙기면 좋을듯 합니다.
부드럽게 잘 넘어가요. 재구매 의사 있습니다.