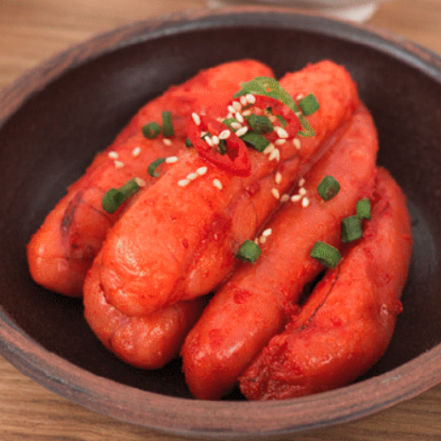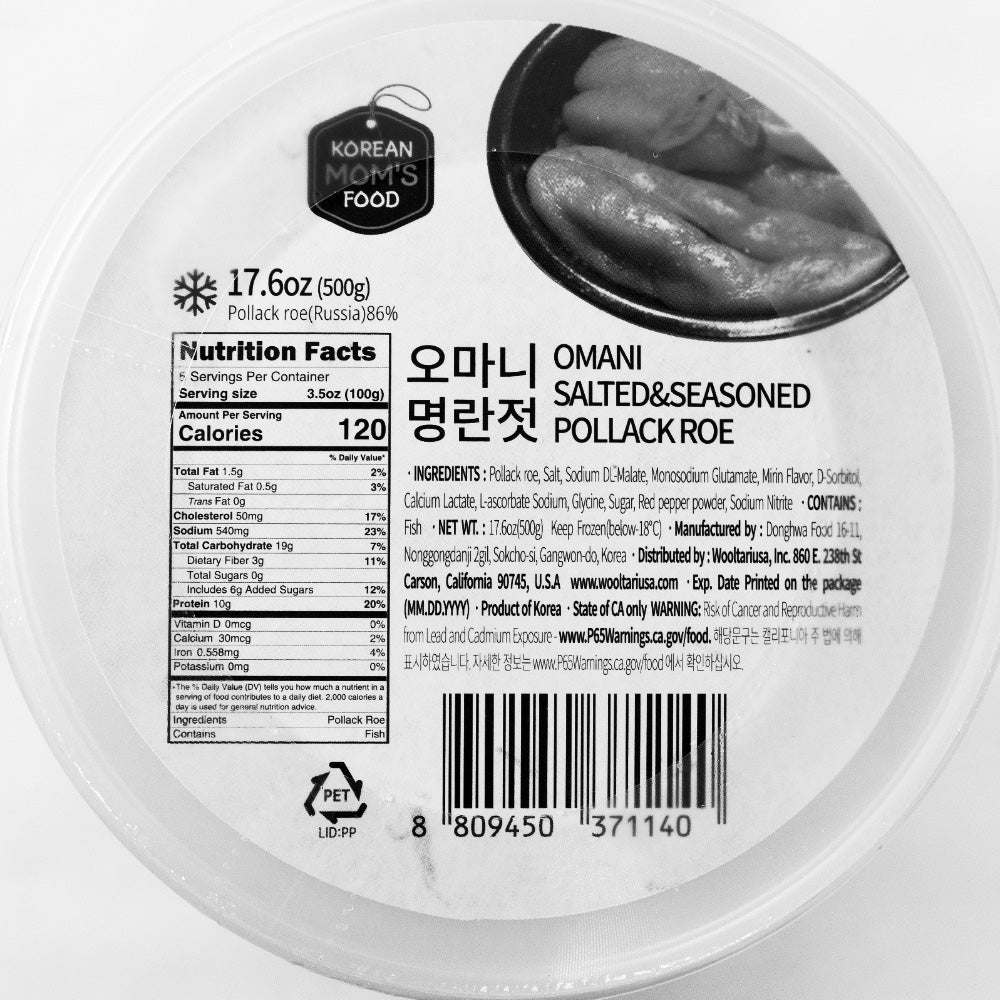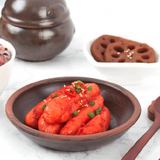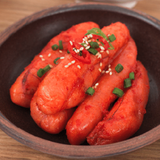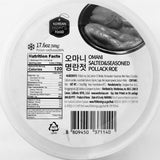 [Donghwa Food] Omani Salted & Seasoned Pollack Roe 500g
Lightning Fresh
Free shipping on Lightning Delivery items over $169
[Fairy Tale Food] Omani Spicy Ran
Omani cod roe was aged with a low -salt method of less than 4.5% by carefully selected with fresh pollack. It is a product that tastes good and rich in the texture of the unique eggs.
Manufactured Environment
Sokcho, Gangwon-do, famous for its gourmet cuisine
This premium product is reputed to be the best in Sokcho, Gangwon-do, the home of gourmet food.
Manufacturing Process
A conventionally hygienic manufacturing process
All products are 100% handmade instead of relying on mass machine work, so you can truly taste the love and care put into making each product. Hygienically made and free of additives, it has a deep flavor that's not too salty or sweet.
Premium Ingreidents
The finest, carefully selected pollack roe.
The carefully selected pollack is aged in sake at low temperatures and aged with a special seasoning.
Exclusive Contract
American exclusive brand
Dongwha Food products produced in Sokcho-si, Gangwon-do are the U.S. exclusive brand of Wooltari Mall.
California Proposition 65
WARNING: Consuming this product can expose you to chemicals including lead and cadmium which are known to the State of California to cause cancer and birth defects or other reproductive harm. For more information go to www.p65Warnings.ca.gov/food
| | |
| --- | --- |
| Manufacturer | Donghwa Food |
| Origin | Sokcho city of gangwon-do |
| Ingredients  | Seasoned salted fish [Pollock roe (Russia) 85.5%, refined salt (domestic) 6%, dl-sodium malate (acidity regulator) 2%, D-sorbitol (sweetener) 1.5%, L-sodium glutamate (flavor enhancer) 1% , sauces (flavor) 1%, calcium lactate 0.5%, L-ascorbate sodium (nutrient fortifying agent) 0.5%, glycine (flavor enhancer), red pepper powder 0.5%, white sugar 0.4495%, red pigment (Myungshin Red Pigment-Oyes)1 %, Red yeast rice pigment (Red yeast red pigment) 0,1%, Complex seasoning food 0.1%, Sodium nitrite (coloring agent) 0.005%] 99.9%, White sugar 0.1% |
120kcal per 100g
* 1 day nutrient
ratio to reference value
2300mg sodium
115%
8g carbohydrate
2%
1g saccharide
fat 0.6g
1%
0g transfat
0.5g saturated fat
3%
180 mg of cholesterol
60%
protein 21g
* The ratio (%) to the daily nutritional standard is 2,000 kcal, so it may vary depending on the individual's required calories.
Note: Best consumed as soon as possible even if refrigerated. Store in the freezer for long-term consumption.

Dongwha Food contributes to the health of customers with a clean and healthy food culture. We make various efforts to deliver the healthy dining table of Korea to the world with the rich nutrition of seafood harvested from the clean seas of Sokcho.
Shipping Information
Refund Policy
1. Exchanges and refunds can be requested within 7 days of receiving the product.
2. For exchange or refund request, please contact us through email(help@wooltariusa.com) & phone (310-933-8648) with a photo.
3. If you request an exchange or refund on other boards, such as a review board, exchange or refund is not possible.
4. For simple change of mind, the shipping cost and 30% of the product price will be charged as a restock fee for returns.
5. Refrigerated delivery products and Viscose Rayon products cannot be exchanged or refunded only if there is no defect in the product.
백명란을 시킬까 그냥 일반을 시킬까 고민하다가 주문했는데, 알도 너무 신선하고 껍질 살짝 잘라서 안쪽에 알만 발라내서 아이들 파스타에도 넣고, 비빔밥도 해줬는데, 너무 잘 먹어서 또 구매하려고요!
다ㅜ녹아서 왔어요. 울타리몰 배송 이제껏 다 괜찮았는데 이번에는 다 녹아서 와서 ㅜ 실망했네요. ㅜㅜ 제품은 좋은 제품 같은데 ㅜㅜㅜㅜ