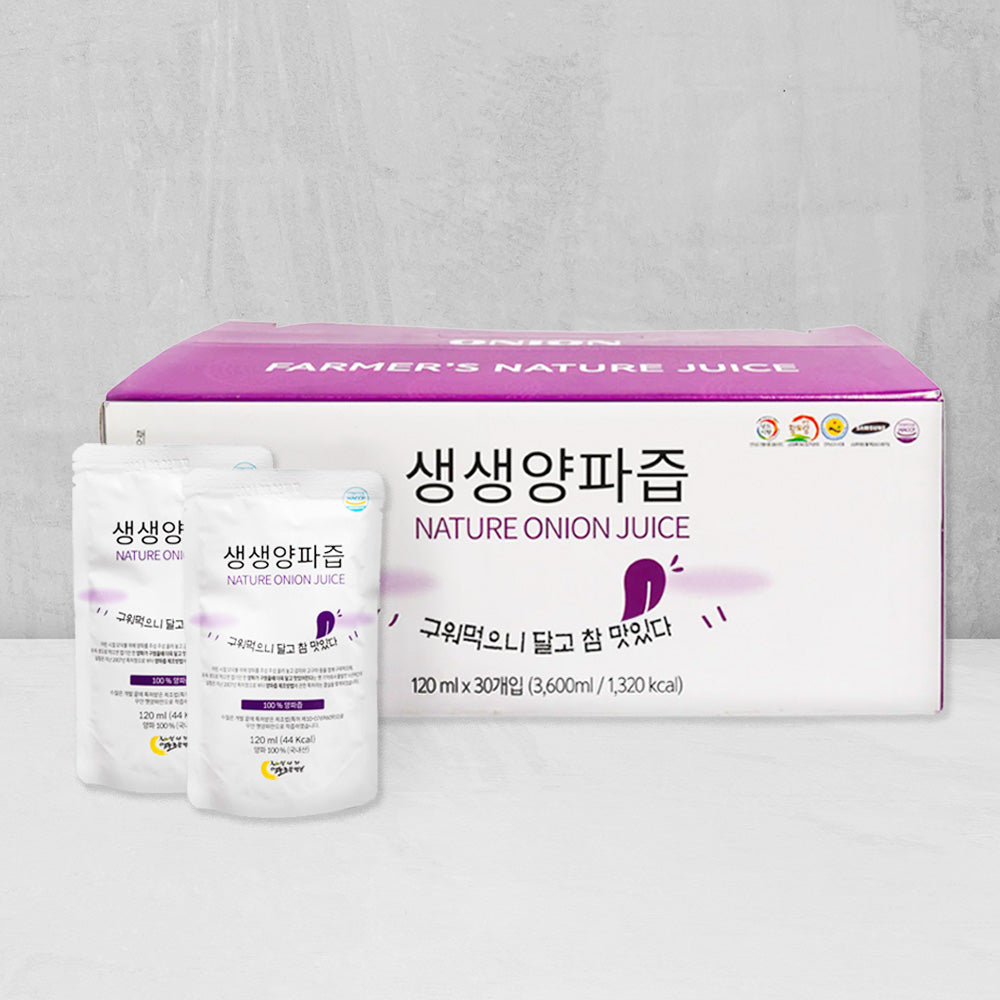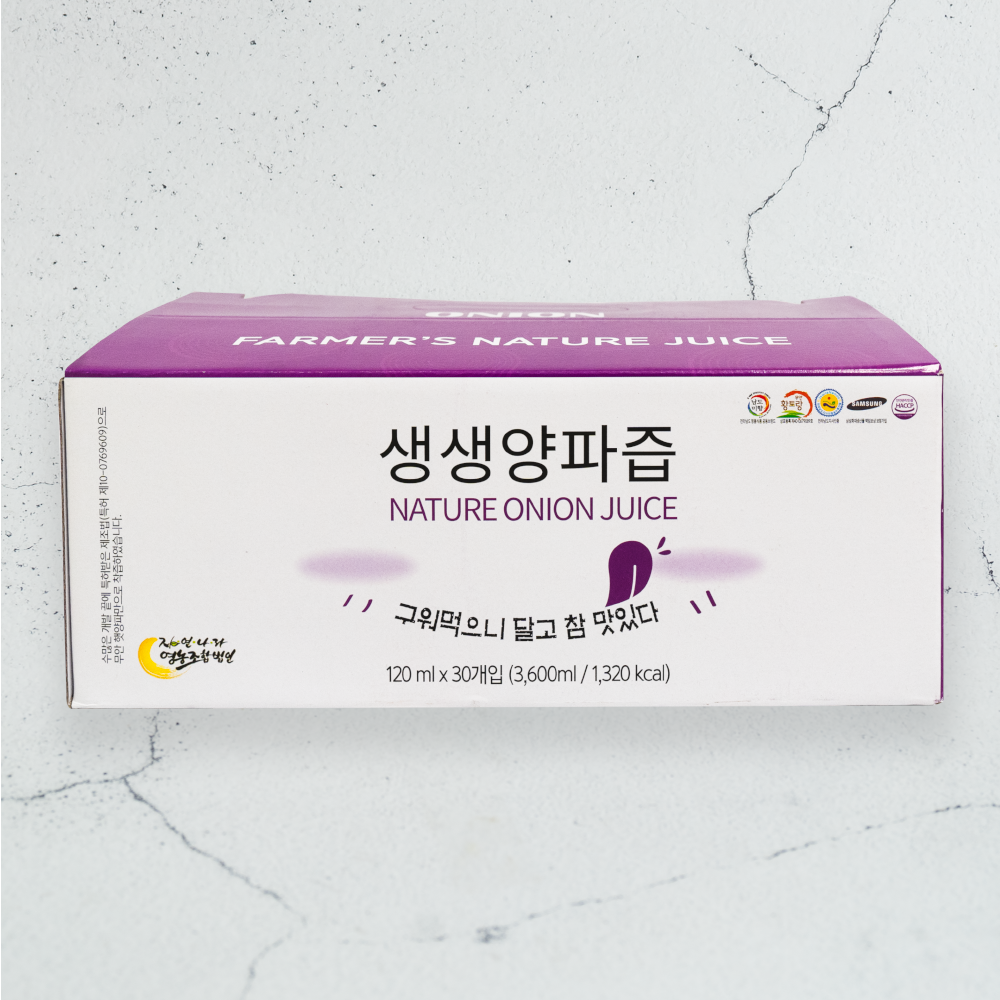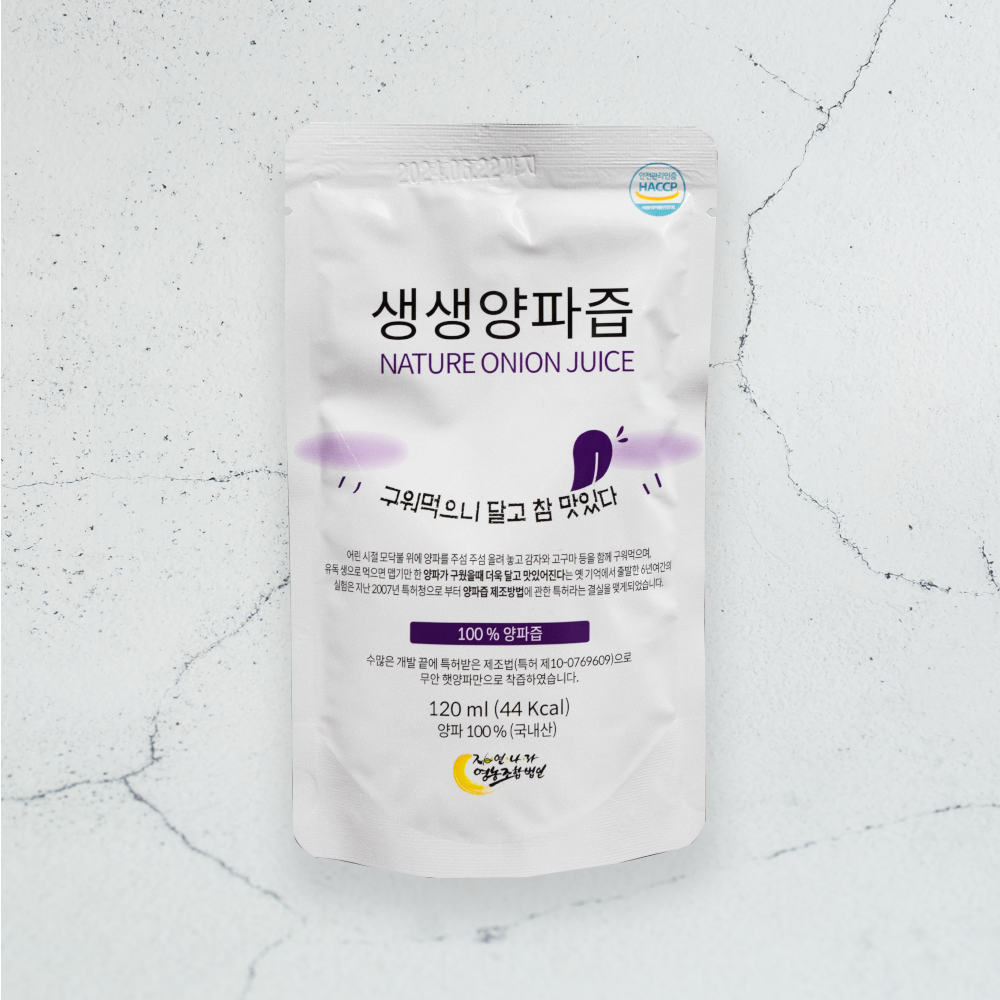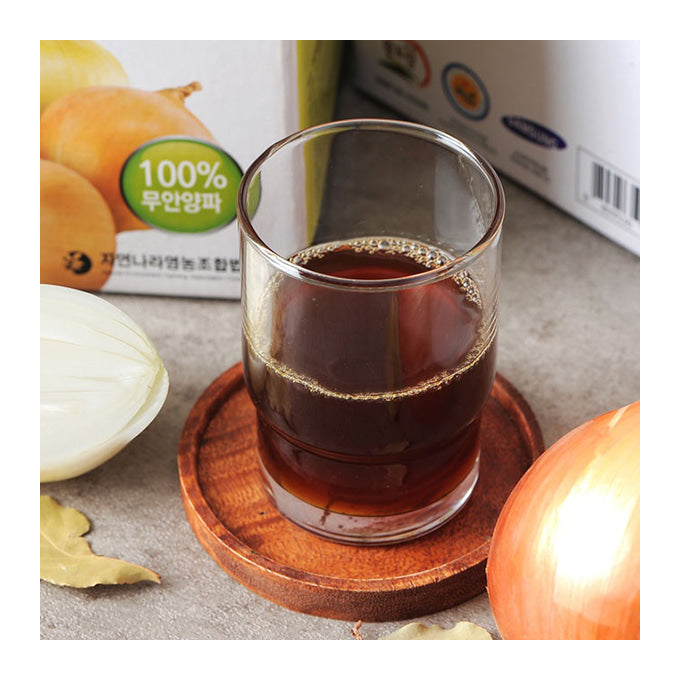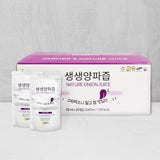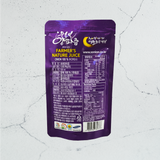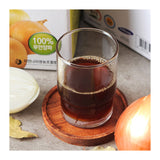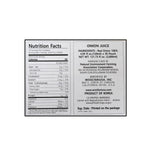 [Natural World] Muan Fresh Onion Juice 120ml x 30 Packs
Lightning Fresh
99 Delivery
Free shipping on Lightning Delivery items over $169
Free shipping on 99 Delivery items over $99
[Natural Country] Muan Live onion juice
100% Muan ocher onion, eat real now! It is an onion juice with 100%richness with soft neck and muan ocher onion.
Manufactured Environment
Red Clay Whole Onion 100% Raised from Muan
Jeollanam-do Muan's soils are naturally rich in minerals and germanium, and the organic compounds from ocher contribute to sweeter and less pungent onions. Also, onions' roots rot easily in temperatures higher than 25 degrees, but the coastal location of Muan and the strong sea breeze ensure that they grow healthily.
Manufacturing Process
18 years of hard work
Farmer Ho-il Moon has worked hard to make onion juice that anyone can enjoy for 14 years, but full of nutrients.
Nutritions
Nutrition properties of a whole onion
The onions are cleansed with their peels and roots intact twice before juicing them. Onion peel and roots contains high amounts of quercetin, and this method keeps the nutrients without the impurities. The juiced whole onions are then filtered twice to achieve smooth texture and ample nutrients.
Verified Quality
Universally Trusted Natural World
After pasteurization and two times of filtration processes at HACCP-certified facilities, the nutrient extraction is maximized and the drink can be swallowed softly through the throat. Natural World is with the world with various certificates, citations, and trademark approval.
California Proposition 65
WARNING: Consuming this product can expose you to chemicals including lead and cadmium which are known to the State of California to cause cancer and birth defects or other reproductive harm. For more information go to www.p65Warnings.ca.gov/food
| | |
| --- | --- |
| Allergy Info | Onion |
| Manufacturer | Natural World Agricultural Cooperative Corporation |
| Origin | Muan-gun, Jeollanam-do |
| Ingredients | Onion 100% (Domestic Muan) |
70kcal per 120ml
* 1 day nutrient
ratio to reference value
sodium 15mg
1%
18g carbohydrate
5%
13g of saccharide
13%
fat 0g
0%
0g transfat
0g saturated fat
0%
0mg cholesterol
0%
protein 0g
0%
* The ratio (%) to the daily nutritional standard is 2,000 kcal, so it may vary depending on the individual's required calories.
Storage Method: Room temperature & refrigeration storage (a cool place to avoid direct sunlight)

Natural World Farming Association is located in Muan, where you can grow sweet and good onions with organic loess ingredients. We started processing onion juice in 2001, and after much trial and error, made onion juice that anyone can enjoy.
Shipping Information
Refund Policy
1. Exchanges and refunds can be requested within 7 days of receiving the product.
2. For exchange or refund request, please contact us through email(help@wooltariusa.com) & phone (310-933-8648) with a photo.
3. If you request an exchange or refund on other boards, such as a review board, exchange or refund is not possible.
4. For simple change of mind, the shipping cost and 30% of the product price will be charged as a restock fee for returns.
5. Refrigerated delivery products and Viscose Rayon products cannot be exchanged or refunded only if there is no defect in the product.
직접 해먹기 힘든 제품이라 세일하면 쟁여두게 되네요.
맛이 진하고 두가지 모두 마실만 합니다. 일부러 끓여 먹기 힘들었는데 이렇게 간편하게 마실 수 있어 만족합니다.
양파 끓여 마시는 것 너무 번거로웠는데 이 제품 덕분에 간편해졌습니다.
아침마다 건강해지는 느낌이에요. 세일할 때 또 구매할 예정입니다.
다른 브랜드에 비해 부드럽게 잘 넘어가네요. 재구매 의사 있어요.