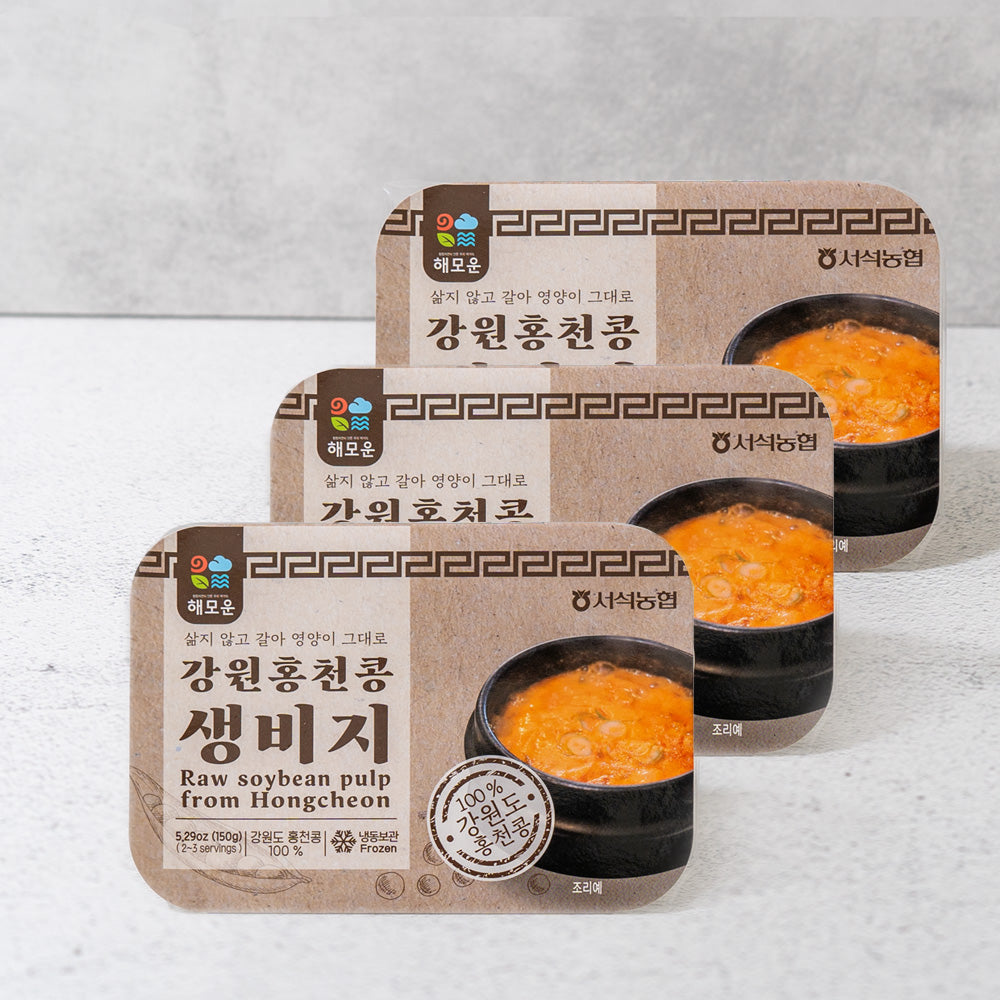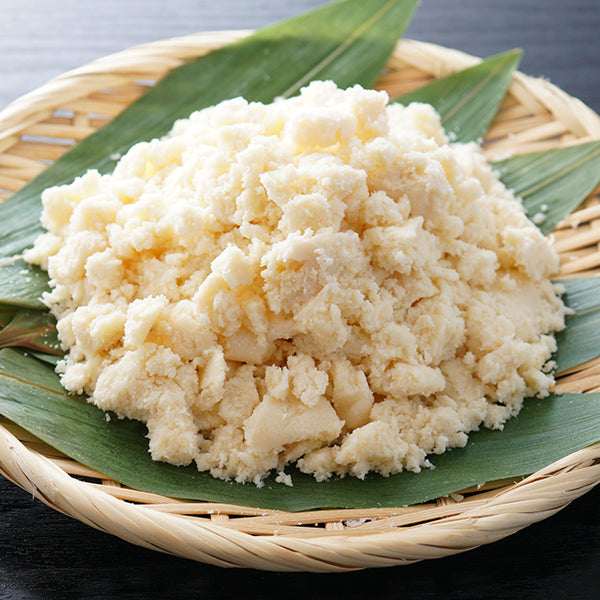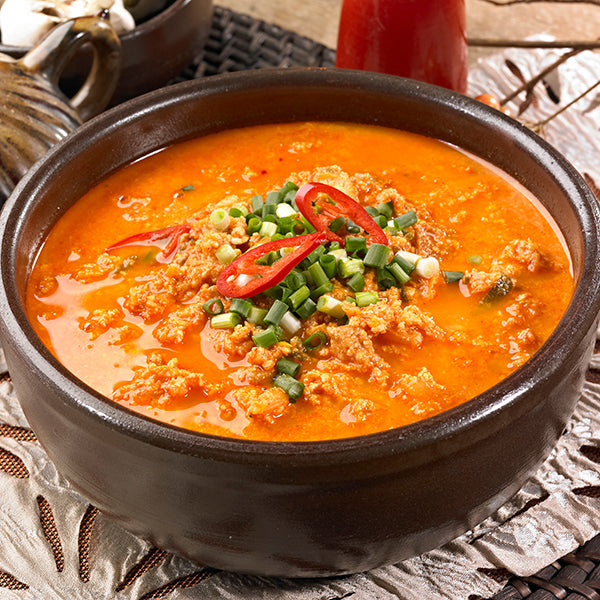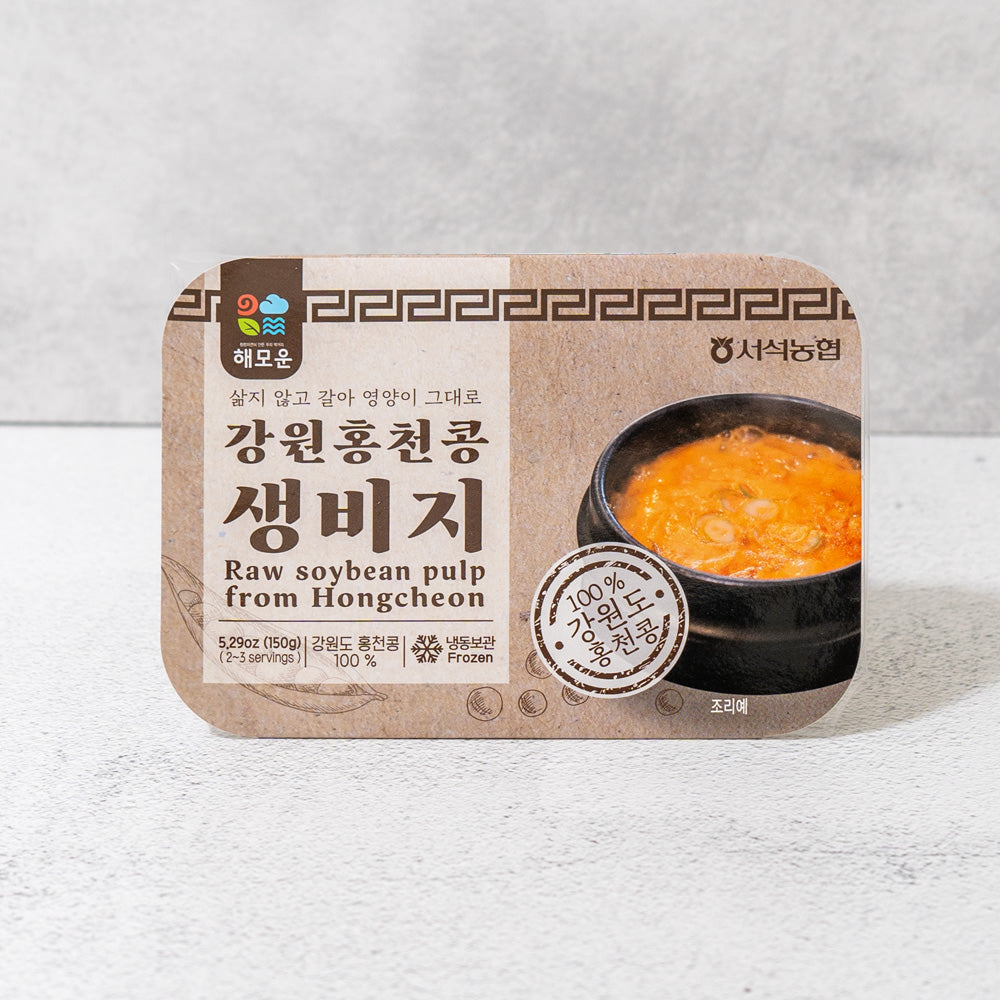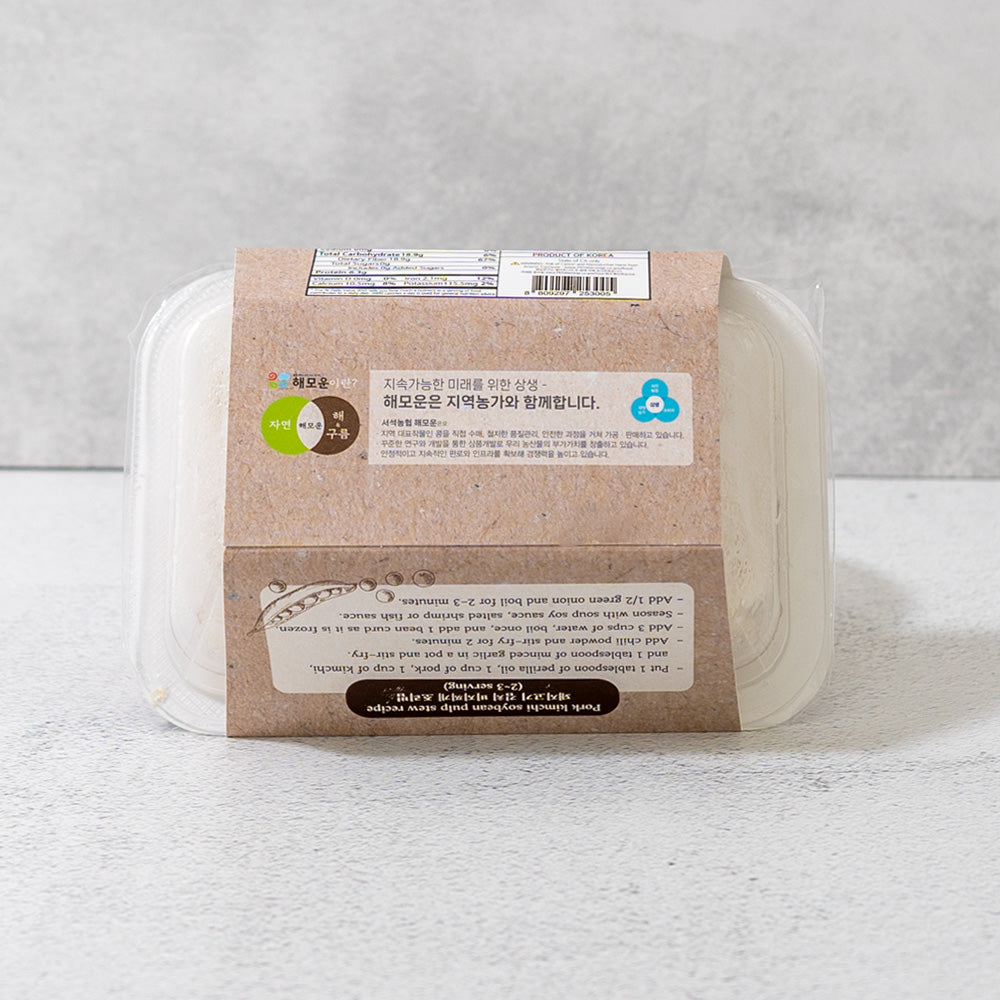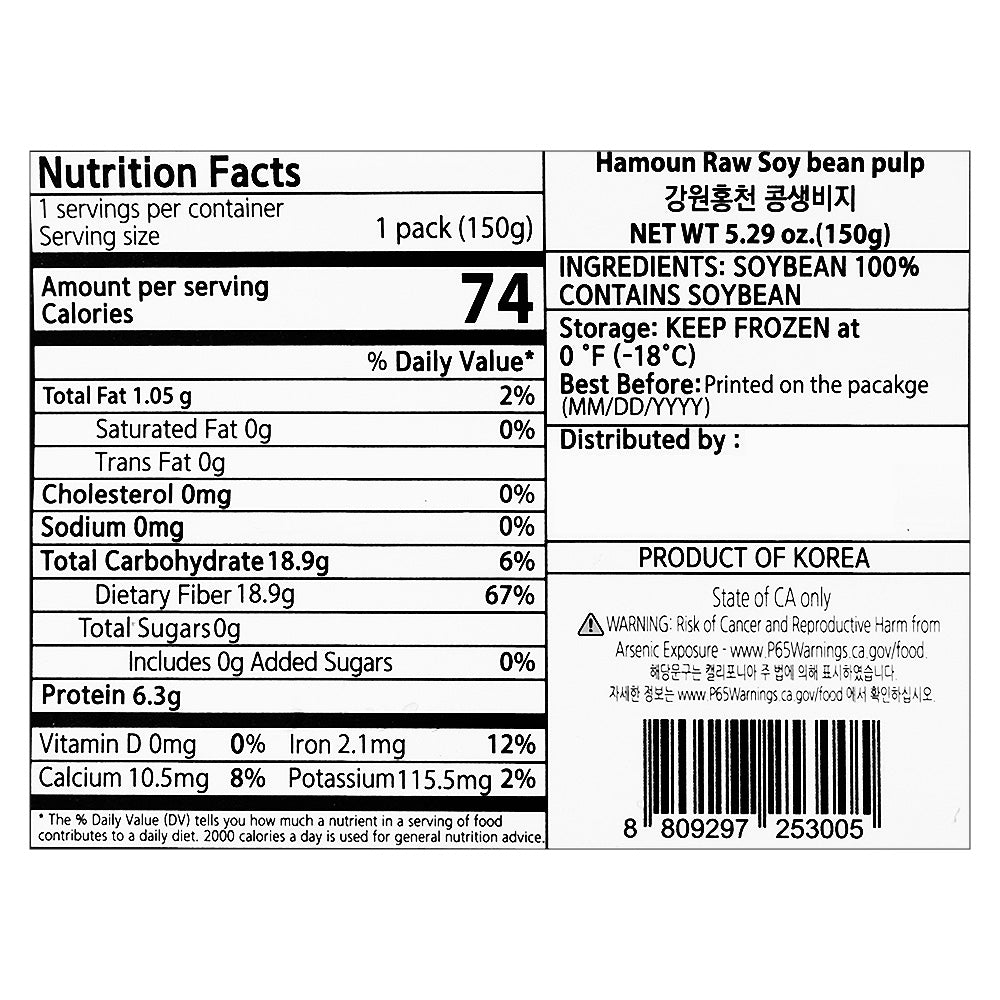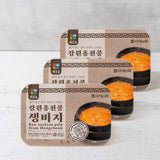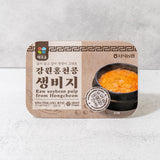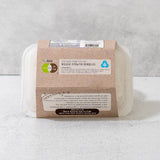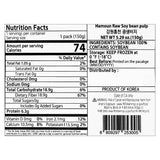 Haemoun Raw Soybean Pulp 150g x 3
Lightning Fresh
Free shipping on Lightning Delivery items over $169
[Hongcheon Seoseok] Raw Soybean Pulp 130g
Full of Nutrition!
It is a product where good nutrients are alive from grinding them raw without boiling the soybeans.

Production and Distribution
첨가물 제로!
생콩을 그대로 갈은 생비지!
대한민국 대표 청정지역인 강원도 홍천군의 농민들이 직접 농사 지은 콩을 1등급만 선별해서 만든 특별한 콩생비지입니다.
첨가물을 전혀 넣지 않은 100% 생비지로 상품 도착 즉시 냉동보관해주세요.
Manufacturing Process
안심하고 드셔도 됩니다!
'해모운'은 홍천서석농협의 자체 농식품 브랜드입니다.
세계적인 비건 인증 기관 프랑스 이브(EVE; Expertise Vegane Europe)사로부터 비건(VEGAN) 인증을 농협 최초로 획득하였습니다.
How to Use
오늘은 돼지고기 김치 비지찌개로!
따뜻한 밥과 함께 준비해 정갈한 한상을 즐겨보세요.
① 식용유 한스푼을 두르고 돼지고기 1컵, 김치1컵, 다진마늘 한스푼을 볶아줍니다.
② 고춧가루를 취향껏 넣고 약 2분 간 더 볶습니다.
③ 물 3컵과 해모운 콩생비지를 넣고 끓여줍니다.
④ 소금이나 새우젓, 액젓등으로 간을 맞춰줍니다.
⑤ 대파 1/2대를 썰어넣고 1~2분간 더 끓여 드시면 됩니다.
California Proposition 65
WARNING: Consuming this product can expose you to chemicals including lead and cadmium which are known to the State of California to cause cancer and birth defects or other reproductive harm. For more information go to www.p65Warnings.ca.gov/food
Shipping Information
Refund Policy
Exchange or refund requests must be made within 7 days of receiving your product and should be initiated by contacting us through email (help@wooltariusa.com) or phone (310-933-8648) with a photo.
Please note that exchange or refund requests made on review boards or other platforms are not accepted.
A 30% restocking fee plus shipping charges apply for returns due to a change of mind, and refunds are not available for non-defective refrigerated/Korea-US direct delivery items.
간편하게 비지찌게를 끓일수 있어서 좋네요.
김치찌개 끓여서 비지투하해서 먹으니 제법입니다
간편하니 맛있게 먹었어요
한국산 콩100%, 첨가물 제로라는 말에 주문했어요. 냉동이라 유통기한도 넉넉하니 상해서 못먹을까 염려도 없구요. 양도 2인이 한끼 식사하기에 충분했어요. 처음엔 양이 적어보여서 한통이 1인분인가 했는데 물붓고 끓이니 많아지네요.
재래식 비지의 쿰쿰한 냄새가 전혀없고 색도 뽀얀게 깨끗하고 건강하게 보였어요. 저는 어려서도 비지를 좋아했어서 쿰쿰한 냄새가 나도 상관없는데 남편은 그런 냄새에 민감해서 아예 먹으려하지 않거든요.
제 남편은 고기를 정말 좋아하고 초딩 입맛이라 간혹 건강한 식단으로 반찬하기가 까다로울 때가 있는데 예상외로 콩비지 찌개는 넘넘 잘 먹더라구요.
묵은지 살짝 씻어낸후 돼지고기를 넣고 같이 볶았어요. 20분 정도 중약불에서 푸욱 끓인후 콩비지 투하, 10분정도 더 약불에서 살살 저어주며 끓였어요.
간을보니 싱거운것 같아 참치액으로 맞췄구요. 금방한 밥에 슥슥 비벼 먹으면 밥 한그릇 언제 다 비웠는지 모를 정도로 구수하고 부드럽고.. 막 넘어가요 ㅎㅎ
싼게 비지떡이란 속담도 있듯이 비지는 보통 두부를 만들고 남은 찌꺼기라 영양가가 없다고 여겨지지만, 사실은 단백질, 칼슘, 철분, 식이섬유 등이 풍부하대요.
(너무 맛있게 먹어서 콩비지의 영양성분까지 검색해봤답니다 하하)
또 칼로리가 낮고 포만감이 높아서 다이어트에도 제격이고, 천연 에스트로겐이 함유되어 갱년기 증상 완화에도 좋다고 하네요.
하나 남은거는 땡스기빙에 집에 올 아이에게 꼭 먹이고 싶어서 아껴놨어요. 이런 맛도 있단걸 알려주고 싶어서요.
생콩비지 판매해주셔서 정말 감사합니다!
비지찌게 해먹을려고 샀는데 어떨지 너무 궁금합니다
퀄리티 좋고 양도 넉넉해요! 한팩 요리했는데 비지찌개 삼인분 정도 먹었어요. 다음에도 세일때 쟁여둘것 같아요
두개의 팩이 깨져서 왔습니다. 고객센터 확인 부탁드려요.
평소처럼 김치찌개 끓이고 나서 넣었더니 너무 멋난 비지찌개 완성 되었네요. 미국에서 집밥으로 비지찌개를 먹을 수 있다니 너무 좋아요. 맛도 있고 3팩와서 양도 든든하네요. 1팩에 2명이 두끼는 먹어요