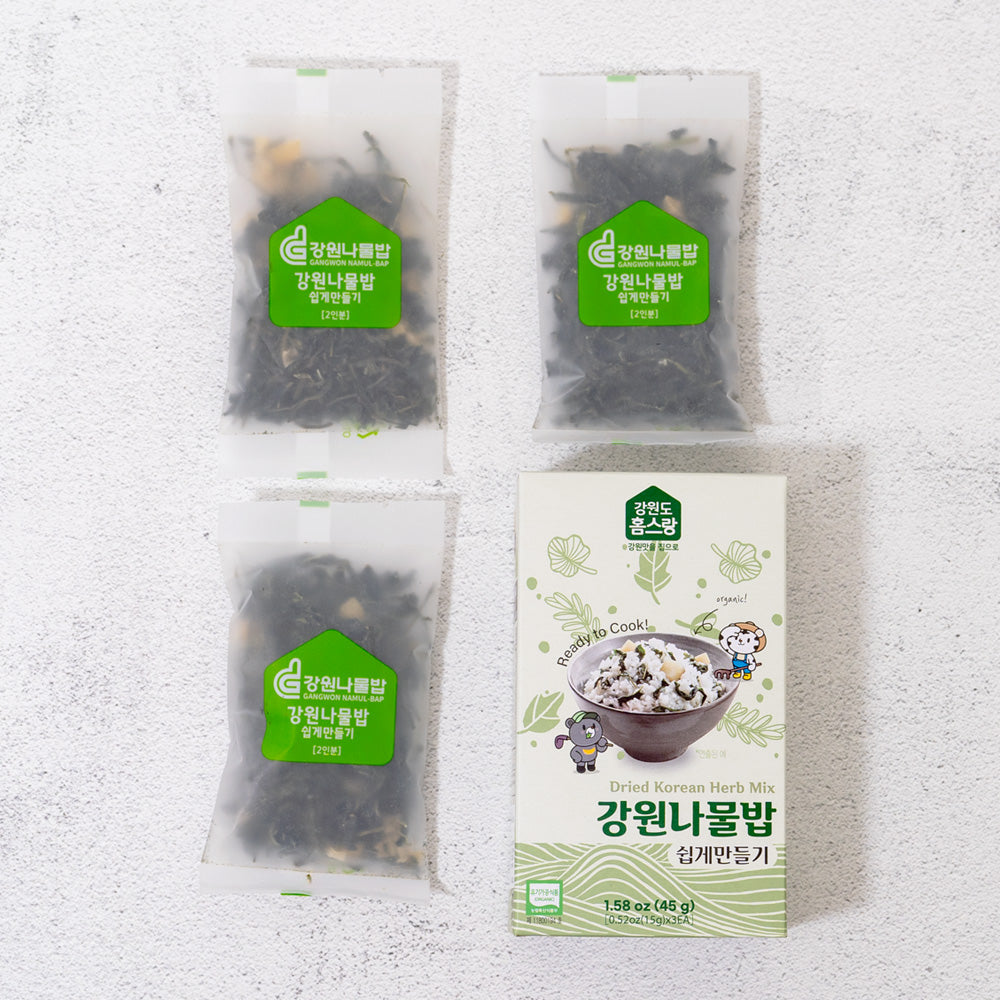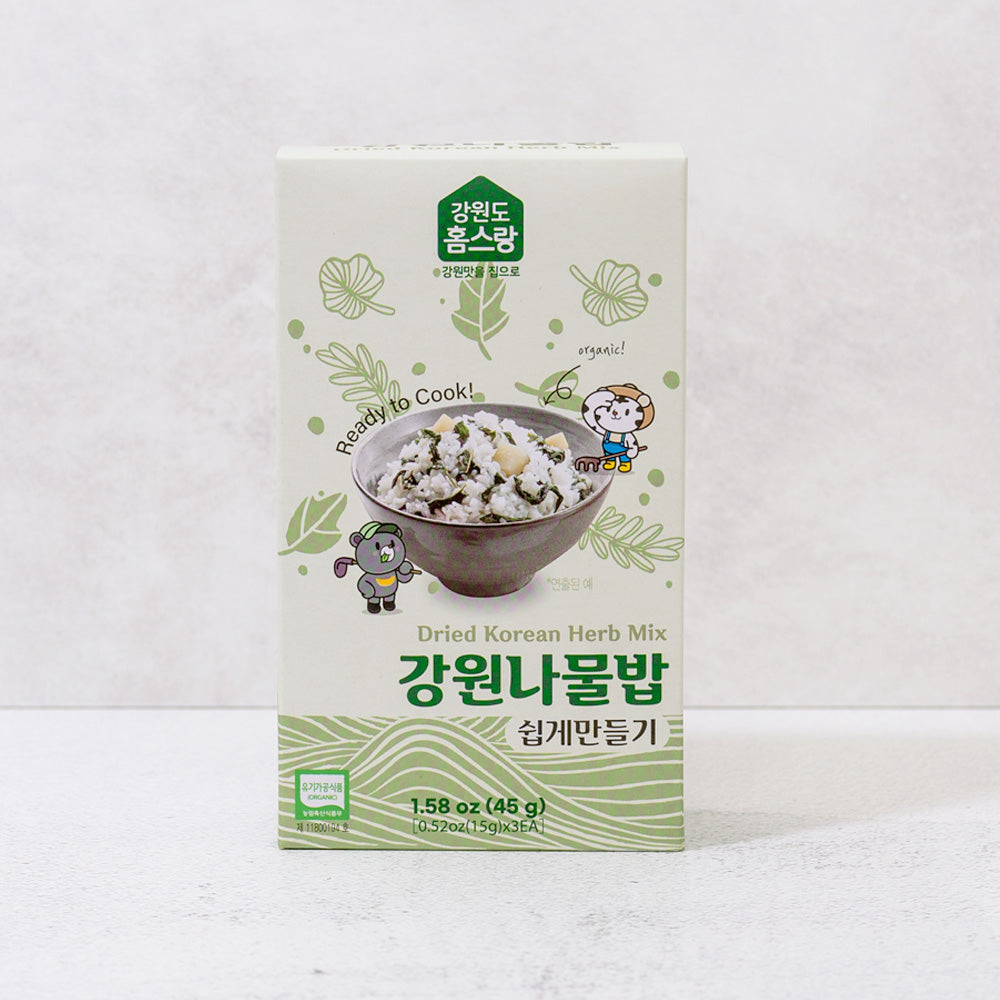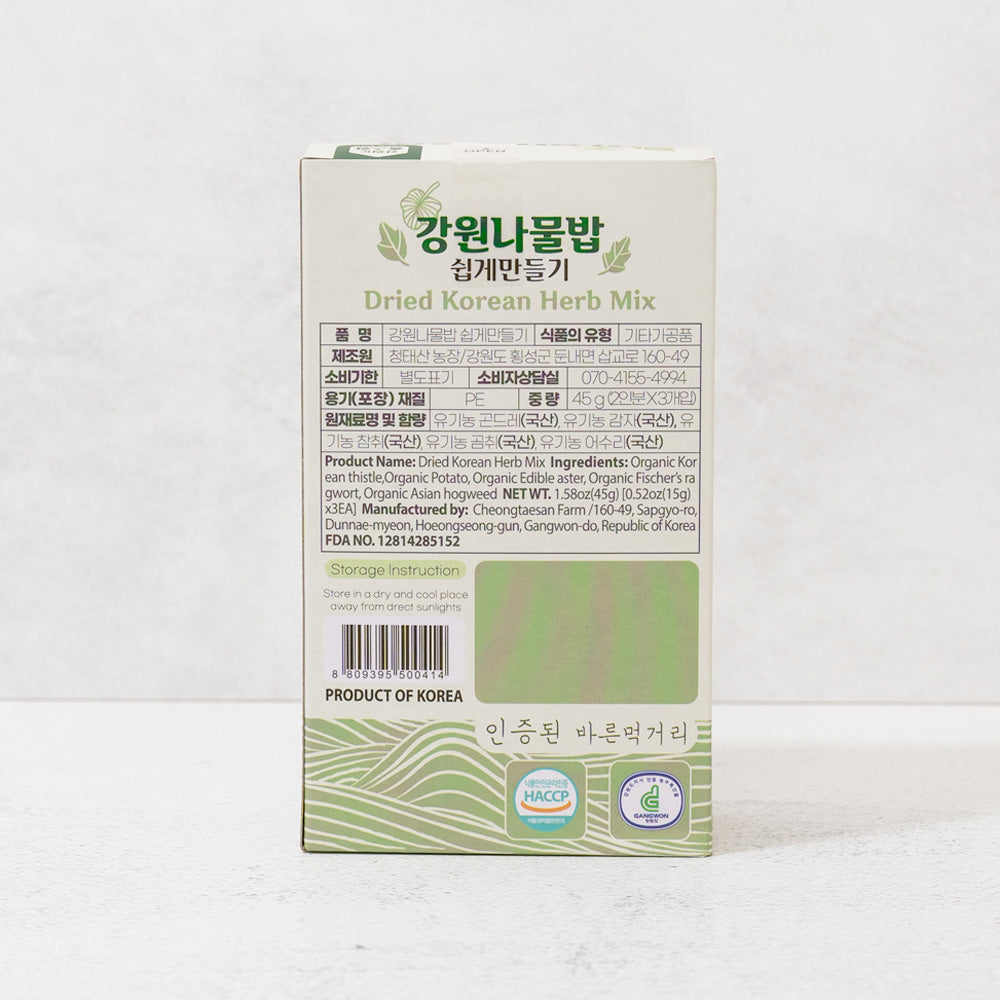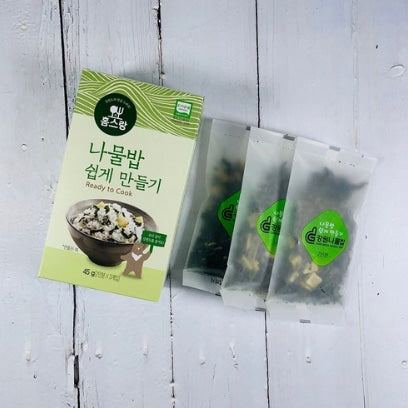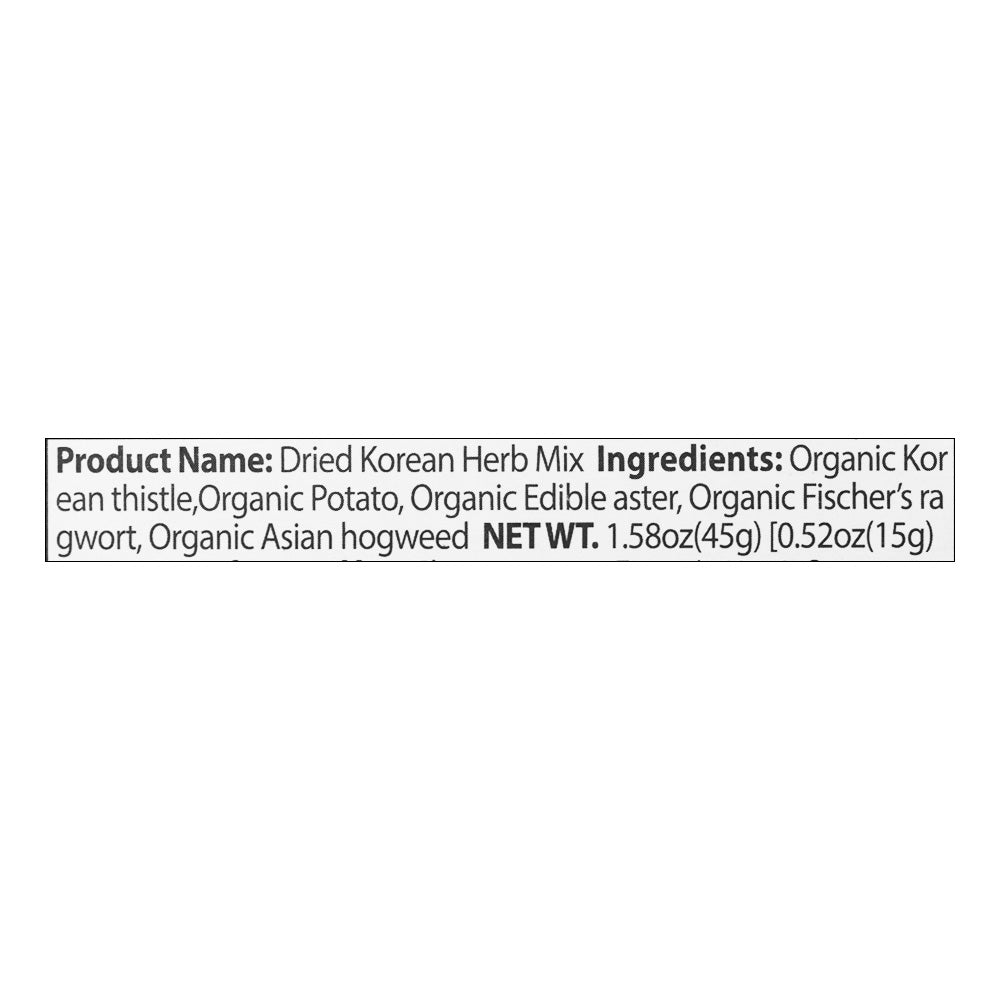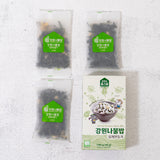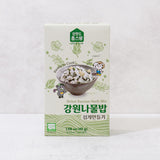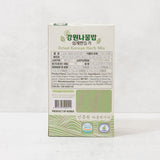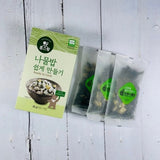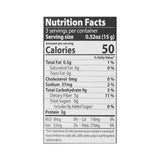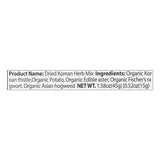 Namul Rice Ready to Cook 45g(2 Servings x 3)
1 Day shipping
Ground shipping
Free shipping on 1 Day shipping items over $169
Free shipping on Ground shipping items over $99
[Chungtaesan Farm] Namul Rice Ready to Cook 45g(2 Servings x 3)
It has the unique scent and color of thistle, gomchwi, chamchwi, and potatoes. Anytime, anywhere you can use it right away without soaking or washing it. It is conveniently packaged for two servings. It's completely dry so the volume and weight increase during actual cooking.
Manufactured Environment
Official certification for agricultural specialties in Hoengseong-gun, Gangwon-do
Cheongtaesan Farm, which is located at the foot of Mt. Cheongtaesan in Hoengseong-gun, Gangwon-do, has fresh air and clean water. We are providing good quality at a lower price by directly growing and processing directly through consumer direct transactions.
Manufacturing Process
Homesrang's special and hygienic manufacturing method
You can enjoy taste and nutrition at the same time with hygienic herbs made through 8 steps.
How to Use
A super-simple recipe that can be cooked right away without soaking or washing
Now, enjoy the taste of Gangwon-do at home easily and comfortably. It can be used in various ways, such as when camping outdoors or when you miss Korean food while traveling abroad.
California Proposition 65
WARNING: Consuming this product can expose you to chemicals including lead and cadmium which are known to the State of California to cause cancer and birth defects or other reproductive harm. For more information go to www.p65Warnings.ca.gov/food
| | |
| --- | --- |
| Allergy Info. | This product is manufactured with tomatoes and beef products. |
| Manufacturer | Chungtaesan Farm |
| Origin | Hoengseong-gun, Gangwon-do. |
| Ingredients | Thistle 35%,Potato ,Gomcwhi, Awsuri, Chamchwi |

Cheongtaesan Farm is a farm made by brothers in Cheongtaesan Mountain, Hoengseong-gun, Gangwon-do Province, after studying organic agriculture for 20 years. We are building a farm with a warm heart to share delicious and healthy food together.
Shipping Information
Refund Policy
Exchange or refund requests must be made within 7 days of receiving your product and should be initiated by contacting us through email (help@wooltariusa.com) or phone (310-933-8648) with a photo.
Please note that exchange or refund requests made on review boards or other platforms are not accepted.
A 30% restocking fee plus shipping charges apply for returns due to a change of mind, and refunds are not available for non-defective refrigerated/Korea-US direct delivery items.
늘 쟁여놓아요. 그냥 맨밥하느니 늘 뭐라도 넣어서 밥하는데 향도 좋고 간단해서 넘 좋아요!
지난번 주문시 버섯나물밥을 구입해서 먹어보았는데, 버섯향이 꽤 진하게 나서 좋았어서 이번에는 나물비빔밥을 사 보았어요. 나물향도 좋고 비빔밥을 편리하게 먹을수 있어서 만족합니다. 세일하면 또 재구매 할 것 같아요.