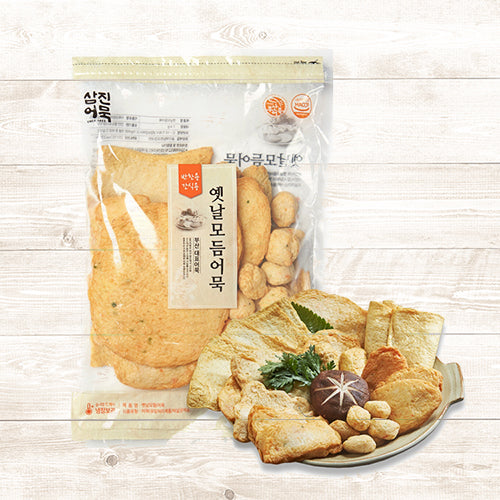 1 Day shipping
Free shipping on 1 Day shipping items over $169
[Samjin fish cake] Assorted fish cake 1kg
It is a product consisting of basic fish cakes that bring back memories of fish cakes that I tasted when I went to the market as a child.
It is a product with high fish content and a chewy and light texture, and consists of various tastes and shapes, making it perfect for soup and side dishes. 
Production and Distribution
It consists of 12 representative Samjin Fish Cakes!
Vegetable deciduous fish cake (3 pcs), high-quality square fish cake (2 pcs), vegetable disco fish cake (3 pcs)
Vegetable incised fish cake (5 pcs), bindaetteok fish cake (1 pcs), and squid fish cake (1 pcs).
Hongdan fish cake (1 pcs), fish cake with spicy peppers (2 pcs), and special deciduous fish cake (2 pcs).
Crab meat fish cake (1 pcs), Seafood-flavored fish cake (2 pcs), Anchovy-flavored fish cake (1 pcs)

 +Fish cake soup sauce with anchovy soup flavor (1 bag)
Manufacturing Process
Samjin Fish Cake is the best fish cake in Korea.
It's a best side dish that comes on the table for every meal from the refugees' nutrition food!
Samjin Fish Cake is still with you in the past and now.
According to the philosophy of founder Park Jae-deok, we have followed the basic principles of good ingredients and high fish content for three generations.
How to Use
Delicious stir-fried fish cake!


1. Cut fish cake and onions into appropriate sized and prepare them.
2. Stir-fry onions in a pan, and when it is translucent, add fish cake and stir-fry.
3. Add the sauce and stir-fry it until It's seasoned.
  Lastly, sprinkle sesame seeds and stir-fried fish cake is done!

California Proposition 65
WARNING: Consuming this product can expose you to chemicals including lead and cadmium which are known to the State of California to cause cancer and birth defects or other reproductive harm. For more information go to www.p65Warnings.ca.gov/food

Samjin Fish Cakeis the oldest fish cake brand in Korea, which has been around for three generations since 1953. Samjin Fish Cake has fish cake, a healthy marine protein, and its goal is to contribute to the expansion of the base of the fish cake market through new culture development.
Shipping Information
Refund Policy
Exchange or refund requests must be made within 7 days of receiving your product and should be initiated by contacting us through email (help@wooltariusa.com) or phone (310-933-8648) with a photo.
Please note that exchange or refund requests made on review boards or other platforms are not accepted.
A 30% restocking fee plus shipping charges apply for returns due to a change of mind, and refunds are not available for non-defective refrigerated/Korea-US direct delivery items.
양도 많고 가격도 저렴하고 맛도 있고.
가성비 최고입니다.
이것도 매번 주문하게되는 템입니다. 큰 사각어묵은 밑반찬 만들고 나머지로 어묵탕 만들고 ㅎㅎ
안에 들어있는 스프도 맛있네요.
다 넣으면 짤수도 있으니, 멸치다시 육수 끓이고 반만 섞으면 될것 같아요~ 어묵 퀄리티도 고퀄이고 매콤한맛 담백한맛 종류별로 있어서 어른아이 같이먹기
좋아요.
고급스런맛과 푸짐한 양…
두번째 또 주문입니다
한국에서 먹던 그대로의 맛이예요, 재구입 의사 있습니다.