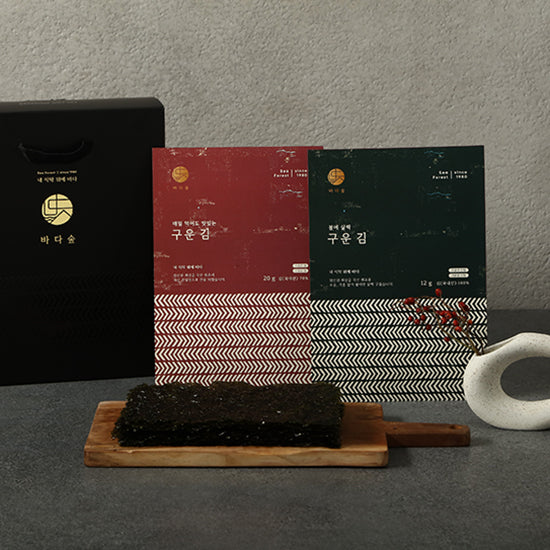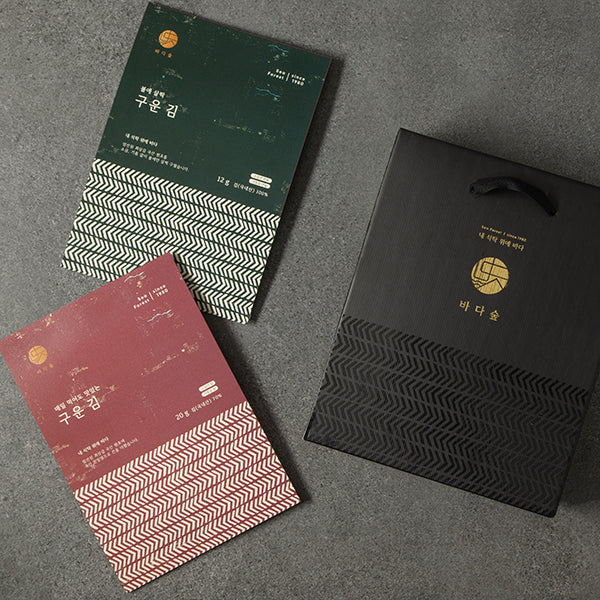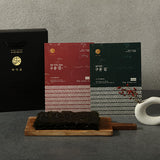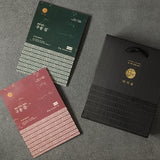 Seaweed Gift Set (Seasoned Seaweed 3 Packs + Unseasoned Seaweed 4 Packs) 116g
1 Day shipping
Ground shipping
Free shipping on 1 Day shipping items over $169
Free shipping on Ground shipping items over $99
Seaweed Gift Set: A delightful seaweed assortment.
Includes 3 Packs of Seasoned Seaweed and 4 Packs of Unseasoned Seaweed.
The perfect gift for seaweed lovers or a delicious treat for yourself.
Production and Distribution
한번 뜯으면 끝까지 먹게 되는 바삭함과 고소함!
1. 매일 먹어도 맛있는 김
김에 참기름, 함초자염으로 조미하여 구웠습니다. 소금을 볶아 사용했기 때문에 맨 입에 먹어도 짜지 않습니다.
2. 불에 살짝 구운 김(무조미김)
돌김, 파래김, 재래김 원초를 최적의 배율로 섞어 김에 조미없이 불에 살짝 구웠습니다.
3. 고급선물상자
선물상자 자체에 손잡이 끈이 있어서 따로 종이가방이 필요 없습니다.
Manufacturing Process
친환경 해양생태계의 보물창고! 충남 서산 가로림만!!
가로림만은 해양생태계의 건강도가 국내 상위 25% 수준이며, 2018년 국내 유일의 해양보호 구역으로 지정되었습니다. 바다숲의 원재료들은 자연 생태가 보호된 지역에서 채취됩니다.
Verified Quality
감태명인 인증서, HACCP 인증!
송철수 감태명인은 국내 최초이자 유일한 감태 명인 인증서를 받았으며, 바다숲 최상급 감태 제품들은 HACCP 인증을 보유한 제조 시스템을 통해서 생산됩니다.
Premium Ingreidents
명인이 직접 관리하는 생산∙유통 과정!
12~3월의 한겨울 갯벌에서 감태의 부드러운 부분만 골라 손으로 감태를 채취하여 깨끗한 물로 염분과 뻘을 씻어냅니다. 이후 일정한 틀에 물 써레질로 감태를 고르게 펼쳐 햇볕과 해풍으로 잘 건조시킵니다.
California Proposition 65
WARNING: Consuming this product can expose you to chemicals including lead and cadmium which are known to the State of California to cause cancer and birth defects or other reproductive harm. For more information go to www.p65Warnings.ca.gov/food

바다숲은 감태라는 해조류가 생소했던 1980년도부터 시작되었습니다. 바다숲은 감태에 대해서 만큼은 국내 최고인, 준비된 프리미언 수산물 브랜드 입니다. 바다향이 담긴, 자연 그대로의 가로림만의 식재료를 드립니다. 정성을 들인, 손으로 만든 귀한 먹거리를 드립니다. 국내 유일의 감태 명인의 바다숲 제품들은 국내 호텔, 백화점부터 국내외 미슐랭 레스토랑, 고급 레스토랑에서 확인할 수 있습니다.
Shipping Information
Refund Policy
Exchange or refund requests must be made within 7 days of receiving your product and should be initiated by contacting us through email (help@wooltariusa.com) or phone (310-933-8648) with a photo.
Please note that exchange or refund requests made on review boards or other platforms are not accepted.
A 30% restocking fee plus shipping charges apply for returns due to a change of mind, and refunds are not available for non-defective refrigerated/Korea-US direct delivery items.