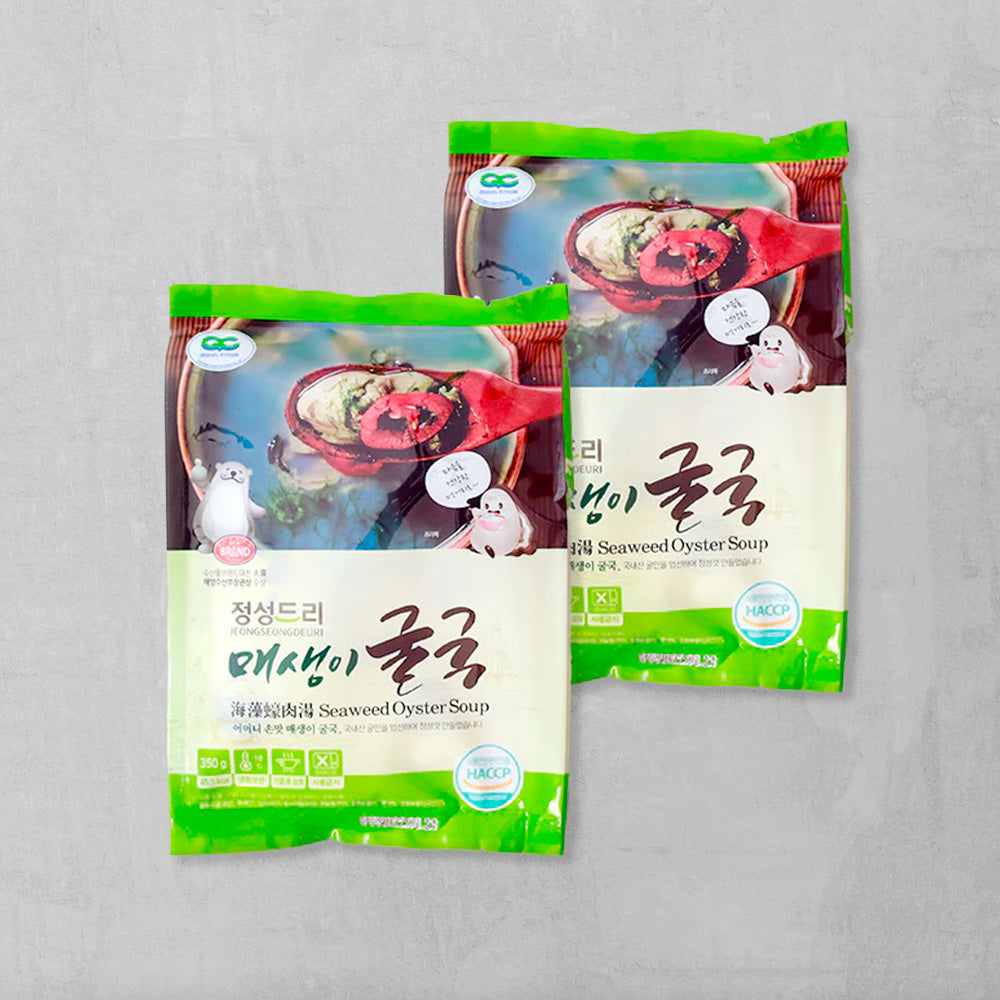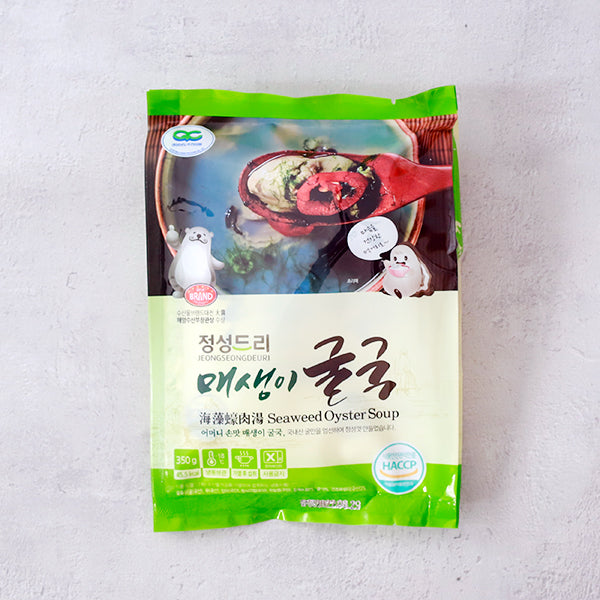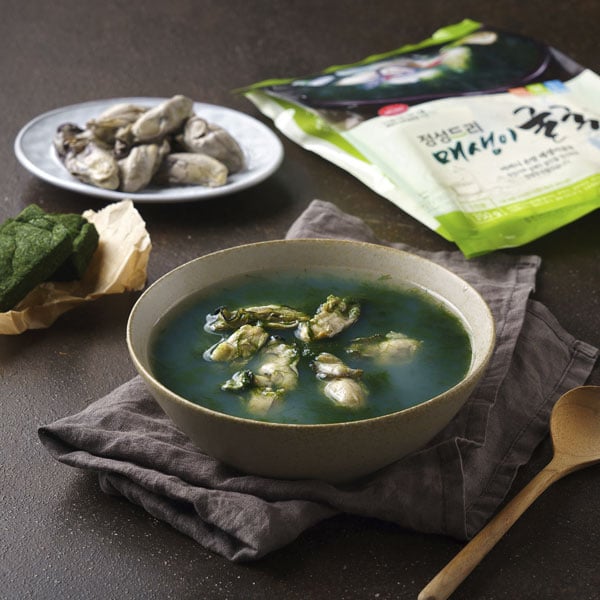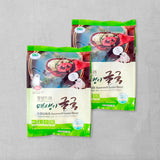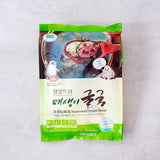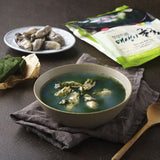 [Jeongseongdri] Mae Saengyi Oyster Soup 350g x 2ea
Lightning Fresh
Free shipping on Lightning Delivery items over $169
[Jeongseongdri] Mae Saengyi Oyster Soup
Jeongseongdri's seaweed fulvescens and oyster soup is an easy cooking, four-seasons enjoyable soup made traditional. The soup base and seaweed fulvescens are packaged separately. Heat the soup base first then finish with the seaweed block. Enjoy the fragrant soup all year round.
Manufactured Environment
Oyster and seaweed fulvescens from the South Coast of Korea
Our soup is made of oysters and seaweed fulvescens that are carefully raised and cultivated from Hadong (city of Gyeongsangnamdo, Korea). It is fully flavored with natural ingredients only.
How to Use
Convenient preparation
We've packaged the soup base and seaweed fulvescens separately for the better, original taste. Enjoy the fragrant soup of seaweed fulvescens all year round.
Verified Quality
Trustworthy brand
Our quality is recognized by the Traditional Food Quality Certification, HACCP certification, and Seafood Brand Prize.
California Proposition 65
WARNING: Consuming this product can expose you to chemicals including lead and cadmium which are known to the State of California to cause cancer and birth defects or other reproductive harm. For more information go to www.p65Warnings.ca.gov/food
| | |
| --- | --- |
| Allergy Info | Contains oyster  |
| Manufacturer | Jeongseongdri |
| Origin | Hadong-gun, kyongsangnam-do |
| Ingredients  | Oyster meat (domestic) 10%, oyster broth (domestic: oyster extract, radish, onion, Korean soy sauce, sea salt, purified water 87%, dried plums (domestic) 3% |

We produce healthy food with sincerity. We are a company that has won the grand prize in the seafood brand competition and has acquired traditional food certification.
Shipping Information
Refund Policy
1. Exchanges and refunds can be requested within 7 days of receiving the product.
2. For exchange or refund request, please contact us through email(help@wooltariusa.com) & phone (310-933-8648) with a photo.
3. If you request an exchange or refund on other boards, such as a review board, exchange or refund is not possible.
4. For simple change of mind, the shipping cost and 30% of the product price will be charged as a restock fee for returns.
5. Refrigerated delivery products and Viscose Rayon products cannot be exchanged or refunded only if there is no defect in the product.
밥하기 귀찮을때 간단히 만들어먹기 좋네요. 남편이 매생이는 자기 취향이 아니라는데 매생이가 큐브형태로 따로 포장 되어있어서 제꺼에만 몰아서 넣고 남편꺼는 매생이를 빼고 조리할 수 있어서 좋네오.
몸아플때 뜨뜻한 굴국물이 ㅠㅠ 너무 좋습니다~
매생이 좋아해서 시켜봤는데 굴도 큼직하고 슴슴한게 괜찮았습니다.
먹고있으면 한국에 있는 것 같은 착각이 들어요
매생이 블럭이랑 실한 굴이 들어 있어요. 굴과 함께 끓이다가 매생일 블럭으루넣으면 바로 퍼져서 따뜻한 굴국을 먹을 수 있어요.