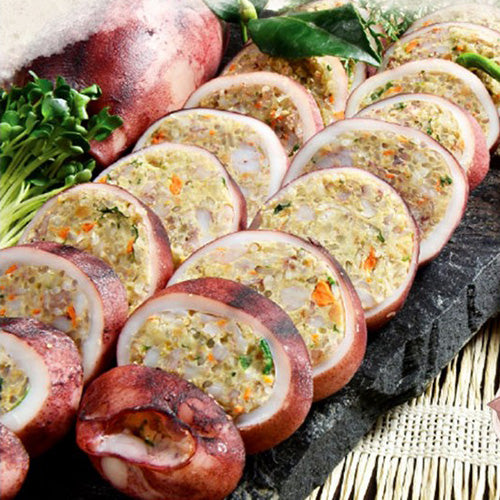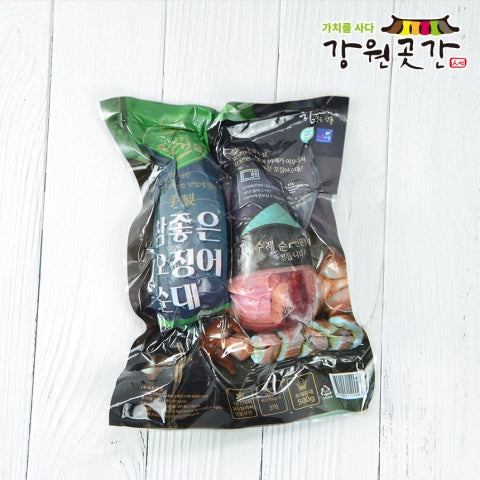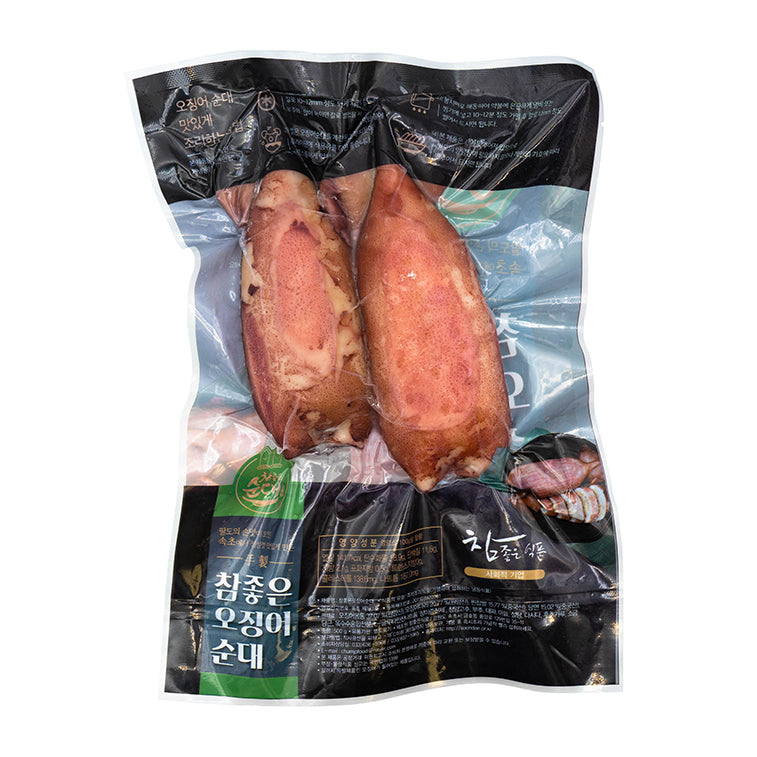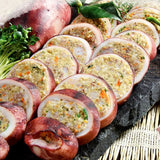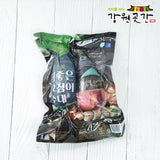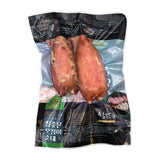 Sokcho Squid Sondae (whole) 500g
1 Day shipping
Free shipping on 1 Day shipping items over $169
[Good Food] 500g
Found BEST! The good squid sundae is a specialty of Sokcho, a delicacy handmade squid sundae. The dark chocolate -colored quality squid is filled with glutinous rice and fresh vegetables. Meet the very squid sundae you ate in Sokcho now in the United States.
Production and Distribution
Handmade famous house with all the taste
It is produced in a systematic and divided process in a HACCP-certified facility, and immediately frozen to utilize the excellent taste of the fried squid, and vacuum-packed as it is, so you can feel the taste of Sokcho.
Manufacturing Process
Made to be chewy just like the traditional way!
This is a handmade soondae made with human hands, following the traditional Hamgyeong-do style. Fresh vegetables such as Seonji, glutinous rice, Chinese cabbage, Ujiji, bean sprouts, and Cheongyang pepper are added generously to create a more savory and harmonious taste. Squid cleaned with deep sea water in Gangwon-do is stuffed with no foul smell.
How to Use
HOW TO COOK
Using a frying pan: After defrosting, cut into 1 to 1.5 cm thick slices. On low heat, fry the sausages in a little bit of oil. Using a steamer: After defrosting, boil or steam for about 8 to 12 minutes and enjoy. *After steaming, let cool before slicing. Using a microwave: After defrosting, slice the sausage then microwave in a microwave-safe container with a little bit of sesame oil or water for 2 to 3 minutes.
California Proposition 65
WARNING: Consuming this product can expose you to chemicals including lead and cadmium which are known to the State of California to cause cancer and birth defects or other reproductive harm. For more information go to www.p65Warnings.ca.gov/food
| | |
| --- | --- |
| Allergy Info. | Shell (mussel), squid, shrimp, peanut |
| Manufacturer | Very Good Food |
| Origin | Gangwon-do Sokcho |
| Ingredients | Squid torso (2 pulmonary acid) 37.07%, Squid leg (2 pulmonary acid) 20.77%, Pea (domestic acid) 3.72%, 6.67% Carrot, 4.37% Carrot, 14.15% Corn Mixture 3.49%, 2.62% of Cheongyang Pepper, 2.62%, 2.18% 1.46% of peanuts, 1.46% of garlic, 0.66%, 0.66% of sugar, 0.43% sesame oil, 0.29% |
Storage method: Refrigerate / Do not refreeze after thawing as it has already been frozen. (Please consume as soon as possible after opening.)

Very Good Foods is a 'social enterprise' created by small business owners in Sokcho. We produce products hygienically through systematic and division of labor in HACCP certified facilities, and we are making squid soondaes with care in the traditional way.
Shipping Information
Refund Policy
Exchange or refund requests must be made within 7 days of receiving your product and should be initiated by contacting us through email (help@wooltariusa.com) or phone (310-933-8648) with a photo.
Please note that exchange or refund requests made on review boards or other platforms are not accepted.
A 30% restocking fee plus shipping charges apply for returns due to a change of mind, and refunds are not available for non-defective refrigerated/Korea-US direct delivery items.
비싸지만 별미로 가끔 먹기 좋아요 속이 꽉차서 좋아요
진짜 너무 맛있어서 놀랬어요.. 울타리에서 지금까지 시킨것들중에 제일 가성비좋고 또시키고싶다고 생각한거.. 먹기전에 반나절 꺼내놓고 잘라서 후라이팬에 구워먹었어요! 꽉찬 몸통 2개 들어있는데 한개는 계란물 뭍혀먹어도 정말맛있었어요 양은 1.5~2 인분 정도 되서 많아요!
대만족ㅎㅎ
계란물 묻혀 부치면 동그랑땡 전 느낌나요 ㅋㅋ 맛은 쏘쏘한데 별미로 먹기좋아요
맛이 꽤 괜찮아서 종종 주문해서 먹고 있습니다~
어떤 맛인지 상상을 못했는데 진짜 맛있어오!! 계란물에 해서 먹었는데 진짜 맛있어요!! 계속 구매해서 먹을거에용
그냥도 맛있는데. .계란에 묻혀서 먹었어요. 막걸리에 먹었는데.. 너무 맛있네요.