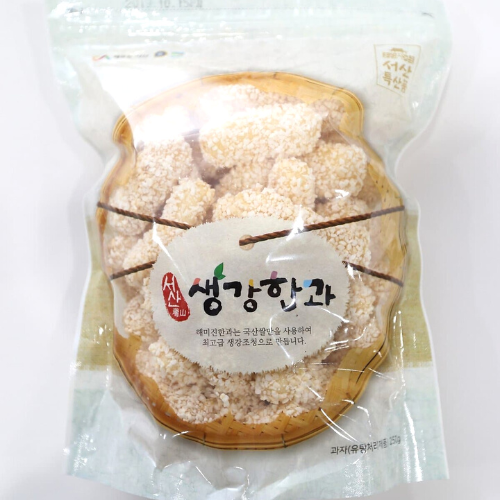 [Haemijin Hangwa] Ginger Korean Confectionery 250g
Lightning Fresh
99 Delivery
Free shipping on Lightning Delivery items over $169
Free shipping on 99 Delivery items over $99
[Hae Mijinhan Clinic] Ginger Han and 250g
Ginger H haven is a product that contains the finest porcelain using domestic non -glutinous rice and glutinous rice on the ginger grown with the sea breeze of the West Sea. It contains ginger and the sweet flavor and the sweet fragrance that spreads softly.
Manufacturing Process
Traditional Korean sweets made by hand
Haemijin Hangwa's traditional Korean sweets are carefully selected using only the finest ingredients and are made by hand with traditional secret methods handed down from generation to generation. 
1. Soak selected glutinous rice in water for a certain period of time and ferment it
2. Grind the fermented glutinous rice finely to make a powder, knead it, and steam it in a steamer.
3. After drying the steamed glutinous rice, cut it according to the shape.
4.Fry the cut dough twice in oil and then apply it to the ginger paste.
5. Hangwa is completed by  packing with sincerity.
Premium Ingreidents
Ginger, a specialty of Seosan
Ginger of Haemi Jin Hangwa, a special product of Seosan City, is a special raw material that is grown in a loess field rich in organic matter in the wind from the West Sea.
California Proposition 65
WARNING: Consuming this product can expose you to chemicals including lead and cadmium which are known to the State of California to cause cancer and birth defects or other reproductive harm. For more information go to www.p65Warnings.ca.gov/food
| | |
| --- | --- |
| Allergy Info | Contains soybeans |
| Manufacturer | Haemijin Hangwa |
| Origin | Seosan-si, Chungcheongnam-do |
| Ingredients | Glutinous rice 65% (domestic), spicy rice 15% (domestic), millet 5% [rice 94% (domestic), malt sugar 5.9% (barley: domestic), enzyme 0.1%], ginger 5% (domestic), soybean (domestic) ,Soybean oil (99% soybeans imported) |
421kcal per 100g
* 1 day nutrient
ratio to reference value
four milligrams of sodium
carbohydrate 69g
saccharide 27g
fat 15g
0.2g trans fat
2.4g saturated fat
0mg cholesterol
protein 4g
* The ratio (%) to the daily nutritional standard is 2,000 kcal, so it may vary depending on the individual's required calories.
Storage Method : Store in a cool place.

Haemijin Hangwa's confectionary is made mostly of by hand, using the taste of our grandmothers and mothers's technique that have been passed down for a long time. We strive to make nutritious snacks that can feel the taste and taste of tradition in a food culture that is becoming westernized.
Shipping Information
Refund Policy
1. Exchanges and refunds can be requested within 7 days of receiving the product.
2. For exchange or refund request, please contact us through email(help@wooltariusa.com) & phone (310-933-8648) with a photo.
3. If you request an exchange or refund on other boards, such as a review board, exchange or refund is not possible.
4. For simple change of mind, the shipping cost and 30% of the product price will be charged as a restock fee for returns.
5. Refrigerated delivery products and Viscose Rayon products cannot be exchanged or refunded only if there is no defect in the product.
한과가 너무 먹고싶어서 주문했습니다. 날이 더워 녹아서 몇개가 붙어왔지만.. 맛은 정말 맛있었어요!!
이거 진짜 고소하고 맛있어요! 어른들도 너무 좋아하세요
상품의 고소한 맛을 좋아하시면 남겨주신 리뷰에 감사드리고 100 포인트 적립해 드립니다.
요건 예전에 주문해 봤었는데 달지 않고 이빨에 눌러 붙지 않아 좋아요
생강한과가 이에 눌러붙지 않고 맛있어서 만족하신 고객님의 소중한 리뷰에 감사드리며 100포인트 적립해드리겠습니다.
wooltari
한과 엄청 좋아하는데, 후기도 좋아서 주문했습니다. 그런데....주문하고 10일만에 도착하고... 상자를 열어보니 어디서 눌려놓은거걸 넣어주셨는지 서로 달라붙어 납작해져있더군요.... 맛이라도 좋으면 괜찮다는 마음에 먹었는데.....음.....찐득하니 떨어지지도 않고 그러면서 아무맛도 안느껴지는.....한국에서는 아이스 아메리카노와 엄청 잘 먹었는데....이건 도저히.....먹을수 없네요......반품도 안되고....참 아쉽네요