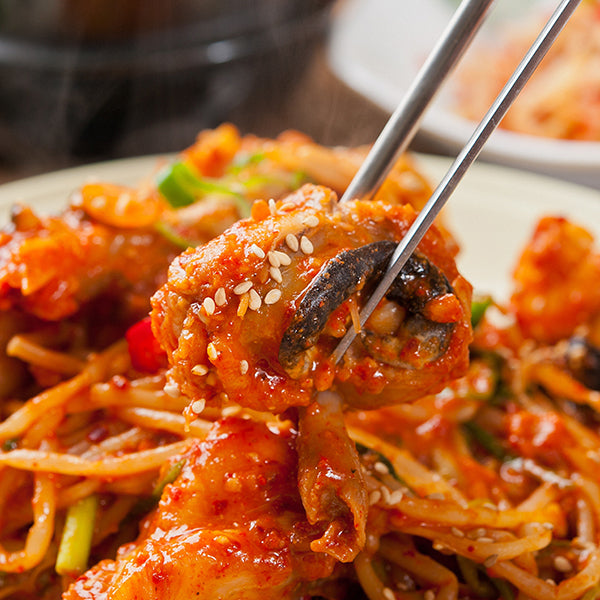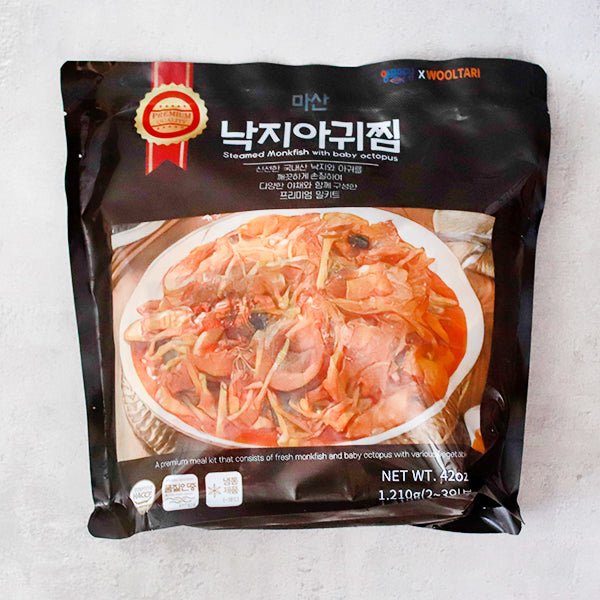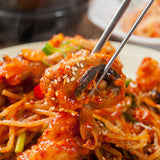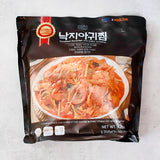 STEAMED SPICY MONKFISH WITH BABY OCTOPUS 1210g
1 Day shipping
Free shipping on 1 Day shipping items over $169
[YP Seafood] STEAMED SPICY MONKFISH WITH BABY OCTOPUS 1210g
Domestic monkfish and octopus became a simple mealkit!
Masan-style recipe!
It is a premium mealkit prepared for easy cook.
It's simple to prepare, only the pot and the water, and then follow the recipe book we send together. 2-3 serving have been prepared in the right amount, you can prepare the table with a spicy and rich octopus steamed.
Manufactured Environment
마산의 명물 마산아구찜거리의 맛 그대로!
경남 창원의 마산아구찜거리는 아구찜 요리의 최초 발생지로서 전통성과 높은 인지도를 가지고 있는 곳이죠.
이곳에서 가장 오랫동안 아껴온 특급 레시피로 양념을 만들어 추가 양념을 넣을 필요없어도 매콤하고 깔끔한 맛을 낼 수 있습니다.
Manufacturing Process
초신선한 국내산 아귀의 참맛!
동해안에 잡아올린 신선하고 튼실한 아귀만 선별했습니다.
아귀에 함유된 타우린 성분은 빈혈을 예방하는 데 도움을 줄 뿐만 아니라, 혈액 속의 콜레스테롤을 저하시키는 효과가 있어 고혈압을 예방해주죠. 비타민B12도 풍부해 심근경색이나 뇌졸중의 위험을 낮추는 데에 도움을 주어, 심근경색과 뇌졸중 예방에도 효과가 있습니다.
How to Use
깨끗하고 위생적이며 취급이 매우 간편합니다!
레시피북도 함께 보내드리니, 조리만 하시면 됩니다.
다음의 조리 순서를 참고하세요.
마산 낙지아귀찜 재료 : 생아귀, 낙지, 간마늘, 파, 소스
1. 찬물 1.5리터 정도에 생아귀를 넣고 약 5분정도 끓입니다.(센불)
(이때 생강즙 1/2찻술, 굵은 소금 1/2찻술을 같이 넣으면 간도 되고 비린내도 제거 됩니다.)
2. 아귀가 끓일 때 까지 낙지를 함께 넣고 뚜껑을 덮고 약 5분정도 더 끓여 낙지가 익길 기다립니다.(센불)
3. 다 익으면 불을 낮추고 아귀와 낙지를 끓인 국물을 적당량 (약 10oz)떠서 양념가루와 간마늘을 버무려 놓고 나머지 국물은 다 따릅니다.
4. 국물을 버린 아귀와 낙지를 들기름 1찻술(또는 참기름)을 넣고 중간 불에 살짝 볶은 다음 양념장을 넣고 버무립니다.(중간불)
5. 파를 넣고 살짝 익도록 버무려 마무리 합니다.
※ 기호에 따라 콩나물이나 숙주나물 등을 넣어서 드시면 풍미가 살아납니다.
※ 후라이팬에 옮겨 담아 휴대용 가스버너에 데워가면서 드시면 더욱 맛있습니다.
※ 다 드신 후 남은 양념에 김치나 야채 등을 잘게 썰어 넣어 김가루를 뿌려 밥을 볶아 드셔도 좋습니다.
Verified Quality
최신 HACCP 시설에서 위생적으로 만든 우수 수산물입니다!
양포어장은, 최신 위생기준에 맞춰 설계된 공장에서 엄격한 관리기준에 따라 직접 수급한 원물을 세척 및 손질과정을 거쳐 제품을 제조하고 있습니다.
California Proposition 65
WARNING: Consuming this product can expose you to chemicals including lead and cadmium which are known to the State of California to cause cancer and birth defects or other reproductive harm. For more information go to www.p65Warnings.ca.gov/food
Shipping Information
Refund Policy
Exchange or refund requests must be made within 7 days of receiving your product and should be initiated by contacting us through email (help@wooltariusa.com) or phone (310-933-8648) with a photo.
Please note that exchange or refund requests made on review boards or other platforms are not accepted.
A 30% restocking fee plus shipping charges apply for returns due to a change of mind, and refunds are not available for non-defective refrigerated/Korea-US direct delivery items.
아직 먹어보지는 못했지만 양은 많은듯 크네요.
살짝 매콤하니 맛있게 먹었습니다. 야채는 파외엔 일절 들어있지 않으니 참고하시면 좋을 것 같습니다.